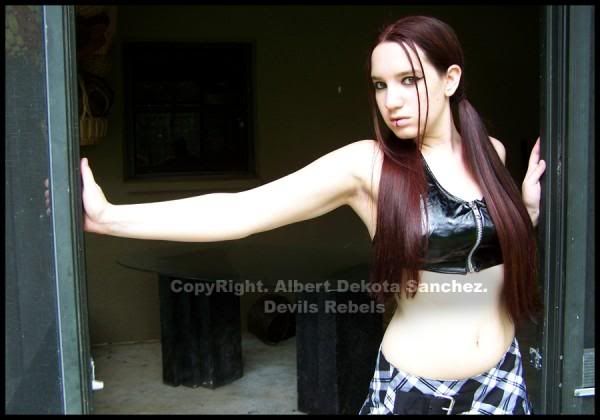 Hi, I'm Eve. I'm a local model from the tampa bay area. I'm outgoing, and my personality will always shine through on a shoot.
-* I'm loud and ready to get down and dirty to make your vision come to life.*
-*A wise person will say to live and learn, but a smart person will get their ass out there, live it, and wreak the benefits.*
I'm a very outgoing person with ideas of my own. But I also love to hear ideas your interested in. I'm willing to travel to get shots, and more than willing to welcome other models and photographers to come to me. If you're interested, drop me an Email, I'm looking forward to working with you.
You can find me on:
Myspace
-
www.myspace.com/twisted-dreams
DeviantArt
-
http://twistedemotionz.deviantart.com/
Facebook
-http://www.facebook.com/profile.php?ref=profile&id=1489920130
Currently I'm done accepting TFP. I'm looking for paid work, sorry but I'm experienced and I have a full time job. Unless you have previously worked with me I need to get paid. TFP offered only to exceptional work.
I DON'T DO NUDES. My mind won't change on this subject. Implied however, if a creative idea comes up, can be worked out. And Challenge me, give me a great idea for an implied shoot. Don't send me a message and say" you should stand by the water as the sun sets so we can get a silloutte of you being topless at the beach." This isn't original. I want art, something to not only blow me away but to inspire others.
And NO porn. Never ever ever.
Goth/Industrial
Lolita/Japanese style
Cyber/Indy/Club Scene
Pin Up/Lingerie
Bathing Suit
Bondage/Fetish(NON-NUDE)
Although if you have ideas, I'll do most any style.
This is Duckie(Ryan) He will be at my shoots with me! He's also a model. See the first on my friends.
I do not nor will not do any shoots where an escort is not allowed on the set. I'm sorry but it is for my own comfort that I say this. Unless you are published. In which case I'll make an exception.
Piercings= Labret, Tounge, Naval
Tattoos= Batman on left wrist
If you send me mail about a shoot, please include if the shoot is paying or non.
Where the shoot will be held.
When the shoot will be held.
What you need me to do.
What I need to bring to make the shot happen.
Thanks!!
Open
Some Ideas that I'd still like to shoot are:
Cannibalism
Suicidal
Fairy/Nymph
Pin-up
Body Paint
Nurse/School Girl Fetishes
Rope Suspension (Really want) Will do TFP*
7 Deadly Sins
Photographers
**Albert Dekota Sanchez Photography #1346436
David Randolph Photography #79964
Ken White Photography
**Slave to my mind Photography #1055369
Great Images Photography
Vesta # 2404
Ken Lane Photography #806409
***ConvexiaLense Photography #1241291
*Jesse Nobles Photography #1002228
Putkonen Photography #529251
Sid Graves #1116151
Andrew Delozier #1173454
New Age Photography #452604
Matthew Westerman #536962
Ernest Photography
Doom Fetish
Fun Orange
Orias
Ginary
Make-up Artists:
Lucky Mama- #1049070
Other Models:
DevilDuckie #1406639
Ginary
Orias
Accomplishments-
gravesgirls.com
I won Deviation of the Day on Deviant Art
Comments
-
Evelyn,
"It was great working with you this past summer. I really enjoy models with experience, who arble to work thru a set without much direction. As a photographer, this allowed me to concentrate on taking the image. Being ready to work different styles and sets on the same day was also an advantage. I look forward to working with you again when you are in the area next summer."
-Ken Lane
MM#806409
Evelyn Bennett was a joy to work with. When I David Putkonen was working with her, she was prompt, very professional and required little direction in her posing. She brought an energy to the shoot that made hours seem like minutes. I would work with her again and again.
-David Putkonen Photographer
"Evelyn Bennett is great to work with as a person and as a model she continues to learn and put in a great effort to help you get some great pieces of photography. I can say I would work with her again and I would recommend her to others."
-Andrew Delozier
"You're a great model to work with and I look forward to shooting with you again".
-Matthew Westerman