THIS JUST IN!: I'm looking for gorgeous girls for my new website SteamGirl.com. It's a Neo-Victorian/Steampunk erotica site with a strong, cinematic look and heavily-styled aesthetic. For updates on the site, and sneak preview photos, check out:
www.steamgirl.com
or
www.facebook.com/steampunkato
Please drop me a line at: steamgirl@live.com if you're interested in becoming a part of the world's first independently-run Steampunk erotica site. This has over half a million fans world-wide! I'm SO excited about its success thus far. PLEASE include a link to your MM profile and know that this is a nude site, NOT a new collection.
...........................................................................................................
My name is Kato.
I was born and raised in Wales, UK, and emigrated to the US in 2007.
I decided to house my designs under the name SteampunkCouture in 2005 after a friend introduced me to the term "steampunk" when describing the way I dressed, my style of illustration and most importantly, the couture clothing that I was making for a small number of clients from my kitchen table.
Seven years on, I run a busy little fashion house, employing American crafters and seamstresses to help me meet the insane demand for my wears and keeping the business home-grown and free range! I'm also a model and illustrator so my schedule is pretty packed. If you don't hear back from my assistant or myself right away, please don't panic!
Are you a dab hand with a sewing machine and want to make some money working from the comfort of your own home? Then drop me a line at: contact@steampunkcouture.com
Clothing rental is currently closed while I work on my new site SteamGirl.com.
Please keep an eye out for updates on my facebook for the return of rentals and custom commissions:
www.facebook.com/steampunkcouture
www.steampunkcouture.com

www.etsy.com/shop/SteampunkCouture
http://www.facebook.com/pages/Steampunk … 6905741677

www.thisiskato.com
www.twitter.com/steampunkato

This is me and Sir Roso: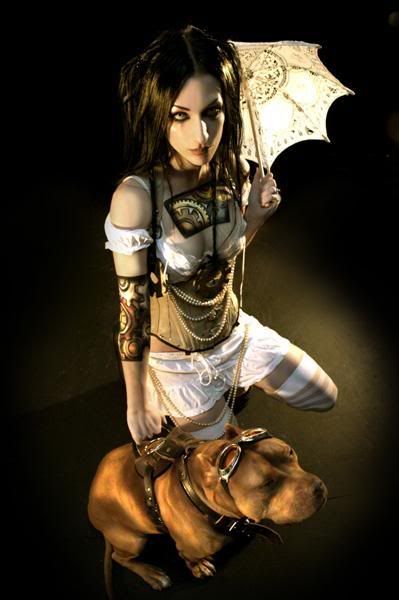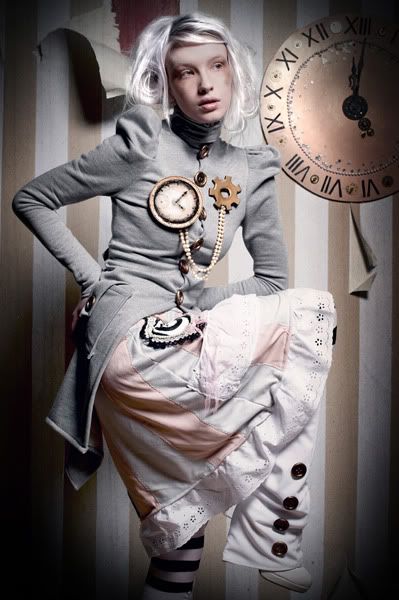 And now a fancy little tale:
"Born wet and wide-eyed as a literary genre near the end of the last century, "steampunk" is just a word encompassing a litany of sins.
The flagrant coupling of Victorian aesthetic, and phantastic technology. A dash of swashbuckle, a pinch of pathos, simmer until stirred or disturbed.
Haberdashery sprung fully-formed from Item 1, brandishing bustles, boots, and bodices (or monocles, spats, moustaches,) in shades of sepia, dashes of dun, blinks of black, coils of copper, illums of ivory, and jots of jewel-tone. Motifs meander from gearwheels to jacquard, stopping off at morbid, metallic, or romantic along the way. Accessorize with your favorite protective headwear.
Let Kato, artist and craftist, escort you through her vogue's gallery of gamine garb. Tops, bottoms, and side-to-sides fit for adventure aloft, landlubbed or soaked to the bone.
This is Steampunk Couture."
~Magdalene Veen