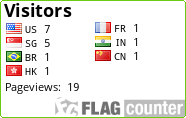 always looking for new talents who want to expand their portfolios I'm a young talented photographer who use's high resolution equipment and variation of lights to make the perfect pictures if anyone is interested in working with me please leave a detail message ....only serious inquires!...
I have worked with many models unfortunately many of them have removed them selfs from this great site!
Note:if you contact me and made a commitment to do a shooting please follow through! Otherwise don't waste my time! If you are for REAL let's do it if u are a FLAKE don't bother.. or waste my time!
Other ways to contact me is via e.mail...vogliastudios@gmail.com