Splurge Studios® has been honored to work with a large number of publications, companies, and special events.
Splurge has been featured on or with:
Miami New Times Iron Fork 2011
Uptown Magazine
TRUMP Miss Florida USA Pageant
PETA
Telemundo Al Rojo Vivo
CNN Espagnol
MOD Miami Fashion Week
Shangela from Rupual's Drag Race
The Miami Herald "Boutique of the Week"
Maxim Hometown Hotties
Miami.com
Telemundo Nitido
Univision Despierta America
WSVN Deco Drive
WSVN Fox Channel 7 Style File
VH1 Who Want to Work with Diddy 2
NBC America's Got Talet
Ed Hardy
Christian Audigier
The Miami Herald
The Miami Laker
The Miami New Times
Mercedes-Benz Fashion Week Swim, Miami
MAGIC, Las Vegas
Moda Tattoo
The Knot Magazine
SET Magazine
The Beach Channel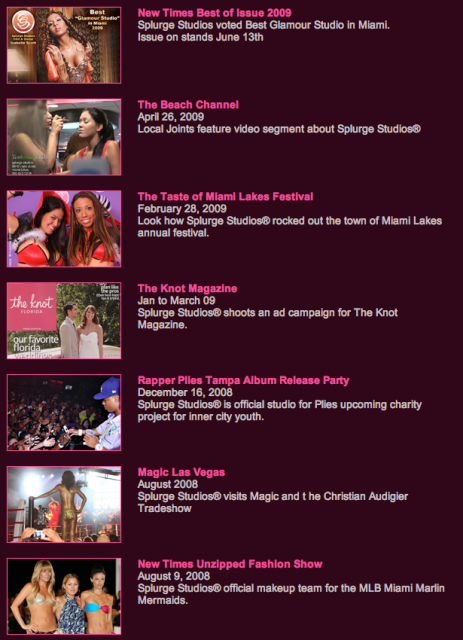 As a community we should promote ethics and professionalism through respectful words and courtesy towards each other. We at Splurge Studios have no unkind words for those who disguise themselves in smug arrogance, for it only masks their anger and bitterness.
Words to Live By:
"We can't have faith unless we first have hope, and our faith won't work without love." Joel Osteen
PS. God is good
PSS God is still good despite any sad attempt at sarcasm
PSSS God is still good so how's dem apples honey
PSSS See this smile
it's all yours muah!!!