***CURRENTLY BLONDE***
Follow me and see more of my work on:
NOW ON TWITTER!
http://twitter.com/ToriaM_Model
Fan Page and Full Port:
http://www.facebook.com/pages/Toria-Mor … 1106360638
yay everyone check this out! for people who ask me for posters theres some for sale here:
http://www.photoboxgallery.com/gallery/ … id=3386534
http://www.photoboxgallery.com/PICFXPOS … id=3386534
http://www.photoboxgallery.com/PICFXPOS … id=3386534
http://www.photoboxgallery.com/PICFXPOS … id=3386534
www.facebook.com/ToriaMModel
www.purestorm.com/TokyoTease
Hey everyone!
I have a monthly slot in Elite Magazine as a game reviewer! Nerdy pics included
go check it out!
http://www.eliteonlinemagazine.com/
I am an agency represented, published and professional model. Every shoot I undertake is treated with the up most professionalism and all my effort and time is invested into each one.
On a shoot you can expect me to be bubbly, friendly and full of enthusiasm with the stamina to keep shooting whatever the weather. Modelling is my career and i take it very seriously so you can expect trustworthyness and reliability.
I'm also a Burlesque performer and a Bellydancer. Please contact me if you are interested in booking me for a performance.
I am not an alternative model, I am versitile enough to fit into every genre. I consider myself a Fashion Model.
PICFX AGENCY MODEL
www.picfxstudio.co.uk
www.picfxagency.co.uk
if you wish for studio hire work please contact me through that site, studio hire rates are hourly.
also represented by SPIRIT MODEL MANAGEMENT
http://spiritmodelmanagement.co.uk/models/female/
I want to work with people whos work is genuinly beneficial to me so whatever the project drop me a message.
I can also act, i take Guildhall acting classes and have had small parts in tv programmes such as 'Hollyoaks', 'Grange Hill', and 'Waterloo Road' and starred in theatre productions and short films around Manchester and taken Musical theatre vocal training with The Manchester School of Music. I can also confidently Horseride..
* Trianed in Hair and Makeup
Very interested in having more glamour in my portfolio.
Love
Toria xo ;p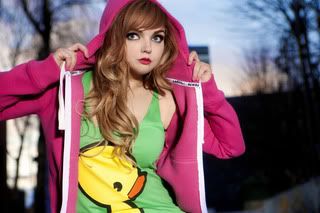 Elite Magazine - Toria's Gaming Corner - Monthly Game Reviews and pics.
www.picfx.co.uk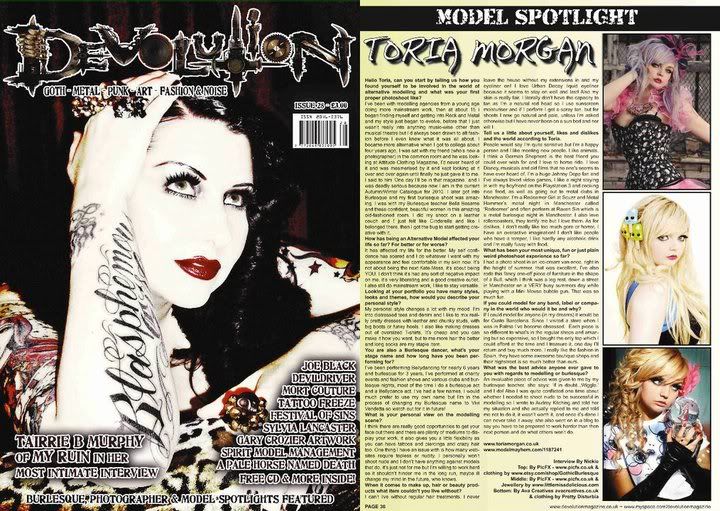 Issue 28 Devolution Magazine - Model Spotlight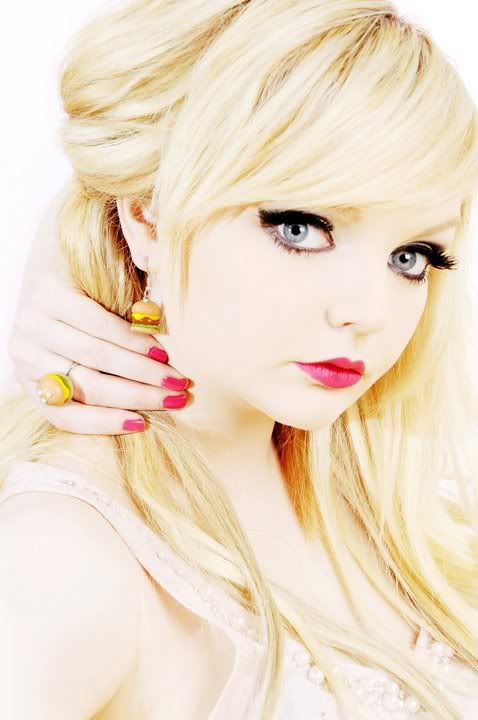 www.picfx.co.uk
-
www.littlemissdelicious.com
www.picfx.co.uk
- Elite Magazine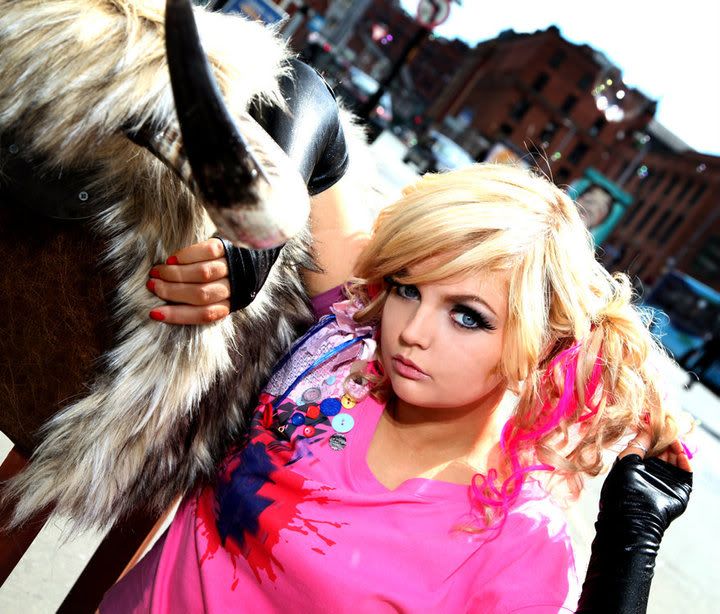 Photographers:
Paul Dann
Niel Harisson
Toxic Imaging
John Clarke
Liz Deeming Photography for Attitude Clothing
Ava Creatives
Dan Craven
www.picfx.co.uk
#1557836
Lullaby Blue
Kate Appleby at Making Light
Kate Donovan of Donovan's Darlings ft Kates Pin-Ups
Chris Parker
Ian Wilson
Jas Stephenson
Tokyo Rocks Couture
Stephanie Karyn
Amy Allen
Chris Jackson Photo #1201016
Chris Lord
Double Take
Ian F Simpson
Clothing Designers:
Jilted Genration jeans
House Of Morgan
PULP store
www.thisispulp.co.uk
David And Goliath
Dollchops
Momento Mori
Little Rubber Cherry
Velvet Volcano
Corsets-UK
Little Miss Delicious Jewellery -
www.littlemissdelicious.com
Tokyo Royale - Manchester
www.herajukustyle.co.uk
Attitude Clothing Magazine:
Poizen Industries
Iron Fist
Love and Hate
Living Dead Souls
Cupcake Cult
Dead Threads
Luv Bunnys
Glamour Kills
Heartless
Jessica Louise
Couch
Pretty Disturbia
Callgirl Clothing
TokyoRocks Couture
Cherrybomb-uk.com
Dead Goat Clothing store:
Famous Stars and Straps
Darkside Clothing
House Of Frasier Fashion Show- Manchester:
Kurt Gieger
Dune
Fenn Wright Manson
Makeup Artists:
Kat Whittaker
Ava Creatives
Dior
Hannah Frances
Amy Allan
Layla McGarthy
TV:
(MTV) Mersey Television
Granada Television
BBC
Channel M
Magazine:
Elite Magazine - Little Rubber Cherry
Devolution Magazine - Issue 28 Model Spotlight.
Elite Magazine - Toria's Gaming Corner (monthly game reviews)
http://www.eliteonlinemagazine.com/
Attitude Clothing Magazine Autumn/ Winter 2010
Bizzare Magazine - Callgirl Clothing
Pin Up Perfection Magazine - Burlesque Issue