Welcome to CloseUp Photo; STOP - LOOK - ENJOY!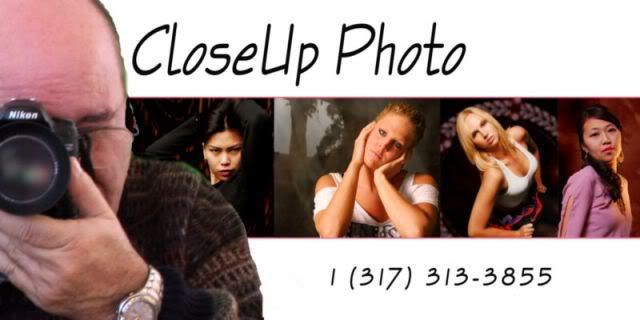 "It's not what you look at it's what you see that really matters."
About me:
I'm retired, and to keep myself busy I like to do photo sessions. I view a photo session as a time of joy, fun, and creativity. If a model has an idea and wants to try it, I will be sure that we try to achieve the vision that the model has in mind.
How long is the photo session?
I don't take myself too seriously and I can shoot for hours on end. I love shooting and I enjoy the people I meet in this industry.
When are my Photo Sessions?
I have my Photo Sessions in the morning. If that doesn't work for you let me know and we will see if we can work something out.
My Only Request
: Pleas call me two hours before the day we shoot to let me know the photo session is still on.
(If I do not hear from you, I will figure the photo session is off.)
I am at my best;
when the image I create with a model are based on a style we create together in the studio or out in the field. Every time I press the shutter, I hope that the model and I can create an incredible image. I am also fairly advanced in Post Production and have the ability to make a good image into a great photo.
To all new Photographers out there, I would like to share something important.
As photographers, we may be good with our Lights and Cameras, but it's the model and the way she uses her eyes and body language that sells the photograph.
To all Models out there, I would like to share something important.
If you are new to modeling welcome, this site is a stepping stone to something better, not the final journey. Remember a killer portfolio is the price of admission for you to make money.
YOUR LOOK IS WHAT YOU ARE SELLING.
If you've been modeling for a while you should remember
, "Someone was there for you in the beginning".
Please take the time to look at my photographs
: If you like them and would like to work with me please send me a message through
Model Mayhem.
$ession Information:
Being retired I can offer all models a
TFCD photo session
.

This means:
A model agrees to give up their time and pose for a photographer who agrees to provide the model with a selection of digital images for their portfolio on a CD.
If you are interested in setting up something please feel free to contact me through
Model Mayhem.
WHAT do the Models say about working with CloseUp Photo?
Thanks Charles I had a blast working with you also!
Sharon
– Model Mayhem #2668495
Thank you Charles I had a BLAST yesterday! I am SUPER eager to see the pictures from our shoot. I think we captured some great shots! Have a wonderful day!
Suggaface
– Model Mayhem #1430098
Charles, HAD A BLAST SHOOTING WITH YOU ! completely made me feel comfortable, we had a lot of commonalities, and great minds think alike ! LOVING THE EDITS SO FAR ! your work is amazing, and Im glad I can be a part of your portfolio ! Cannot wait to work with you again ! Jazzy
Jazzy Weems
– Model Mayhem #1253072
I can not thank you enough for our shoot! You truly made me feel comfortable in front of the camera and I never for a million years would've thought a photo shoot would be that fun. Not only were you perfectly on time, but the photos came out wonderfully. I will definitely be coming to your studio in the future and can recommend you to anyone without hesitation. Have a beautiful day!
Tenéh B. C. Karimu
- Model Mayhem # 2173945
It was great working with you. I had alot of fun!! Looking forward to seeing the pics and working with you again. Thanks!
Ami Marie
– Model Mayhem #2197897
Charles, I had a marvelous time on Tuesday! You were so kind, and I absolutely had a blast! Can't wait until next time!
Shannon Beatty
– Model Mayhem #1738862
Great working with you too...You are an Amazing Photographer...I look forward to seeing you next Week.
Zoe Renee Ashley
– Model Mayhem #1706627
Had an awesome time working with you yesterday and last Tuesday! Can't wait to see the finished pictures from yesterday because the photos from last week were smoking hot!
Suggaface
– Model Mayhem #1430098
I had a wonderful time shooting with you. Love the pics!
Danay101
- Model Mayhem #1065539
Hey, I just wanted to let you know I had so much fun with our shoot today, I look forward to working with you through out this journey... I guess you are a part of it now to I really do appreciate it and I love the pictures so far... we had a lot of fun I can not thank you enough... thanks.
Jatae
– Model Mayhem #611636
You are the best, great work.
Idoll31
– Model Mayhem #317658
I had such a great time working with you today, and I am very impressed with the photos we produced! Thank you, and I can't wait to work with you again soon!
Jesyka
– Model Mayhem #1473000
Thanks for a great shoot!
MissLila
– Model Mayhem #1137022