If you like my work and would want to work with me my rates start at $250.00 and up. Please leave me a message on here. All Models will have to sign a model release before shoot .
Studio info: I have a 2000sq studio . Will be running specials on shoots and many events to come .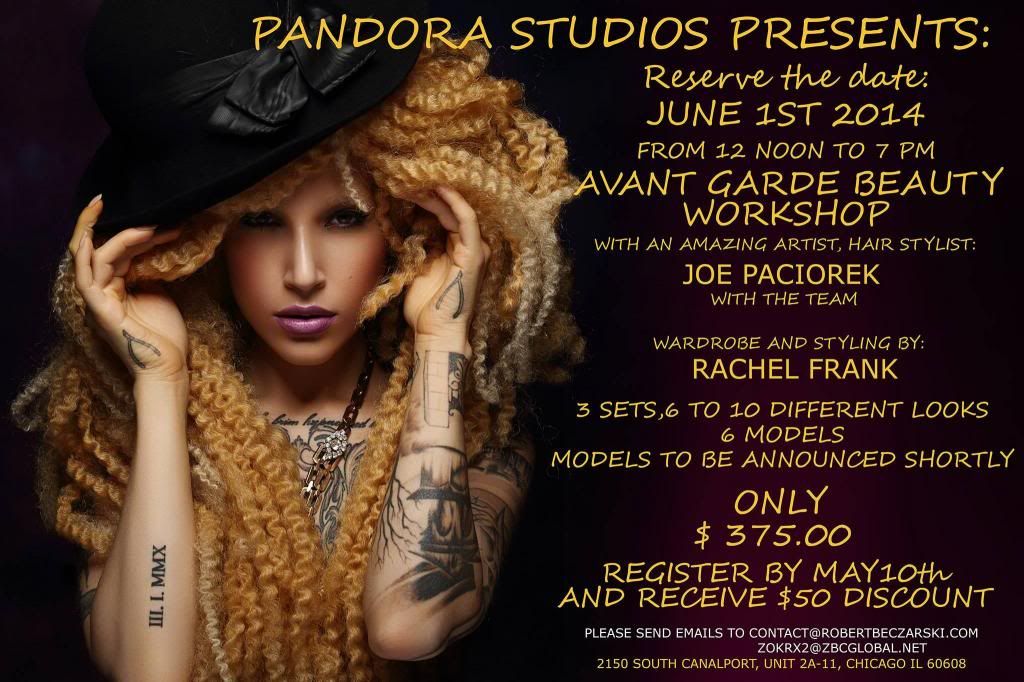 David M.Earnisse Photography
Pandora Studio
2150 S.Canalport
2nd floor 2A-11
Chicago IL 60608
www.dme-photos.com
This event is only $225 for the day not Per session . Where can you go wrong 8 hours of shooting .
Also you can book privet after hour shoots with models on the day of event .
Please book your spot . Need to have all bookings in by the 26th of march .
Payments can be made at PayPal at zokrx2@sbcglobal.net
Work that I have done :
Latino Fashion Week 2009
Mix Media Mid Coast Fashion Show 2009
Sin Cosmetics Make up and Fashion Show 2009
Pan American Nationals ACTO Race way NJ 2007,2008,2009
Indashio Fashion Show JET SET 2009
Led Zeppelin 2 House of Blues Chicago 2010
S Class Model Mgmt Emporio Fashion Show 2010
MGO Salon Fashion show 2010
MGO Fashion show at Moonshine 2010
Book Release For Steve Starr at Rumba 2010
Book Release For Steve Starr at Drake Hotel 2010
Live out loud Charity Fashion Show 2010
LaQueshon Fashion,Talk,Reality Show Neighborhood to Hollywood 2010
Latino Fashion Week 2010
Angelica Angeleyes Santoyo Fashion Show Glitter Ball at Set Night Club 2010
Miss Illinois Latina Fashion Show 2011
Brown American Fashion Tour 2011
Pizzaz Fashion show at the Zone 2011
DUB Magazine Car Show and Concert 2011
Jalopy Fest Car show 2011
Live out loud Charity Fashion Show 2011
Dayton Ohio Air Show 2011
8 Count Boxing 2011/2012
Midwest VS. Puerto Rico Racing event Great Lakes Drag-way 2012
Import Face Off St.Louis Gateway Motorsport Park Event 2012
Jalopy Fest Car Show 2012
The Hot Rod Barn Car Show 2012
JW Jones Blues band at Buddy Guys Chicago 2013
Tomato Blast at Solider Field 2013
Published work:
Renegade Magazine JAN/ Spring 2012 issue#14
Renegade Magazine Winter issue #17 2012
6 Covers on Chicago Mazgazne 2010
CECI Styles Magazine New York Oct.2011
Allezom International Magazine March 2012
OH YES Magazine London issue # 11
Cd cover Rap artist Cap Dolla 2013
Famous music band CHICAGO 2013
IF YOU ARE ASKING TO WORK WITH ME
PLEASE DO NOT SEND ME A EMAIL TELLING ME TO EMAIL YOU FOR YOUR RATES.
IF I DO SET UP A TF SHOOT WITH YOU AND YOU ARE A NO SHOW AND FLAKE FOR SHOOT . I WILL NEVER DO A PHOTO SHOOT WITH YOU AGAIN. I'M SICK OF BOOKING DATES AND GOING TO STUDIO AND SETTING UP AND THEN MODEL DOES NOT SHOW UP OR DOES NOT CALL OR CALLS AFTER THEY ARE TO BE AT STUDIO . THIS IS VERY UNPROFESSIONAL.
TF/Test shoots: On a limited basis only. The following will need to be provided by the model unless otherwise agreed upon:
Makeup/Hair
Wardrobe
If I decide to do a TF shoot . All I will give to model will be 3 fully edit photos with copy rights logo on them that you pick out from shoot . If you want more photos to be edit with out copy rights logo on them you must purchase them from me.