IN ACTION VIDEOS!
Bizarre Magazine cover shoot:
https://www.facebook.com/photo.php?v=10 … 2195581186
Zombie shoot:
https://www.facebook.com/video/video.ph … 5960231705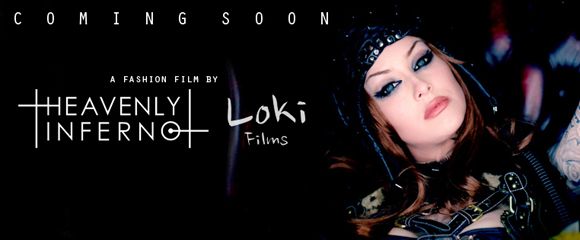 None at this moment, only taking on paid work!

A tattooed modeling, styling & photographing creative creature who started out styling and taking "modeling photos" with friends at age 13. I started designing and making clothes when I was 15 and later studied Fashion Design for 3 years. This lead to starting my own clothing bussiness Heavenly Inferno in 2009. When I turned 18 I bought my first professional camera and also started doing liveshow, fashion and other sorts of photography. With these hobbies I'm also self-learnt at Photoshop since many years back and have taken on professional photomanipulation work before.
I love to create, I'm a good make-up artist, I like to look at beautful things, to get inspired, to dance and make people laugh. I love to inspire others, good teamwork, I always put passion into my work and I never stop the strive to achieve my million goals in life.
I'm looking to work with all sorts of photographers who enjoy good teamwork and energy. That has an eye for what looks good and what doesn't in a photo. Those who think about angles, colours, lights, expressions and does not just put a model by a wall and click a button. WORK with me, good teamwork and understanding makes the best photos.
Heavenly Inferno is my clothing brand and is always looking to work with all sorts of creative people! I would love to be part of alternative fashion projects and shoots so if you need an outfit designed, let me know and we'll discuss.
If you have any enquiries about my anything, please message me on here or email:
shellydinferno@hotmail.com for quicker reply.
Model Mayhem profile:
http://www.modelmayhem.com/heavenlyinferno
Also available to be hired for makeup & styling, in 97% of my photos I've done my own styling. You can also see my make-up & styling portfolio on my Facebook-page (scroll down for link). When I work I want to make sure my make-up & styling goes exactly as wanted with camera settings and light effects. I like to work with a bit of theatrical style make-up to enhance facial features. I will listen to your thoughts and follow directions completely or let my own imagination do the work.
I can do everything from a natural look to an extreme zombie deathpaint with prostethics.
If you wanna read more about me and everything I do, roll over to my interview at Eyestrane:
http://eyestrane.com/2012/05/interview- … -dinferno/
Twitter:
http://twitter.com/shellydinferno
Facebook:
http://www.facebook.com/shellydinferno
The Showroom:
http://shellydinferno.tumblr.com/
Instagram: @shellydinferno
"Shelly is a cross between two of sides of the beauty tracks - Fairuza Balk and Christina Aguilera. She can scare you and charm you at the same time. A lot of fun shots here, plus energy that screams at you. Doesn't always need to be overdone with lots of make-up, has plenty of strong facial features and a great smile. Gorgeous. My favorite for a How Cool yearly model."
Matt Muroz - Judge of HowCool.com yearly Model Contest 2010
(I won ;D)
"Wonderful to meet, wonderful to work with. I have to say; Shelly is easily the best model I've worked with. Fantastic attitude and approach to her work. Utterly brilliant."
Andrew, Killer Heels Photography
"Multi talented top London based alternative model and curator of Heavenly Inferno fashion line, an outstanding model who transforms herself after every exposure with a totally unique look, to give your portfolio an unmissable feel."
Paul, PEAK Image Photography
For ANY questions about bookings or what I do, please dont hesitate to message me on here or on my email shellydinferno@hotmail.com for quicker reply!