Leon Bailey, Orlando Fashion Photographer and Videographer at your service! One of 50,000! I want to be able to provide the finest fashion, editorial, and beauty photography experience each and every single outing!
NOTE:
I DO NOT
pay models! I repeat!
I DO NOT
pay models!
Trade for Pics / Unpaid Testing Requirements
Women:
5'6"+, dress size 2-6 - Reasonable exceptions.
Men:
5'11″ to 6'1″ - Reasonable exceptions.
Images:
2 per look
Photo Shoot Inspiration
MM List:
http://www.modelmayhem.com/list/360052
Pinterest List:
http://pinterest.com/thelbsta/fashion-m … spiration/
My Website List:
http://leonbailey.me/ideas/
(photo #s under picture)
Select 5 different (not 5 head shots) photos, copy and paste links in the message that you are sending to me.
If I am to TF or test with you, I am only going to work with people where it's not a waste of time. I like to video behind the scenes footage and then blog about the entire shoot experience. It drives traffic to my website and gives your name in search engines and social networks a boost if you are legitimately serious about modeling. I want to work with people that are actually with legit agencies (or trying to be), social network, have actual .com websites or if I Google your name, results show up. So, if you like to have your FB page private or your modeling name is "Beckybmodeling", I am not interested in shooting. If you do not meet the above requirements, but still want to shoot with me, please inquire about my rates.
NOTE:
If you want to shoot in studio, you must contribute to the fee.
Escorts:
I have an actual business. I have been a photographer and videographer in Orlando for weddings, music videos, baby pictures, event coverage, family portraits, and have shot too many models to name. Unless I ask for a personal assistant, the only people at my shoot will be me, you, and the photo shoot team. No exceptions!
Print Work:
My first ever magazine placement! Niiiiiiiiiiiiice!
Model:
IRIS
Wardrobe:
Yanick Victor
MUA:
Visionary Style
Hair:
Petrona Ramsay
Videography Work:
Fashion Photo Shoot - Behind The Scenes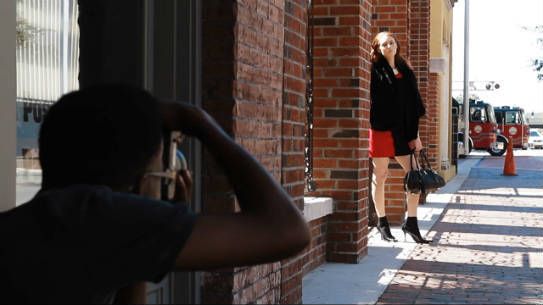 Clorissa Wright
,
Ashlee Radka
,
Nigel Elliott
,
Tina Roberts
The Web Sites:
Lasting Blueprint Productions (Orlando Video Production Company Website)
Leon Bailey Official Website
Facebook
Google +
LinkedIn
Pinterest
Instagram
Twitter
Vimeo
YouTube
Flickr
Tumblr