http://www.facebook.com/mikewhite.photo
Facebook Page for Mike White Photography:
http://www.facebook.com/pages/Mike-Whit … 4949752878
Map to my studio:
http://goo.gl/maps/pWzm
New Photo Exhibit of my work is being sponsored by RockMeTV and FoxxCode Magazine at the Joynt (thejoyntchicago.com).

Check out the video from the shoot

Working on published and paid fashion assignments.
No free trades, tests or tfp for fashion or portfolios

To inquire about TFP/Trade for my personal creative work, contact me through my artistic portfolio:
Art Blanche



*********************************************



Poster for Witch of Portobello film, Director Parris Reaves.
The Witch of Portobello by Author Paulo Coelho
Featured in the premier issue of MODA FG magazine for an article on Chicago fashion designer Xochil.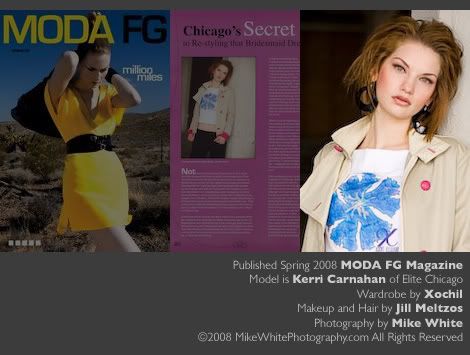 Winner of MTV Networks VH1 beauty photography contest for "The Shot".
Judged by top fashion photographer Russell James.
http://www.theshotspot.com/contests/winner
11 Photographs permanently Showcased on OneModelPlace