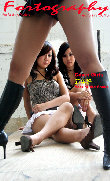 Ms. Ekaterina - OMP 115246
She is born to model. Her personality sets fire the moment the cameras are on. Definitely a celebrity in the making. Enjoyed working with you Katie!
Ms. Jelena - OMP 250178
One model with many characters. From one pose to the next Jelena looks like a different person. Great working with her. Very relaxed and easy to work with. Jelena is like having two models at one shoot. Thanks Jelena!
Ms. Ivy - OMP 251265
New to the industry and ready to soar. Thanks Ivy!
Ms. Hazel - OMP 257159
One word to describe her...Nice. Don't let her size fool ya, she takes very nice pictures. It was a pleasure working with you Hazel. Thanks!
Ms. Tiffany - OMP 254636
Mysteriously Fun! Tiffany is very energetic and fun to work with. I've noticed something mysterious about her that you just never know when a different side of her is going to pop out. My trip to Ft. Worth was worth it Tiffany. Thanks!
Ms. Tina - OMP 255125
The untapped talent. Tina is simply great and seems is just starting to realize just how great. Thanks to the encouragement she's gotten from others, to help her get as far as she has. It will not take long for her to get to where she should have already been a long time ago. Thanks Tina, you are wonderful!
Ms. Angela
What a pair of ...eyes! Not yet a member of OMP but I'm sure soon to be. Angela has a great look and an awesome style. Freeze yourself before working with her, because that look of hers will simple make you MELT! Thanks for your time Angela. It was great working with you!
As a group, Tiffany, Tina and Angela work really great together. Thanks ladies!
Ms. Karrigan - OMP 260376
If you're looking for personality, Karrigan has it. Karrigan is wonderful to work with and is a very, very talented musician and singer. No doubt about it, she is determined to be a STAR! Her name will be in lights one day soon. Thanks Karrigan and I look forward to working with you again.
Ms. Jessica - OMP 261727
Glad to be one of your first photographers Jessica. We had a great shoot and I look forward to working with you again.
Ms. Gemini - OMP 268319
Great job on your first shoot Gemini! Strips and slides do go together. [img]/images/smilies/smile.png[/img]
Ms. Olivia - OMP 279162
Talk about confidence. Olivia could teach a course on having confidence in yourself. She has it and when you work with her you will notice immediately that she knows she has it. Confidence is needed in modeling and Olivia is the epitome of the amount you need. It was a pleasure working with you Olivia. Patent that smile quickly!
Ms. Brooklyn - OMP 298441 The introducing of... Ms. Brooklyn (Jena) has the realization that she draws attention. She knows her greatest assets and are not afraid the use them. She is soo ready to learn whatever is necessary to become a model. She is definitely on queue with the photographer and eager to take more and more photos. I don't think there is a tired bone in her body. It was wonderful working with you.
Ms. Mary - OMP 253154
Mary is the perfect example of being shy, yet able to model. She gives the aura that she doesn't wanna model, but once the camera is in focus, she transforms right in front of the lens. Easy to work with. Very nice personality. Great shooting with you Mary!
Ms. Tricy - Not yet a member of OMP but is a member of MM #307258. Tricy is beautiful and has a very captivating look. Very, very easy to work with and able to take direction better than anyone I've worked with. Looking forward to doing another shoot Tricy. You are absolutely a doll to work with.
Ms. Laura McIntire - OMP 302934
Simply put, Laura wants to model. Any pose, any outfit, any where, any time... shoot. She is on time and she takes modeling serious and really doesn't understand why some models say they want to be models and don't follow through on their commitments. All amateur models can learn from her. Good going Laura. Love your attitude!
Uzuri Fashion Magazine -
www.uzuri.com
An international fashion magazine. Main photographer during Magazine Launch celebration. Photos published in the Summer '07 issue. Also was a writer for the same issue for the article "First of First."
MHM Entertainment -
www.mhmentertainment.com
Models Helping Models organization. Did an assortment of shots of several MHM models to assist in building portfolios. Queen, one of the founding models, is a natural. Loved working with her and the other ladies. Thanks for all the referrals Queen.
Ms. JJ Bunny - Not a member of OMP. JJ Bunny (A.K.A. Joy the Jungle Bunny) is a Hip Hop/Reggae artist. Great music, awesome voice and full of energy. The video shoot was hot and so are the photos. Can't wait for more snaps Joy.
Ms. Michelle - OMP 304551
Michelle is beautiful with a great personality. Very funny and always ready to go beyond the call of duty to pull off a great shot. Our shoot was HOT... literally. It was nearly 100 degrees in Texas for our outside shoot. Michelle, you sweat well. Awesome working with you.
Ms. Thea Renee
Not a member of OMP yet. She is an up and coming R&B/HIP Hop artist. She is a self proclaimed goddess of Hip Hop and has the voice and talent behind the claim. She is currently working on her second album. Look forward to more shooting Thea.
Ms. Peaches for JazzieBroaddzz Hair Studio
Beautiful model with a beautiful glow. Already burning the floors of fashion show. Ms. Peaches follows direction well and has a very lovely personality. She is already taking autographs.
Ms. Simmonette - OMP 214330
Simply put...WOW! Hate to use that expression but that's what describes Simmy best. Simmy is wonderful to work with. Has great curves and and a desire to set a standard. And she sets that standard very well. Loved working with you Simmy. Can't wait to work with you again.
Ms. Quesha
It was Ms. Quesha's first photo shoot ever. She did an extremely great job as if she was a seasoned professional. She's extremely comfortable behind lights and camera and I look forward to working with you again.
Ms. Tara
I have to quote you on this Tara. "I've never done anything like this before." [img]/images/smilies/smile.png[/img] Ms. Tara was very shy at first, but with her bold, strong look, it's hard to tell. Tara has an excellent skin tone and I simply love the glow of her under lights. She has a very powerful bold look and I am thrilled to be the first photographer to capture that about her. HAPPY NEW YEARS Ms. Tara!!! Cheers!!!
Ms. Jayla Smith - OMP 283884
Jayla is Carisma and HOTT roled in one. There is nothing else to do but LOVE her personality. She's a singer and a model and will succeed easily in both. I really enjoyed working with you Jayla. Have an excellent career and watch out for pervs.
Ms. Sydney Michelle #506863
Absolute pleasure to work with. A stunning model who is going to definitely succeed in this industry. Totally beautiful face that will be in print very soon. She is a featured cover girl for fortography.com and surely will be seen on many printed covers in the future.
Ms. Rachelle Stinnett #791785
One word... INTENSE... Give her a role to play and it will be played well. Powerful expressions and a treat to work with. Great personality and very punctual. Very easy to work with.
Ms. Meeechelle #888363
As dangerous as C-4!!! Underneath that pretty mild mannered demeanor is a modeling bombshell. Meeechelle can pull off a number of ideas with ease. Our shoot was probably her first shoot to take her out of character and she nailed it well. Great at following instructions and has a sweet innocence that greatly enhances any shoot.
Ms. Kimmie #1238529
New to modeling industry and great to work with. Very reliable and with a little direction she brings out some really great shots. She is going to make a great model with an intense look.