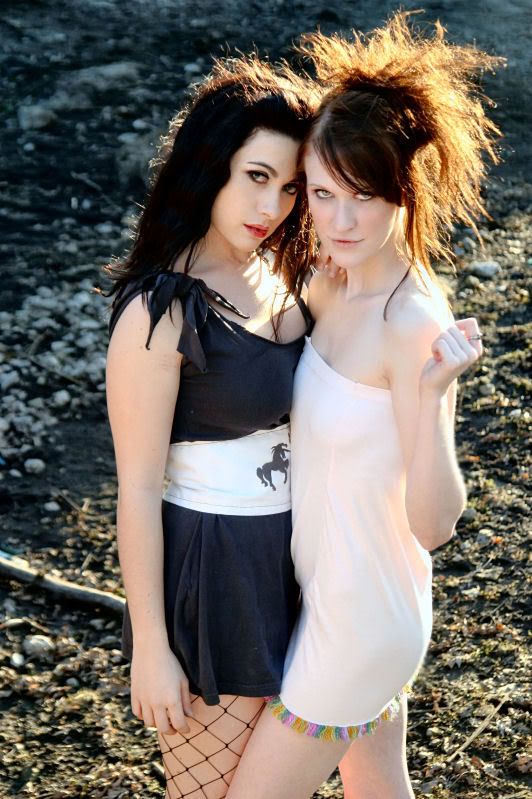 Cydnie Owens:
Numerous shoots, runway shows, film work. The only thing that rivaled her loyalty to her friends was her passion for her art. May she now find the peace that life could not give her. I know when this numbness fades there will be loss, but for now there is only regret....
Full Modeling/Acting Resume Available upon request or on my website
www.missnicole.com
. The site is also full of information on my film and TV projects. Check it out and let me know what you think. It's a work in progress!
* Winner, Best Supporting Actress, Midwest Showcase Awards 2008
* Starrred in"No Pity on The Ants" by the band LUPARA which made the top 20 Metal Videos of 2008 according to Headbanger's Ball.
I can also be reached more effectively through my email:
missnicolerae@gmail.com
MM Photographers I've worked with:
Maggie Gulling: Mayhem #209320 (3 shoots)
Lance Shuey:Mayhem #8174 (2 shoots)
Emily Erickson: Mayhem #144512
Dave Davidson: Mayhem #72323
Brinny D. Mayhem: #112554 (6 shoots)
Casper's Creations Mayhem: #117004 (3 shoots)
Glen McPhail:Mayhem #6786 (3 shoots)
Telari Photography: Mayhem #51149
KjC Photography: Mayhem #275241 (2 shoots)
Henri: Mayhem #63531
H. Morgan: Mayhem #135029
Ace Photo: Mayhem #458512
Envy Photography: Mayhem #11986
JB Design and Photo: Mayhem#142005
Live Boulevard Design, Bitches!! Mayhem#383195
ACE FOTO Mayhem#458512
iClick Mayhem # 683346
Laura Ann Photography #446544
Danson Images Mayhem # 666127
Eric Hinders Mayhem #1177385
Stylists and Artists I adore:
Lynn Marie #342210
Salon Utopia in Des Moines has wonderful stylists for hair and makeup. Especially Tara Carver!
Emily Svec is a wicked overall talent. Model, body painter; general "artiste" with a heart of gold.
Lindsey Ritland for Pixie Von Lue does the best makeup in town.
She. Will. Make. You. Stunning.
No one does it like she does. Need her info? Ask me.
Though I've worked with many photographers, only a select few have my full endorsement. They surpass expectations by making a shoot fun and comfortable, producing exceptional images. They respect models' work by getting me the images created in a timely manner. These photographers respond to emails quickly and are considerate and helpful. Tall order, I know. But I would never encourage a model who asks for my opinion to waste her time. I would be more than happy to give an honest reference for any of the photographers I have worked with-just ask.
I've had the good fortune to work with many photographers in the area. Here are a few of my favorites:
Casper's Creations:
I adore working with this photographer. I could write a novel about this man. Every moment of every shoot is pure joy-whether I'm stuffed into my trunk or all glammed up! I've never been more comfortable in front of a camera or more thrilled with the final work. I will always jump at the chance to shoot with him, wouldn't dream of charging him, would recommend him to anyone, and generally love this guy. I think HE is MY muse...
Brinny D.
A model's dream. Adorable, gifted, fun, sweet and a force to be reckoned with behind a camera. She makes even a first shoot feel like a slumber party and manages to capture that feeling in her photos. I don't just model for Brinny, I'm a fan and consider her a friend. It's no surprise to me that her work was so impressive to the agents at Superior Talent that she will be moving to LA WITH ME at the beginning of the year!!
Maggie G.
Maggie's a rockstar! She does great work with an edge that I find so inspiring. Always willing to throw around ideas, always enthusiastic, gets great shots, and makes the whole experience an adventure. I love this girl!
Live Boulevard.
Melissa and Robert are the most amazing team. Each being completely brilliant artists the two together are an absolute gift to anyone who gets to work with them. They are not only talented, they are so open and easy - scheming with either of them is as much fun as the actual work. I really, really adore them both and hope to work with them for years and years to come!
Ace. Fucking. Foto. (Mayhem#458512) How do I love him, let me count the ways....I'lll get back to you in a few days when I'm done counting. This man is magic with a camera, a favorite partner-in-crime and a great friend. If you don't love him it's probably because you're an idiot.