Hello my name is Laura London and I live in Boca Raton, Florida. I am an NPC national level fitness competitor, published fitness model and health & wellness coach. I am always in shape and shoot ready.
I am here to network with professional fitness and swimwear photographers and makeup artists. I am very easy to work with always show up on time and ready to work.
One of my goals is to increase my exposure in the fitness industry and to help inspire others to achieve their fitness goals.
Please provide the following information when contacting me to book a shoot or workshop:
1. Proposed date(s), time, location and length of shoot.
2. A brief description of the proposed shoot concept or workshop theme.
3. Proposed compensation - pay, tear sheet, publication.
4. Intended image use (web, magazine, book, prints, commercial client, etc.) and what my usage rights are for the images.
5. Travel compensation, when applicable (one hour or more from my local area).
6. Provisions for MUA, stylist, wardrobe, accessories, etc., if applicable. (Please note that I do my own hair/makeup for 99% of my work, and enjoy doing so.)
7. Your contact info: phone number, e-mail address and website address, if applicable.
8. Please contact me for my rates.
With that out of the way, I look forward to working with you.
LAURA LONDON'S ~ FIT & FABULOUS MOM CONTEST 2012
You don't want to miss this video!!!
https://vimeo.com/63332516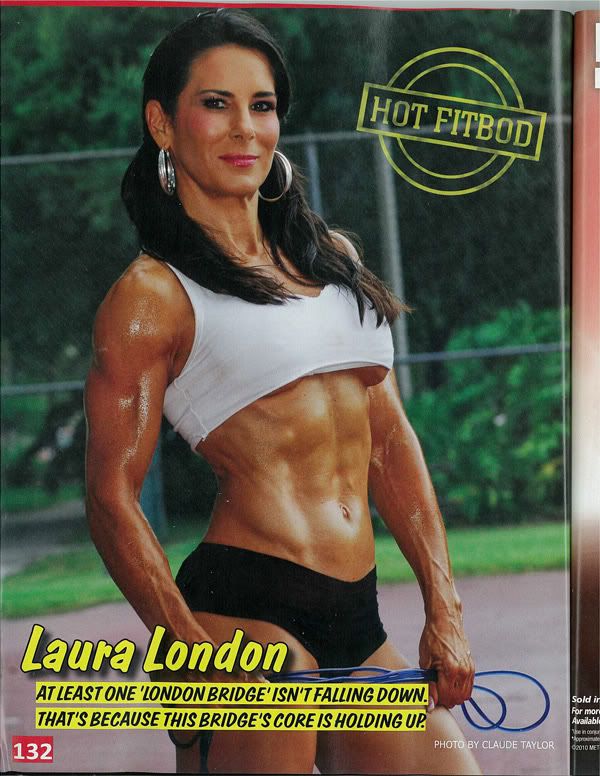 OCTOBER 2010 PLANET MUSCLE MAGAZINE