I have been taking pictures my whole life, it's been a steady progression into how I see life.
I will be doing several travel tours next year. If you would like me to come to your area email me at jericksonphoto@me.com. I will add you to my mailing list and inform you when I'm going to be in your area.
As a contemporary photographer, by use of color and vibrancy attention is brought to the image. I try to blend the world of art and it's beauty with the world of edgy fashion. Photography is my life and my love and new ideas are always welcome so lets work to create some great photographs. All ideas are welcome and willing to be heard I just might take you up on your offer.
I am not currently doing TFP/TFCD. To continue to do what I love I must also work for it. Though it can never hurt to write you never know I might have a itch to scratch. That being said don't let this shy you away from writing to me, anythings possible.
Please contact me for my rates they're very reasonable. We can always come to some form of agreement to cover compensation that would work for the both of us. All offers are welcome to discussion. No budget is too small.
Booking Shoots know for all locations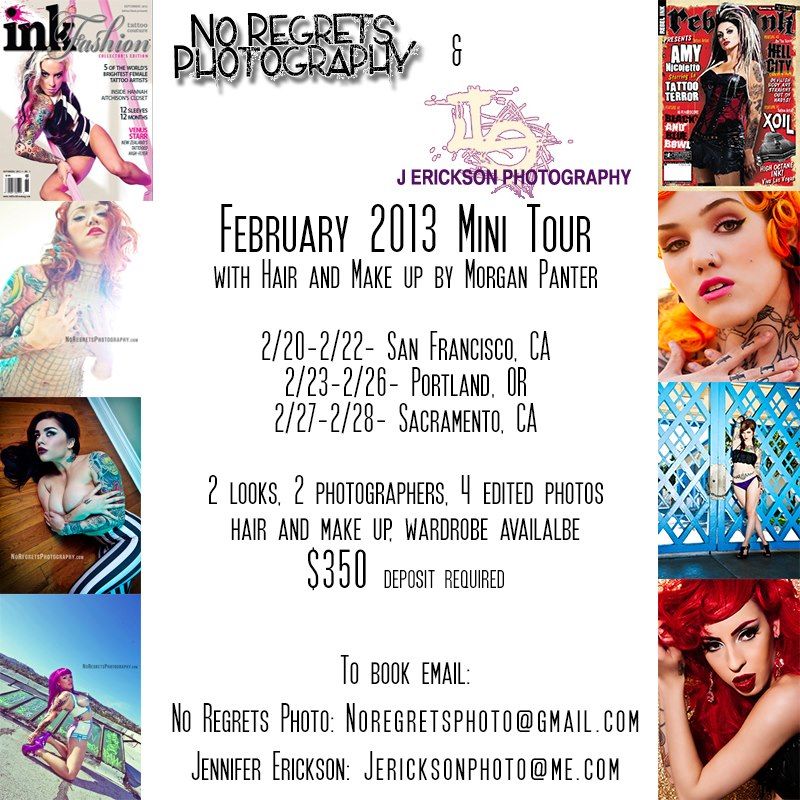 I will work the last few trade shots that have been previously discussed with my fellow creatives
I currently reside in Lake Balboa, CA but am open to the idea of travel.
I have been blessed to have visited many places in my travels and do occasionally return to them. So anyone in Seattle, Vancouver, Santa Barbara, or Los Angeles, and occasionally Indiana hit me up.
I love meeting new people and making new connections. As artist we all understand that we love to hear what other people think of your work and talk about ideas. I'm always open to meeting a fellow creative for a cup of coffee or Internet conversation.
Feedback is returned.
Will consider TFP/TFCD with designers, publication, and agency models
you can even twitter me at
www.twitter.com/funkyphotojen
and we can really get to know each other
www.myspace.com/jericksonphotography
http://www.facebook.com/jericksonphoto
and
www.facebook.com/jericksonphotography
JEricksons work can be seen a little of everywhere.
Check out these lovely people and places.
Web Site for La Vita e' Bella Restaurant
Any Seattle area resident should visit this restaurant
www.laviitaebella.us
Here are some of the designers my imagery is found with:
Toxic Vision
One Love Clothing Deluxe
Katie Kuthroat (designer Stylist)
Rockin Bones Entertainment
Vionnet Boutique
Candy Spooky Designs
Fables by Barrie
I AM King Clothing
Gasoline Glamour Jewelry
Jessica Darwin
Ms Alphabet
Torture Couture
Angel Loves Pink
Liz Law Jewelry
RAW Lingerie
Killers Never Die Clothing
Lip Service
Black Norms
Mayumie Creations
Sugar Mafia
Bones and Roses
Sarah Ellis (Stylist)
Gutter Kash Clothing
Running with Scissors
Tizzalicious
Black Licorices Latex
Black Lotus
Vintage Docter
Glittersniffers Cosmetics
Stray Cat Cosmetics
Loops and Pluto
Ego Assasian
and many more
Publications
Phenoix 2007
C Magazine 2009
Aviators
www.wfalife.com
(cast photos) 2008 : 2009 : 2010
Style.com 2009
Move Magazine 2009
17 magazine (Ad for Splat Hair product APril 2010)
Buzz Magazine 2010
Glam Rock Magazine 2010
MF Magazine 2010
Glam Couture 5X 2010
Here are some of the MUA and Hairstyles and i've worked with:
*******Christina Z Ramirez
*******Lindsay Byrd
*Rachel Rockwell
Melinda K
Leone Qualls
Sydney kramer
Xenia Zen
Hanna Nissen
Lana Guerra
*Camillia Rodio
*Reyna Soto
**Krystal Kompton
**Megan Chrisman
*Sivan Krasman
*Leonne Nicole
**Eva Woodley
LB Benson
Roanne Zaragoza
Jessica ...
These are just a few of the celebrities and models i've worked with:
Dave Navarro
Amy Nicolletto
April Scott
Cherie Johnson
***Kelly Eden
Shannon Noelia
Jordan Knightley
Gigi Brooks
*Maya Michelle Raw
Areona Moini
*Megan Chrisman
Freddy Figs
*Tawnya Robertson
Viktorya
Jedidiah
Monica May
Masuimi Max
Felix Monet
*Jayde DiVita #789829
Kaysea #494430
Chriselle L #683936
Natasha Selevanova #535429
*Judy Luck #160745
Jeanine Alexandria #190141
**Jamie Doe #407076
**Holly Cakes #648020
***Krystle Crossbones #721856
Lexy Mae #700933
Kaysea #494430
**Rachel Lehcar #745095
Rose Carriaga
***Cherry Dollface
**May Star
Mia Allen
Hanna Nissen
**Loooo
Tori R
***Rachel Rockwell
Janisi Fisher
Kaulin Aubrey
Vault Girls
***Sparrow
Twigglet
Bridget Blonde
Christina Fury
***Jesse Pagz
and so so many more
All stars means i've worked with them on a semi regular basis or have shot with multiple times