I'm just a amateur photographer. I began to engage in amateur photography in high school in 1972 and I worked until 1985, when I stopped because I was in a wheelchair through injuries.
Again I started photography in the digital age in 2006.
I have a small photo studio 8 to 4 meters, and generally work, commercial, technical, marketing, and macro photography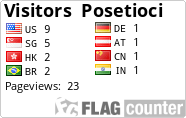 .
. .

.-.
.
..
[Prijatelji