★
Photographers
★
Blind 7 Photography - MM#371430 (x2)
T H Taylor - MM#45851
Sita Mae - MM#12528
Ethan Long - MM#6997
Anima Latro Photography - MM#1129816 (x6)
Grey City - MM#842597
Brett Marler - MM#118764
Marius Photography - MM#2156598
Lee David Photo - MM#1561573
EroticArthouse - MM#2421965
BNPhotography - MM#1551184
Baby Kanga Pix - MM#1223853
Headhunter - MM#32220
SE Georgia Photography - MM#1344304 (x2)
Crystal Vision Photography - MM#174585
T.S. Caudill - MM#10575
RCImages - MM#154157
Sleepyfotomann - MM#2179289
YZF Jeff - MM#2718541
Adam Grey - MM#1876108
Sunlight Productions - MM#1874776
Herblish - MM#193267 (x2)
Dezi Lu Photography - MM#1564924
William Spear - MM#273419
Stephen Gill - MM#21555
Journey2Darkness - MM#694533 (x2)
Nothing Butt Naked - MM#1574026 (x2)
CMYK Studios - MM#812547 (x2)
Jean Paul Cristian - MM#1871813
Jhor Couture - MM#1109573
Posh Portraits - MM#216325
Pinkerton - MM#1584334
Michael McGowan - MM#6308 (x3)
Commercial Works Photo - MM#502760 (x2)
Laura Webb Photo - MM#758727
AlexaArt Photography - MM#715794 (x3)
Robert L Person - MM#1040889 (x3)
Ken Love Photography - MM#640432
Jim Miller - MM#10113
★
Models
★
Vassanta - MM#209943
Jschwa21 - MM#2225925
Deanna Deadly - MM#377063
Anastasia Stitches - MM#2197645
Midnight Storm - MM##1496311
Charlie Mancini - MM#1989643
★
Body Painters/Artists
★
The Wood Whisperer - MM#1162153
Curt001 - MM#1914750
Jamie Janett Graden - MM#1756032
CirqueVille - MM#1392150 (x2)
★
Makeup Artists
★
RiA FReDEriCkS mUaH x - MM#1553812
Makeup By Z - MM#1466210
Steven Story - MM#1647103
★
Companies/Clothing Designers
★
1AEON Clothing - MM#2238018
Bone Deth - MM#1028576
http://bonedethbmx.com/
★
Published Work
★
'Nude Closeup'
by EG Irwin
'The Beauty of Infrared'
by Larry Nighswander
Testify!:
"Photogs. You have to shoot Scarlite. We had a wonderful shoot. She showed up on time, had a signed Models release and a copy of her drivers license with her on her arrival. Then proceeded to give me some of the most wonderful poses with expressions. Total pleasure to work with. Highly recommend" ~ Nothing Butt Naked
"Scarlite, would I wreck your image if I said that you are a sweet young lady, a pleasure to work with, have a fantastic look, are very cooperative, know how to pose, have definite good ideas for shoot themes and on and on? Well all those things are true and I can't wait to work with you again!" ~ Robert L. Person
"Scarlite, My wife and I enjoyed having you over for one of our alien body paint sessions. I think that you realize that everyone has some alien DNA somewhere within their genome. Some of the images that we captured would give Capt. Kirk a woody! And of course a few of them would make your parents proud to be grandparents (LOL). Thanks again, you were a real charm." ~ Roadtrip Photography
"Thank You for the AWESOME PHOTOS. Your look, style and interpretation of the concept was ORIGINAL and REFRESHING. Anxiously anticipate our next adventure. u r TOTALLY COOL." ~ Stephen Gill
"Awesome talent, amazing look, great attitude! You were a breath of fresh air to work with! Definitely looking forward to the next shoot!!! ~ Free World Film Project
"BIG hugs to you. You are beautiful, sweet, and a ton of fun (with boobs that need to be insured!)... I'm your shooter any time and any place!" ~ T H Taylor
"Thank you for the amazing dedication and creativity you bring to modeling. You absolutely make the art. Can't wait to work with you again and again!" ~ William Spear
"What a great model. It was such a pleasure to work with you. Can't wait to shoot with you again. I highly recommend you book this model." ~ CMYK Studios
"You looked regal in face and body paint. Everyone was enamored by you, what a STAR!" ~ Jamie Janett Graden
"Thanks for exceeding all expectations! You're a beautiful and wonderful talent!
" ~ HEADHUNTER
"You are an amazing model and I definitely want to work with you again soon. Thanks for joining us!" ~ CirqueVille
"CANT WAIT TO WORK WITH YOU AGAIN
~ Jhor Couture
"It's the Muppet Show with our very special guest star, Scarlite Marie!"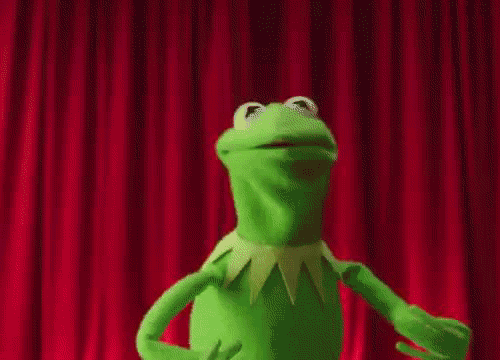 ... I've always believed that you're no one until Kermit introduces you.
At this point, I think it's only appropriate to mention that I'm a huge nerd.