I'm Jon, a 28 year old photographer located outside of Philly in West Chester, PA.! I just started at the end of 2010, but I've been working on it in some form almost every day since. I've been fortunate enough to work with some very talented models and learn from some great photographers. Overall it's been a lot of fun!
I am comfortable on location and in the studio. I mostly shoot with strobes, but sometimes use natural light. Whatever gets the job done. My time is limited for TF shoots, but it does not hurt to ask. I am willing to make time for creative and hard working models. I am always available at reasonable rates.
Photographers
: A lot of my shoots are done at Frog Hollow Studio in Newtown Square, PA. The studio itself is large and also includes a decent amount of secluded outdoor private property to shoot on. Please contact the owner, Ross Watson, for booking details (MM#14444).
18+ POTD Winner - 7.30.2012 & 12.25.2012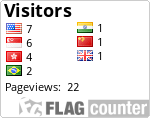 (as of 12/16/11)
Facebook:
http://www.facebook.com/jon.jaephotography
500px:
http://500px.com/JAE_Photo