My name is Mark Lister and I am an experienced mobile photographer with a selection of portable studio lights ideal for indoor shoots. I shoot a mixture of Portraits, Portfolios, Fashion and Production.
I'm looking to work with a range of people and styles and also willing to shoot to help people build their portfolios.
Get in touch for more information by sending a private message or calling me on 07949 277 911.
'Like' Me on facebook by clicking on the below link
http://www.facebook.com/pages/Lister-Ph … 5719333332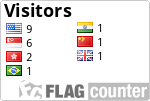 I have just ordered some very cool business cards that I would recomment for all photographers and models. You get to creat a mini portfolio with your contact details. Highly recommended. Click the following link to see what its all about.
http://www.moo.com/share/ffp9ph