A little bit about who I am- My name is Karen, and I grew up with a camera in my hand. I am a FEMALE photographer. I own my own business, called Chained Photography by Karen - formerly Memory Treasures Photography - in Wheeling (about 1 hour's drive from Pittsburgh, 1 hour and 20 minutes from Morgantown, WV, and about 2 hours from Columbus, Ohio- and is in the tri-state area of PA, WV and Eastern Ohio- and I'm an extensively published photographer, artist and graphic designer. I have a home studio with professional equipment that I use during the winter, but prefer shooting outdoors when the weather permits. I can turn any space into a studio, however. I have a Bachelor of Arts degree from West Liberty University, and a certificate degree from TCI, located on 5th Avenue in New York City. If you're interested in working together, please send me a message on here so we can discuss it. I began my love affair with photography over 20 years ago, and it has gripped me ever since. I am not a kid, nor am I an amateur, and photography IS my job, not a hobby- please respect that. I learned the art of photography from my late father, who was the best man I've ever known, and was the best friend a girl could ask for.
This portfolio is just to give a flavor of my personal style and does not represent all my work and capabilities. I prefer NOT to shoot your average hang on the living room wall types of images. I enjoy being more artistic and creative in my modeling shoots. Much more of my work can be found on my Facebook page and on my website. Now booking for July and through the summer. When and IF I shoot with you, it is for the whole day, meaning I will not schedule another shoot on your day, and you do the same. Please message me for prices, and possible TFP information can be found below.
My photography has been featured in newspapers and magazines, but I consider my greatest pride and achievement being Mommy to my two grown daughters. I credit them for being my inspiration to start taking pictures seriously. I have always called my oldest daughter Gretchen (MM #2339329) my Muse, and am aware that I have been truly blessed to have been able to photograph her over the years. If you're a photographer reading this and you get the chance to work with her, I STRONGLY RECOMMEND IT.
**I had the pleasure of organizing and hosting 2 large group beach model/photographer shoots on Lake Erie in Cleveland, in the summer of 2014, and met some awesomely wonderful talented people I now call friends.
People fascinate me, so naturally my specialty is portraiture and models. But I shoot everything, including weddings, babies and children, and the occasional landscape if it strikes my fancy. But- if I were a wealthy woman, I would be shooting only models (Female AND Male) and concept shoots. I am very professional, but also believe this- if you're not having fun, you're in the wrong business. (That includes leaving out the drama. I have no desire to be a part of it.) I do love to photograph all types of people, of all races, creeds and denominations- Diversity makes life spicy!
I don't take snapshots, I make art. My images don't look like your average snapshot. I enjoy what I do VERY much, and I am going to continue to do it until I DON'T enjoy it, and I don't see that happening anytime in the future.
I shoot with Nikon, and Photoshop is my editing tool of choice.
Friend requests are readily accepted. I believe in the idea of networking.
*Retouchers, do not tag your rates on my page, thank you. I do all my own editing.
IMPORTANT STUFF THAT MUST BE READ TO WORK WITH ME:
*Please read all of this, if you want us to work together. Thank you very much for that in advance. I realize it's a little lengthy, but also I'm aware you need to know what to expect when you shoot with me, if you've never met me. I want to make you feel as comfortable as possible.
Don't think I'll do TFP? Try me. Also, please DO NOT message me wanting to shoot, and then ask me to pay you.
*Latest pet peeve- DO NOT CROP MY LOGO off the images, especially if we did TFP. Also, please credit me on Model Mayhem, Facebook, and everywhere else you post the images. If you don't credit me, it shouldn't be a surprise when your future messages are ignored. Telling me privately how great you think I am does not help me; telling the rest of the world and other models does help me *smiles*
*No flakes. No drama. I do not tolerate it. Life is too short to spend it with negative and immature people. Please and thank you.**
~You will find no drama nor ego from me. I'm a pretty cool lady. I just want to do what I love and make art
*Be at least 18 with a valid state-issued photo ID or a government issued photo ID on your person at the shoot.*
*If we work/ or have worked together, I ask that you leave a tag, add me to your credits, and CREDIT ME on your photos, like a professional. I will ALWAYS do the same for you.*
**My Rates: Here's how it works with me- IF I HAVE CONTACTED YOU, OR IF YOU ANSWER A CASTING CALL AND WE WORK TOGETHER, IT WILL BE A TFP SHOOT. I will also shoot exceptional models or ideas TFP, or if your look or idea would fulfill some void I feel is currently in my portfolio, so do not hesitate to ask. I reserve the right to do TFP with whom I may want to help. Otherwise, my rates are negotiable and very affordable, depending on the shoot. But here is what to expect- The model gets approximately 5-10 selected and finished images edited to perfection, and watermarked photos only for TFP shoots. Also- I EXPECT photo credits on TFP work as well as paid work, as I ALWAYS credit models I've worked with- past and present. It is nice to have that courtesy reciprocated. (Some models have not credited my work and it's very UNPROFESSIONAL, meaning it makes YOU look bad.)
Do not send me your rates, since I will delete any and all inquiries suggesting such. It is insulting. You may message me inquiring about MY rates, however. With as beautiful as most models are, I would not pay to shoot unless I'm working on a themed session that I need only YOU to be the star of, that will be profitable for me as well.
**ALL images taken by me are owned by Memory Treasures Photography and are copyrighted property, for promotional purposes including but not limited to: submissions to magazines, and for advertising my studio on Model Mayhem, Facebook, my website, etc. You may use them freely for your personal and online portfolio- but you do not have the legal right to sell any photo for any reason nor submit to any magazine without my knowledge AND written approval/consent, and I will take legal action if anyone does not comply. ***The photographer always has the copyright to the images, unless they SELL the copyright.*** If you are interested in being published, just ask me. If you are not interested in having your images published, in some form or another, then modeling is probably the wrong profession to be in.
***SORRY, I DO NOT PAY MODELS TO POSE FOR ME AND NEVER HAVE BEFORE. In fact, those I don't do TFP with, PAY ME. I do not pay models for non-commercial shoots. Clients from commercial shoots pay models - NOT photographers. Models do not get paid to pose for pictures. A model is paid (in money, clothing, experience or photos) when they take photos (or video) in order to sell a product. I WILL give you the digital tear sheets from a publication, though. Because I am a nice woman, I've been known to do trades and even give *certain models* the outfits they modeled for me (in special cases only!!), or buy them lunch, get their hair done, or offer my MUAH's services. But that's usually if we have an ONGOING working relationship. I acquire nice things all the time for my shoots. And- I guarantee you beautiful images for your portfolio. I work really hard to be able to guarantee you that. I also have never and do not plan to pay magazines to feature my work, i.e. I don't buy ad space from magazines to be in them. When I've been published, it's because my work was submitted by me, or in some cases, requested by the magazine (YES that does happen). This is why I nor any other photographer can guarantee a model a *for sure* publication, but will try my best if I like the theme- or if you approach me and WE love the theme.
I will give the model a *print* release and images on a flash drive (provided by you) or via email (the easiest and best way), but not a copyright release for images. A copyright release costs money, and I've only signed away a copyright ONE TIME, and it is unlikely I'll sign away my copyright again. Everyone who works with me signs a standard Model Release Form. No exceptions. If you are interested in being published, I will do the submitting. And I ALWAYS provide tear sheets for the models who work with me. I believe it is common courtesy to do this, for hard working models. Tear sheets are one of the most important things in your portfolio, next to your images.
**ESCORTS: Although I have accustomed myself to shooting with an audience, I greatly prefer you do not bring an escort to our shoot. Any escort at all MUST be approved by me BEFORE the day of the shoot. I don't like surprises or being put on the spot at the last minute. If you (or you and a friend) would like to come and meet me before the shoot, that is totally cool. I do have references available upon request, for any model who would like to contact models I have worked with. Or, you may contact anyone on my top 12 list to ask for a reference. I have both models AND photographers on my top 12 list.
***Please confirm with me 24 hours prior to your shoot!! Or I will assume you are not coming.*** Please be advised- I DO NOT GIVE OUT UNEDITED PHOTOS EVER, for any reason. And no one may edit nor retouch the finished images you receive- meaning not the model nor another photographer/retoucher.
Don't be afraid to get dirty, muddy, wet, and maybe even sweaty, if you want good images. I am serious, so please come PREPARED for that. Almost always I will too, for I will do ANYTHING to get the perfect shot. As far as locations go- I'm obsessed with trains and train tracks, and also love graffiti, bridges, the urban decay look, water and waterfalls, dilapidated or abandoned buildings and structures, leather and lace, country scenery, flowers, pearls, Pointe Ballet, and rock and roll!
**Please have your nails done, hands and feet. Either nice polish or tips, or no polish. Chipped nail polish looks awful, and makes it seem like you didn't care enough to get yourself ready for the shoot.**
**Please don't be a NO CALL-NO SHOW. I won't book you again if you are. Also, if we have a confirmed booking, I will require a working phone number for you. If you cannot/will not give me your number, then I cannot book you. I do not have my number listed on here, because I am a FEMALE, and like most of YOU, do not want all my personal information on the internet. I will be happy to give it to you when we are in the booking process. Until then, there are at least 4 ways to reach me listed on this page. *Also, if you are coming through my area and would like to set up a shoot, I would more than likely LOVE to shoot with you. That said, please- Do not message me about this, then during our booking process, message me your price list. It doesn't work that way.
I have an MUA/Hairstylist, and she is cosmetologist/model Kaitlyn Cunningham (Envi Beauty #3321212). Your session must be booked and confirmed at least a week in advance for her services. I do not have a wardrobe person at this time, but I have a lot of clothes and props, and contacts from whom I can get props from quickly. If there is something specific I want to photograph, I will provide the wardrobe for the day- but not for you to take home (YES I had a model do that and I never saw the 2 outfits again). If the theme is your idea, the wardrobe will be provided by you.
**For future reference- On a happy note, I can and will recommend some excellent photographers and delightful models I've had the pleasure of meeting and working with.
On the flip side, I also have a list of the reverse.
***I am in New York City at least twice a year, for at least two weeks each! Will always advise as to when in advance!***
_____________________________________________________________________
Please message me here or on my Facebook page (see my link above), if you're interested in shooting some amazing photos with me. Please view more of my work at:
https://www.facebook.com/chainedbykarencorona
...and my website is:
http://karensmemorytreasuresphotography.zenfolio.com/
Karen's "Memory Treasures Photography"
Conveniently located on Wheeling Island
Wheeling, WV 26003
karen.merritt2010@gmail.com

Date counter started: 3/1/2014, at 5pm EST
__________________________________________________________________
"It's that I don't like white paper backgrounds. A woman does not live in front of white paper. She lives on the street, in a motor car, in a hotel room."
~Helmut Newton
"You don't make a photograph just with a camera. You bring to the act of photography all the pictures you have seen, the books you have read, the music you have heard, the people you have loved."
~Ansel Adams
Which of my photographs is my favorite? The one I'm going to take tomorrow.
~Imogen Cunningham
"A portrait is not a likeness. The moment an emotion or fact is transformed into a photograph it is no longer a fact but an opinion. There is no such thing as inaccuracy in a photograph. All photographs are accurate. None of them are the truth. You don't take a photograph, you make it. Because photography is art, and art has no limits."
-Ando Karakawa
__________________________________________________________________
Watch my video I made of Heather Volk #3106520
https://www.youtube.com/watch?v=6vkeJlLPGI4
Baba Lous Beauties Magazine's Black and White Starlets Sept. 2014 Special Edition
Gorgeous Freaks Magazine Issue 31, August 2014.
Fashion Bombshell: Swim, Surf & Sand Edition June 2014.
SnapMatter: Shout Outs Magazine #6, June 2014, page 32, with Kat Connell #885142.
Delicious Dolls June 2014 Issue, pages 38, 39, and 49.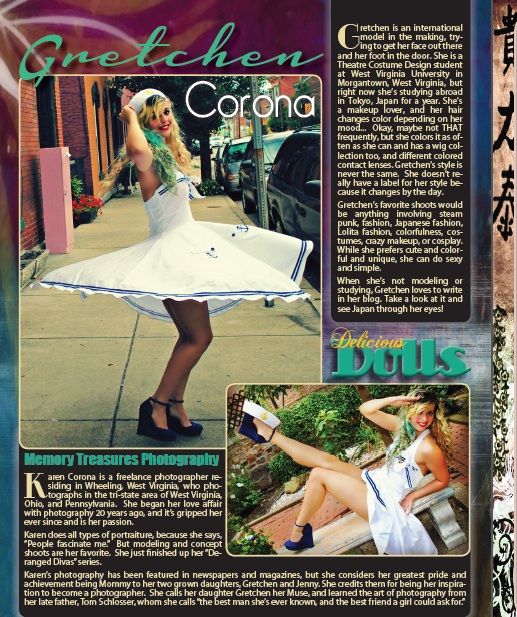 Delicious Dolls Magazine's April 2014 Sheer Issue Special Edition, page 48.
I am Featured Photographer in Issue 27 of Gorgeous Freaks Magazine!!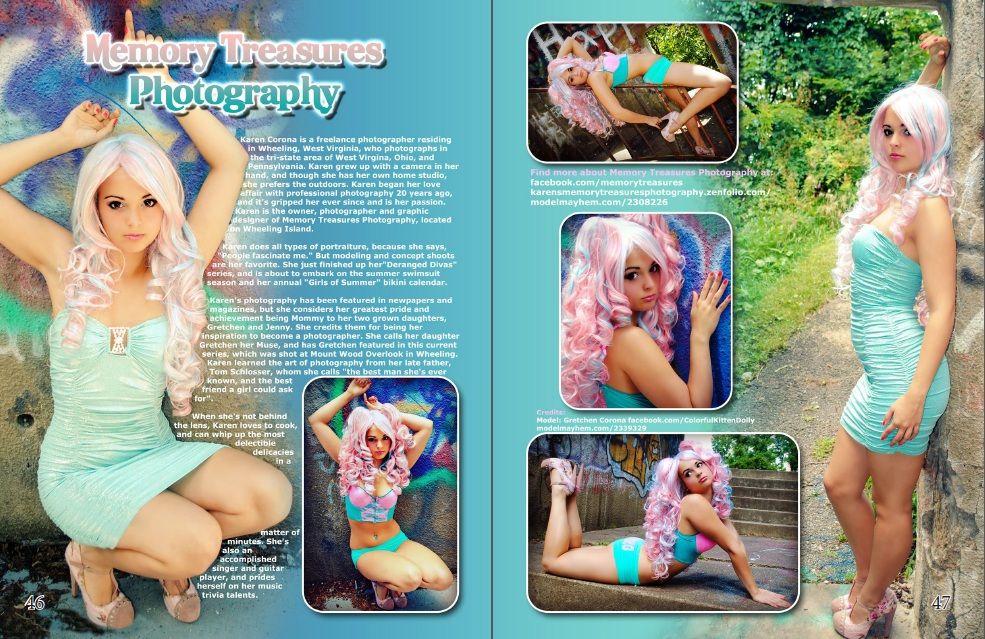 Delicious Dolls Magazine, April 2014, page 29.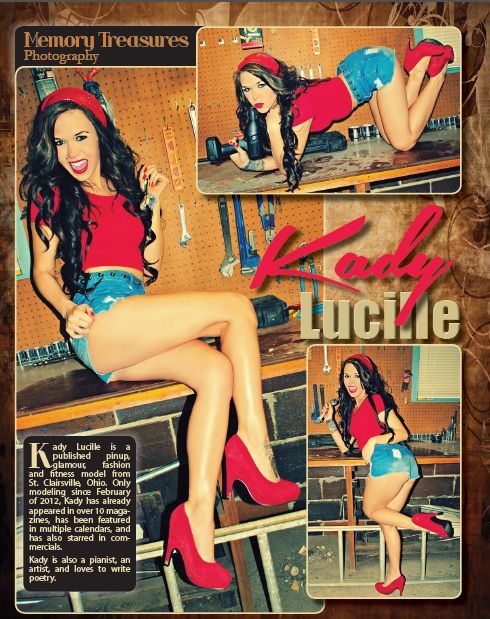 SnapMatter Shout Outs Magazine Issue #3, March 2014, pages 40 and 41.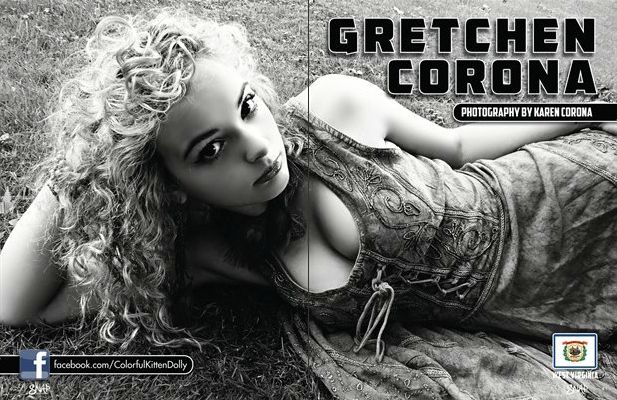 Centerfold in Strange Beauty Magazine's Halloween 2013 Edition-
Memory Treasure's Photography's own 2014 Bikini Calendar called "The Girls of Summer", released June 2013- FEATURING Megan Marie Thomas #2691663, Kat Connell #885142, Gretchen Corona #2339329, Chasity Blake #3143145, Jenny Rose #2602494, Scarlet Nickerson #2384487, Ashley McMahon #2237361, Heidi Pempak #3209275, Brie Young (not on MM), Ashley Tomolonis (not on MM), Angela Myers (not on MM), Jessica Gooch (not on MM), Adrienne Rine (not on MM), and Devon Michelle (not on MM).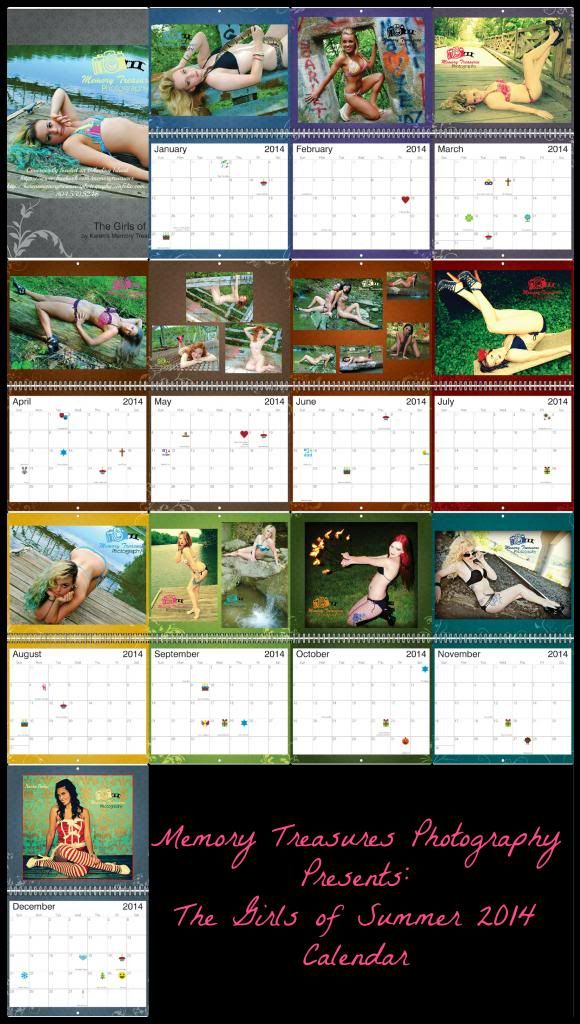 PUBLICATIONS and PROMOTIONAL WORK:

*CD/Album Cover for The Catch Blues Band, also all their band posters in and around The Ohio Valley River area, and pictures published in the newspaper The Intelligencer/Wheeling New-Register from 2011-2013.
*Alex Coogan's Political Portraiture and all photography for his Wheeling, West Virginia City Council Campaign, in the newspaper The Intelligencer/Wheeling New-Register and on posters, 2011/2012.
*CD/Album Cover and all promotional photos for country singer Alexandra B., who auditioned for the TV show The Voice, in 2013.
*Chained Photography by Karen's own annual bikini calendar, called The Girls of Summer, and features Megan Thomas, Kat Connell, Gretchen Corona, Chasity
Blake, Jenny Rose, Scarlet Nickerson, Ashley McMahon, Heidi Jo Pempek, Brie Young, Ashley Tomolonis, Angela Myers, Jessica Gooch, Adrienne Rine, and Devon Michelle.
*Chained Photography by Karen's 2014 Modeling Calendar, for Megan Thomas.
*Strange Beauty Magazine-
2014 Breast Cancer Awareness Calendar, featuring Heather Volk, the month of August.
FEATURED photographer in the 2013 Halloween edition, with Centerfold photos of Heather Volk, w/ cover mention.
*Model Up Magazine-
November 2013 Issue, with Megan Thomas.
2014 "Models of MODEL UP Magazine" Calendar, featuring Gretchen Corona, Miss July.
December 2013 Issue, with Gretchen Corona, and Centerfold of Heather Volk.
Summer 2014 Quarterly Issue, with Alexxxandra Danielle, Megan Thomas, and Special Centerfold Gretchen Corona.
*SnapMatter Magazine-
2013 Holiday Edition, with Gretchen Corona, Heather Volk, and Kady Booher.
SnapMatter Shout Outs Issue #1, January 2014, with Kady Booher.
SnapMatter Shout Outs Issue #3, March 2014, with Gretchen Corona.
SnapMatter Shout Outs Issue #6, June 2014, page 32, with Kat Connell.
Snap Matter - 2014 Swimsuit Edition Volume #1, July 2014, with Heather Volk.
Snap Matter - 2014 Swimsuit Edition Volume #7, August 2014, with Amanda Michelle.
*Browz Magazine-
Leggy Ladies Special Edition, November 2013, featuring Megan Thomas, Gretchen Corona, and Chasity Blake.
*Glimpse Magazine-
Tattooed Brides: First Class, February 2014, with Heather Volk.
Special Music Edition 2014, with Anne Glasgow and Gretchen Corona.
*Delicious Dolls Magazine-
April 2014 Regular Issue, featuring Kady Booher, w/ cover mention.
April 2014 Sheer Issue Special Edition, with Kaitlyn Cunningham.
June 2014 Issue, with Megan Thomas, Heather Volk, and Gretchen Corona.
*Modern Model Magazine-
April 2014, pages 47-48, with Heather Volk, w/ cover mention.
* D'Lovely Publications-
2014 Pin Up Book, "D'Lovely Damsels - Purely Pin Up", featuring Kady Booher, w/ cover mention.
*Gorgeous Freaks Magazine-
***FEATURED PHOTOGRAPHER IN ISSUE 27, April 2014, w/ cover mention.*** I am honored to have Gretchen Corona's pictures in my feature.
Issue #28, May 2014, with Miss Scarlet Sacrilege.
Issue #29 June 2014, with Cherice DiProsperis.
Male Edition Issue #30, July 2014, with Matthew Monstar.
Issue #31, August 2014, with Sweetmelissa.
*Tattooed Time Bomb Magazine-
Issue #7 June 2014, with Cherice DiProsperis.
*Fashion Bombshell Magazine-
Issue #14 - Spring Pinup Edition, with Gretchen Corona.
Swim, Surf & Sand Edition, June 2014, with Heather Volk.
Patriotic Edition, July 2014, with Gretchen Corona.
*Modelz View Magazine-
March 2014 Issue, with Heather Volk, w/ cover mention.
March 2014 Part II, with Gretchen Corona.
May 2014 Issue, with Megan Thomas.
June 2014 Issue, with Katiria Marie.
July 2014 Issue, with Alexxxandra Danielle.
MODELZ VIEW SPECIAL ISSUE # 1 || TOP 69 LIMELIGHT FEATURES, with Heather Volk, and Megan Thomas.
Modelz View Magazine's Top 88 Candies, July 2014, with Gretchen Corona.
*Aqstrashot Magazine-
May 2014 Issue, with Megan Thomas, w/ cover mention.
June 2014 Issue, with Katiria Marie.
July 2014 Issue - 4-page spread, with Alexxxandra Danielle, w/ cover mention.
*Baba Lou's Beauties Magazine-
Anything Pin Up April 2014, with Kady Booher.
May 2014, Anything Pin Up Issue 13, with Kady Booher.
Black and White Starlets September 2014 Special Edition, with Megan Thomas.
*Wicked Women Magazine-
Three Page Spread in "Deadly Summer Nights", April 2014, with Megan Thomas.
"Bloody Dames Special Edition", May 2014, with Heather Volk.
WICKED #3, June 2014, with Miss Scarlet Sacrilege.

_____________________________________________________________________
The fact that I have worked with a model is not meant to imply that I endorse that model's work, nor that I do not endorse her/his work. I have worked with the following models:

Multiple Shoots:

Model Mayhem Models-

Gretchen Corona #2339329 - 20+ x *Girls of Summer Calendar 2014 & 2015
Megan Marie Thomas #2691663 - 10+ x *Girls of Summer Calendar 2014 & 2015
Sheila K #1211144 - 2x
Heather Volk #3106520 - 10+ x *Girls of Summer Calendar 2015
Kaitlyn Cunningham #3321300 - 5x
Brettny Griffin #2673199 - 1x *Girls of Summer Calendar 2015
Sweet Melissa #3366376 - 4x *Girls of Summer Calendar 2015
JamminD #2463487 - 1x
Alexxxandra Danielle #3440344 - 1x
Amanda Michelle #3434654 - 2x *Girls of Summer Calendar 2015
Cherice DeProsperis #3382974 -1x
Reesie DILLIGAF #1821759 - 1x
Rikki Lynn #3322678 - 4x *Girls of Summer Calendar 2015
Jennifer Southall - #3369244 - 1x
Kady Booher #2545827 - 5x
Kat Connell #885142 - 7x *Girls of Summer Calendar 2014
Scarlet Nickerson #2384487 - 10+ x *Girls of Summer Calendar 2014 & 2015
Dean Stobbe (photographer) #12987 - 1x
Chasity Blake #3143145 - 8x *Girls of Summer Calendar 2014
Hugo Andreini #2342123 - 10+ x
Jenny Rose #2602494 - 20+ x *Girls of Summer Calendar 2014
Teila Scott #2175692 - 4x
Kayla Shieler #3345656 - 1x
Matthew Monstar #67125 - 2x
Rob Alvarez #3312847 - 6x
Ashley McMahon #2237361 - 1x *Girls of Summer Calendar 2014
Anthony Alleno #3084423 - 4x
Casey Phelan - #3215002 - 1x
Luna Willow #3162180 - 3x
Devin Le #3395154 - 1x
Heidi Jo Pempek - #3209275 - 2x *Girls of Summer Calendar 2014
Catherine Calandrelli #3125236 - 1x
Ashley Jo Kilgen #3147187 - 1x
Ashley Murphy #3280205 - 1x
Keshauna Leigh #3222826 - 2x *Girls of Summer Calendar 2015
Zach Yereb #3396396 - 1x
Fetzabella #3423688 - 1x
Marc Landon #3302598 (photographer) - 1x
Anne Glasgow (Emerald Waves) #3454971 - 10+ x
Amy Renee #2676188 - 1x

Models Not on MM-

Ashley Taylor - Cleveland, Ohio - 1x
Tara Horvath - Wakeman, Ohio - 1x
Kelly Renee - Cleveland, Ohio - 1x
Julia Thomas - Broadview Heights, Ohio - 1x
Jay Wahl - Cleveland, Ohio - 1x
Rick Partyboy - Cleveland, Ohio - 2x
Mark Joseph - Cleveland, Ohio - 2x
Jaclyn Starkey - Proctor, Wv - 1x
Miklynn Morgan - New Martinsville, Wv - 1x
Meng Zheng - Morgantown, WV - 4x
Katiria Marie - St. Clairsville, Ohio - 2x *Girls of Summer Calendar 2015
Ashley D. (Krystal Violet) - Morgantown, Wv - 2x
Rebekah J. - Mrgantown, Wv - 2x
Jazmyne Scott - Oceanside, CA - 5x
Joe Rood - Toronto, Ohio - 1x
Kyle Watson - Los Angeles, CA - 2x
Alex Coogan - Wheeling, WV - 4x
Kacey Oates - Triadelphia, WV - 6x
Taylor A - Wheeling, WV - 2x
Angela Myers - Wheeling, WV - 1x *Girls of Summer Calendar 2014
Devon Michelle - Akron, Ohio 1x *Girls of Summer Calendar 2014
Brie Young - Wheeling, WV - 1x *Girls of Summer Calendar 2014
Andy Surgent - Wheeling, WV - 1x
Lucas Stan - Wheeling, WV - 3x
Jasmine Johnson - Glendale, WV - 4x
Jessica Gooch - Toronto, Ohio - 1x *Girls of Summer Calendar 2014
Adrienne Rine - Brilliant, Ohio - 1x *Girls of Summer Calendar 2014
Amber and Brandy Killeen - St. Clairsville, Ohio - 2x
Ashley Tomolonis - Martins Ferry, Ohio - 1x *Girls of Summer Calendar 2014
Katie Hutchison - Morgantown, WV - 3x
Melissa Kurner - Belmont, Ohio - 1x
Kayla Bopp - Shadyside, Ohio - 1x
Brittany Saggio aka singer Alexandra B. - Morristown, Ohio - 1x
The Catch Blues Band - Wheeling, WV - 4x
Product for Photography work for several national boutiques. (Names provided upon request)

Photographers I've collaborated with:
Ironmantis (Dean's Dancing Digits) #12987

MUAS I've worked with:
My Current MUA/Hairstylist- Kaitlyn Cunningham (Envi Beauty) #3321212
Gretchen Corona #2339329