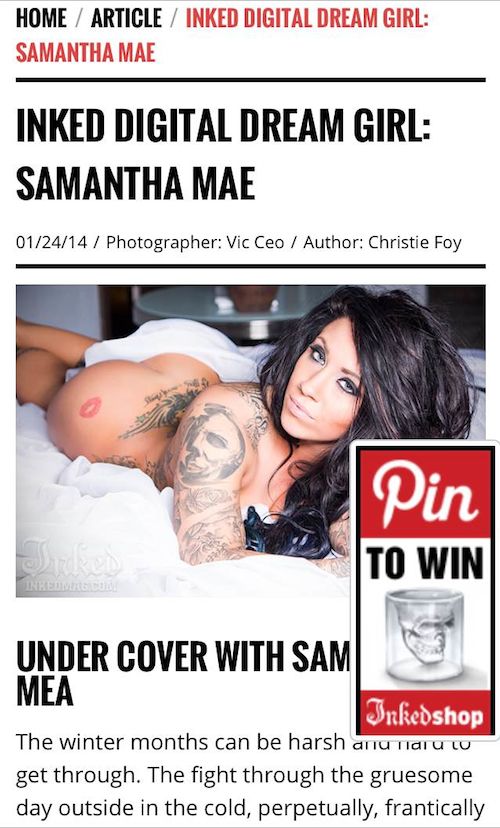 The Sexy Samantha Mae in Inked Magazine
Maxim Magazine:
http://www.maxim.com/hometown-hotties/g … ll_profile
http://www.maxim.com/hometown-hotties/diana-voorhees-nj
H2Ocean Models:
http://www.h2oceanmodels.com/portfolioe … -vendetta/
Diana - Voorhees, NJ
www.maxim.com
Diana - Voorhees, NJ - Maxim Hometown Hotties Contestant Week:3 - Year:2013
http://back2thefresh.com/2013/03/07/mod … arrington/
See more of my work at:
http://vblazin.tumblr.com/
http://back2thefresh.com/2013/03/05/mod … and-nancy/
http://www.maxim.com/hometown-hotties/r … -nyModels:
Fallon Ven Detta #606613
Kristy Ann #632357
Monique Dolly #131743
Shay Lynn: Mayhem #1871658
Cest Zanete Mayhem #2567111
NancyB Mayhem #160860
Samantha Leigh Catalano: Mayhem #2222514
GinaMarie-GiGi-Marie Makeup artistModel: Mayhem #2245180
Wendy Penedos: Mayhem #1233211
Beisy: Mayhem #1844334
Kari Novelli: Mayhem #2328445
Samantha Mae: Mayhem #2508075
Beth kreiser #1832673
Nancy B: Mayhem #160860
Ms Sailor Jerry Mayhem #2028521
MissVoodoo Mayhem #2222245
Angellena Marie Mayhem #1317284
Laila May Mayhem #2491166
Regine Mayhem #11785
Nyne Lives #774421
ScarlettO #2669639
Desiree #3176407
And the port is growing too fast to keep up with. Thanks to all the models that shared their beauty to make my work look GOOD.
More Photos:
http://www.flickr.com/photos/43110229@N … 811765480/
Here's a some links to my video work. Hope you like it. I really like working with models that can do a little acting.
https://vimeo.com/49535192
https://vimeo.com/49498743
https://vimeo.com/61405241
https://vimeo.com/52216398
https://vimeo.com/50261975
If you need an MUA. Here's one that we work with:
Mayhem #2158062
-----RATES/SERVICE INFO
$60 first/per look (includes false lashes, spray tanning if needed); additional complete looks $25; touch ups/hourly hire $25/hr
*Travel costs will be discussed depending on distance
***For special deals check out my Facebook page!
http://www.facebook.com/ashlylynn.makeup.artist
TF assignments will be considered if all parties will benefit appropriately. I do TF on a limited basis. I encourage you to do your research, as my rates are very reasonable and competitive.
Why hire me?
I do nothing without giving it 110%. I truly love what I do; my passion and drive for my art form pushes me a step ahead of my competition.
SERIOUS inquiries only please ~ I take my work seriously and am not interested in back and forth/indecisiveness that will lead nowhere.
*Parental consent required for minors under the age of 18