Details
Experience:
Very Experienced
Compensation:
Depends on Assignment
Genres:
Acting
Fashion
Glamour
Lingerie
Promotional Modeling
Swimwear
Info
Last activity:
Sep 21, 2014
Joined:
Apr 21, 2005
MM URL: http://www.modelmayhem.com/selectmodels
About me
Greetings from Gary at Select Models!
We host photoshoots in SoCal, 20+ years, over 400 shoots, 1000's of models & photographers have attended. We are not an agency or management firm. Anyone interested in SM shoots are welcome to inquire. Several model & photographer openings available at every shoot. I have a kooky 'freak off the leash' shooting style, for which I apologize. Make sure to add me as a friend here and on Facebook (link above)... WHY?... because I love almost everybody and I'm a freakin attention whore...
Taco Tuesday Meet & Greets Every Tuesday All Year Long / All MM Members & Their Friends Invited!
Taco Tuesday meet & greet network parties are every Tuesday night at Upland El Torito, 335 S. Mountain Ave, Upland 91786. Everyone is invited... FREE chips and guacamole for all... $1 tacos and $3 large margaritas... details here:
http://www.modelmayhem.com/po.php?thread_id=758481
SM Studios Available to Rent / $60 for 2 Hours / $80 for 3 Hours / $100 for 5 Hours
The all new SM 'double room studios and white cove' in Upland CA is now available to rent... $60 for 2 hours, or $80 for 3 hours. Studios include 9 backgrounds, 14ft white cove, 4 Speedotron power supplies, 9 heads w/beauty dish, softboxes & grids, 5 foot Octobox in the white cove, Arri Fresnel and over $3000 in props & wardrobe. Here's the link with photos and details:
http://www.modelmayhem.com/po.php?thread_id=732789
********************** UPCOMING SELECT MODELS EVENTS / DETAILS BELOW **********************

NOV 2-8TH 'SM CRUISEBOAT PHOTOSHOOT' / CARNIVAL CRUISELINES TO CABO SAN LUCAS AND PUERTA VALLARTA
This will be the 6th cruiseboat photoshoot we've organized with over 100 photographers and models attending in the past. Five photoshoots planned in 6 days... 3 on the cruiseship and two on the beaches of Cabo San Lucas and Puerta Vallarta with 15 models and 15 photographers expected to attend. For sample photos, information and details on how you can attend, click on the link below. Hope to seeya on the Nov 2-8th 'Cruiseboat Photoshoot'.
http://www.modelmayhem.com/po.php?thread_id=907312
MODELS ATTENDING SELECT MODELS 'WEEKDAY BEACH MINISHOOTS' HAVE WON THE 'BEACH BABE OF THE DAY' CONTEST 14 TIMES!
HERE'S THE LINK:
http://www.modelmayhem.com/po.php?thread_id=928307
They call me 'The Chuck Norris of Model Photography' because:
(sense of humor is a necessity here)
1. Out of every 10 shots I take, 11 are keepers.
2. All images I capture are edited to perfection at the time of exposure.
3. I never have to focus. Models run back and forth in front of my camera and stop when they're perfectly sharp.
4. My cameras possess force fields to repel harsh elements and are equipped with 'LoJack' to facilitate theft recovery.
5. I never flip my camera to portrait position, the Earth rotates for me.
6. Frequently referred to as 'The High Dynamic Ranger', all images I capture display perfect contrast, hue and saturation.
7. The right focal length lens for the subject is always on my camera.
8. I never have to use flash. The sun moves willingly to perfect lighting placement for every shot.
9. I have no use for tripods. Subjects freeze in my presence and the Earth stops rotating on my command.
10. The wind blowing around me will toss the models hair perfectly, while never disturbing my lightstands.
11. Models have no need for escorts, because
I
am the escort.
12. I never have to adjust my white balance. The world shifts it's color to suit my taste.
13. I have no need for light meters. Every scene I shoot will adjust its brightness for perfect exposure.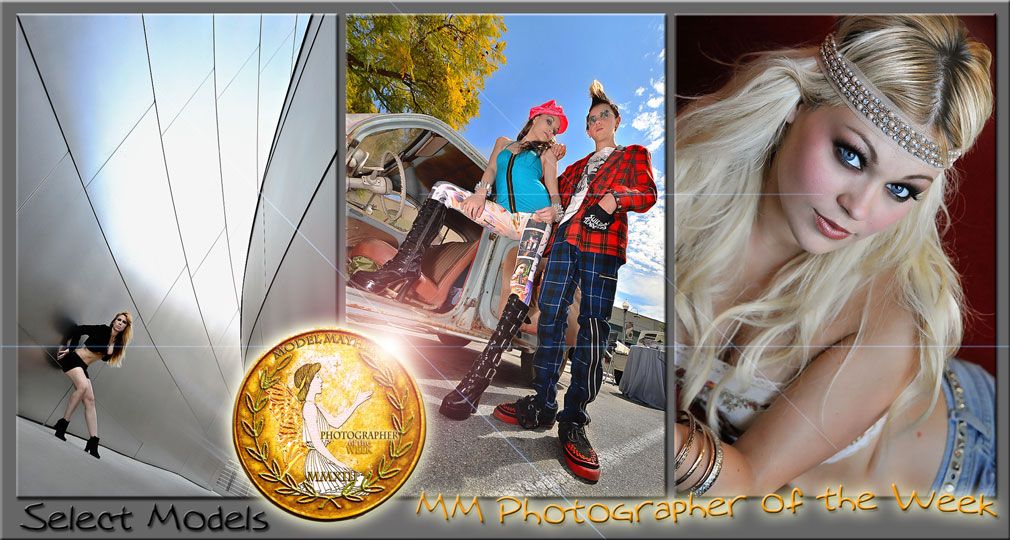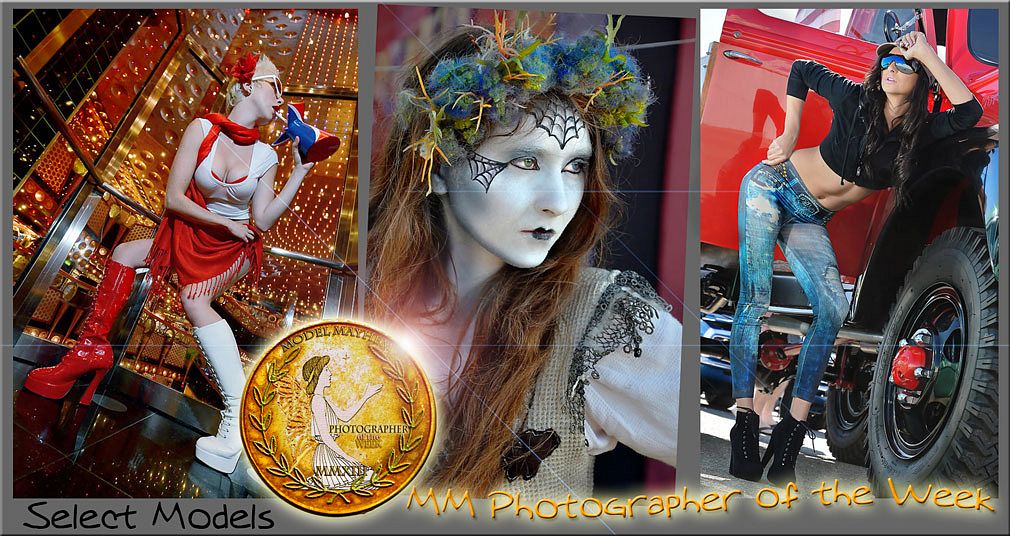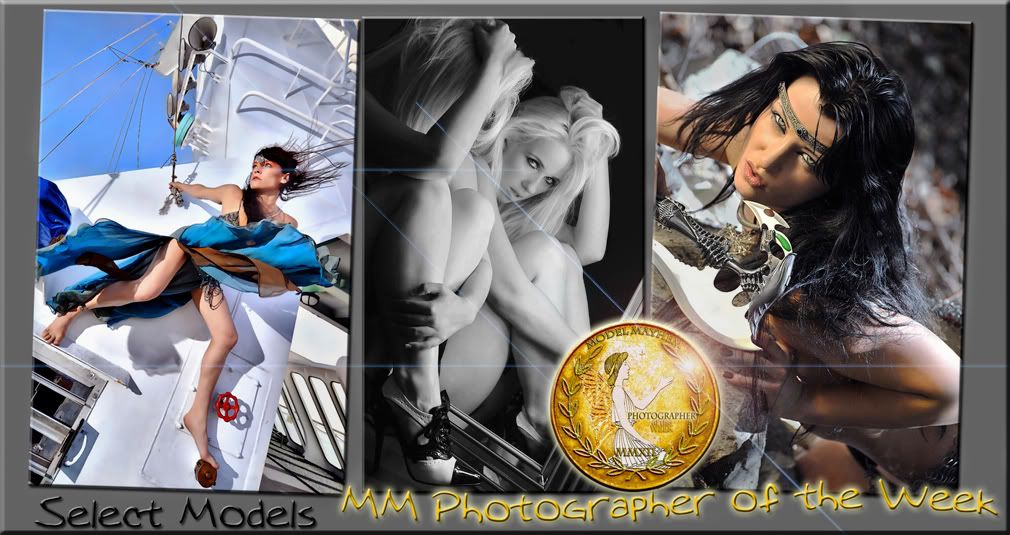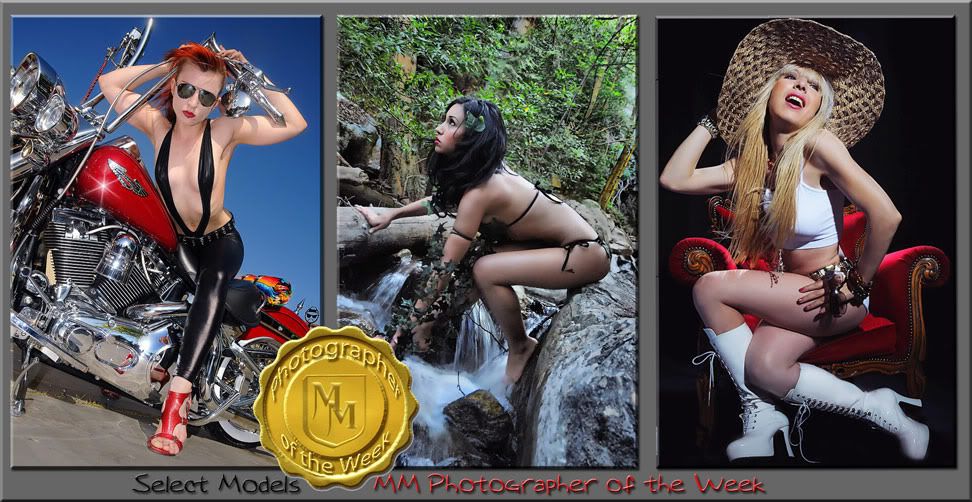 Here's a few short video clips showcasing some of the crazy fun available at Select Models shoots:
http://vimeo.com/5704184
Photos from video here:
http://www.modelmayhem.com/po.php?thread_id=472897
http://www.youtube.com/watch?v=PFZviURdaCI
Photos here:
http://www.modelmayhem.com/po.php?thread_id=472897
Wanna create award winning images? Checkout the Select Models photoshoot events & studio shoots. Unlike other shoot promotors who cherry-pick their photographer & model participants, we invite everyone (with space available) and open the studio doors to anyone interested in our budget rental rates (see below), with 1/2 hour of free studio setup instructions. Checkout the Select Models double room studios (see studio pics below) with new backgrounds & great props. We recently picked up over $4000 in wardrobe props & assessories, available to models & photographers who rent & shoot at the re-designed SM studios.
We have a special 2012 discounted studio rental rate of $25 per hour, or $60 for 3 hours.
Includes all lights, power supplies, pocket wizards, backgrounds and props. All you need is a camera, lens & memory card. There are dozens of studio sample photos on my MM port.
Here (below) is the SM studios all new 'white cove'. Why no visible wall or floor corners? Because no corners exist. It's a complete 'white out' cove with a variety of lighting options available.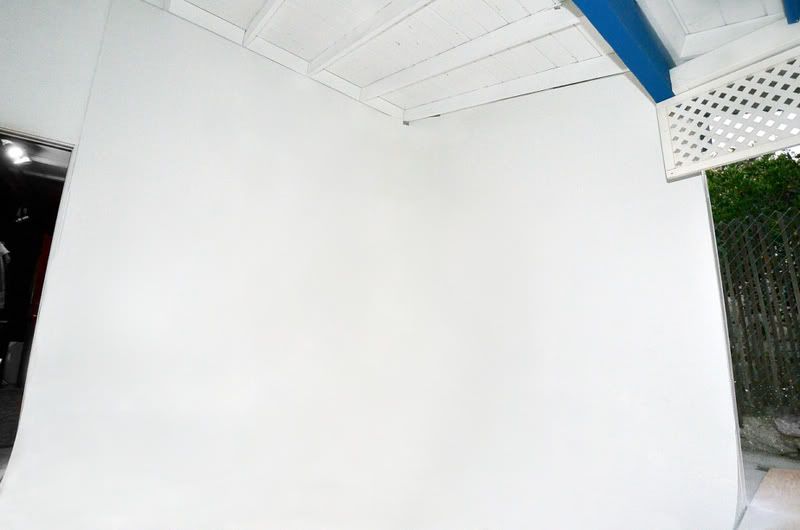 SM studio #1 (below) has Speedotron power supply that syncs to any camera, pocket wizards included. Includes 2 softboxes, one 72in (shoot in front of) LARGE umbrella, 2 booms for snoots & hairlights, 3 'broad to narrow' focus beam grids, one 22" 'beauty dish', an overhead rockband stage lighting rack with multi-colored light projection, a 'Mr Cool' floor creeping fog machine (on floor by couch), 2 jell lights (on couch), projecting blue & purple on backgrounds and into fog, 2 Denny 'old master' canvas backgrounds, a black & white shooting wall surface, 60 feet of AC ropelights (on black floor in photo), Vornado 'tornado fan' (for hair blowing), a headshot posing stool, 60x72 inch wall mirror (for full length mirror shots). Also has I-pod docking station (bring I-pod), heating/AC unit & model changing area. For photographers with limited studio lighting experience, I provide 1/2 hour of instruction & orientation. Fog machine is an additional $20 (fog liquid is expensive), bring a bag of ice. Shoot me mail for dates needed and I'll hold your reservation.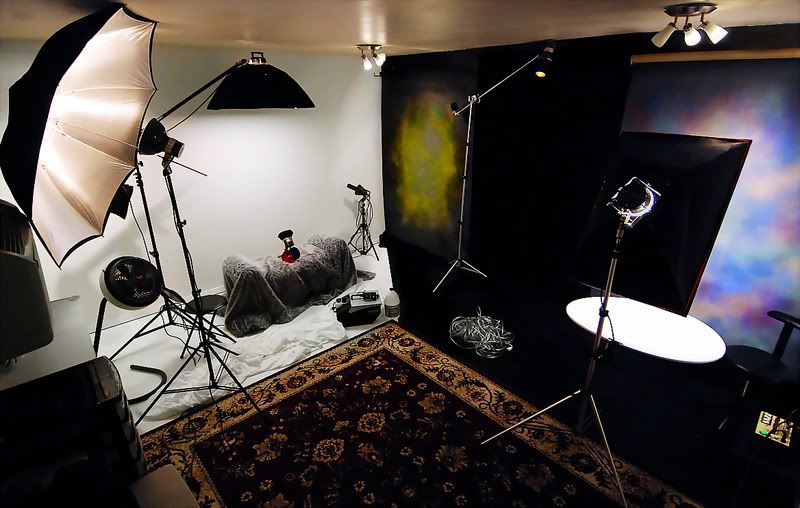 Studio #2s pulldown ladder provides 'shoot from above' photo access, used in the image below of Tara & Kristy.
Rafters also available for suspending models from wraps, see Laura & Stephanie's photo below.
SM Studio #2 (below) has a pull-down ladder for shooting from above, double doors for shooting motorcycles inside. Has I-pod music dock, an assortment of photo props, hair-blowing fan, stripper pole and over $3000 in wardrobe assessories. Backgrounds are a cargo net, large muslin & large canvas. Studio includes 2 Speedotron power supplies and 5 heads, air conditioned & heated for comfortable shooting environment. All lighting, stands, backgrounds, props & pocket wizards included with studio rental.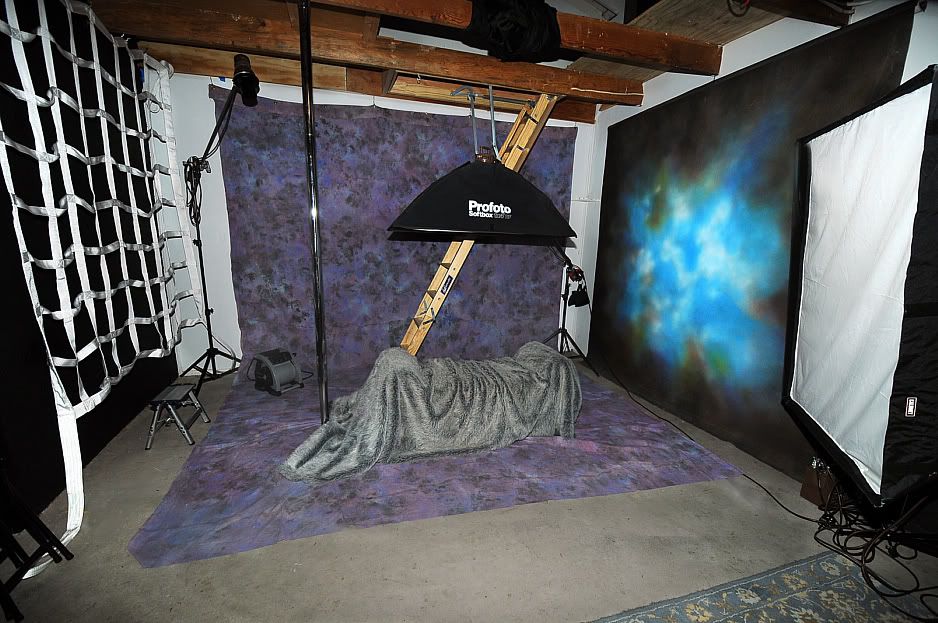 Select Models events & studio shoots are among the best in the nation. Don't take my word for it... read quotes below from photographers & models who have participated at events and rented the SM studios.

Quote from Manus Ferrea (MM#472780) I recommend Models and Photographers attend an SM event, they are the best. Gary sets the gold-standard for group shoots! Quote from Poppy Aurora (MM#2422730) Hey gary, you're like a vacation in front of the camera, sardonic humor, a bundle of laughs and juiciness through out. Quote from James Sioux (MM#625507) Gary! You're the MAN! Thanks for organizing such a fun event! (March 31 Riverside Airshow Shoot). Nothing but great shots. Quote from Nikki Lee1126 (MM#753739) So thrilled I got the chance to work with you the images are amazing! You are so much fun, had a blast! Quote from Bonnie Rose (MM#869015) I couldnt thank you enough for letting me stay at your place while in SoCal. You're always reliable! I had lots of fun at the shoots! Quote from Joe Torrance (MM#1362275) Had a lot of fun yesterday (Feb 19th 'Evil Valentine Shoot'). Thank you Gary and the Models. This was perfect for me as I am getting back into photography and just getting into shooting models! Quote from Corey Crimmins (MM#1212439) Loved the shoot and location Gary (Jan 29 2012 'Antique Ranch & Caveroom Shoot'), it was one of ur best yet. They keep getting better and better, model line up, hosts, everything was amazing! Quote from Myke's Photos (MM#113285) Big thanks Gary! Tons of fun at Sept Poolparty & Gameroom Photoshoot. But that's what you expect from a Select Models shoot. Quote from Rick Matulac (MM#1770140) Just wanted to say thanks for organizing a great shoot. That was a gorgeous location and great models to shoot with. (Jan 29 2012 'Antique Ranch & Caveroom Shoot') Quote from Jim Wallace (MM#2256371) Gary, you really know how to put on a great shoot, from the selection of location, the choice of beautiful models, to the logistics that keep it all together (July 3rd 2011 Mt. Baldy LTB Shoot). Quote by Matt Ford (MM#1438354) Gary thanks so much for the support and time at your studio. What a great value. Really appreciate everything. Quote by Kelly Vy (MM#1153055) Gary... you've hosted so many awesome group shoots last year, and the year before, and before.. and before... I know 2011 won't be any different! Hugs and Kisses... Kelly V Quote by Images by Laszlo (MM#1315763) Gary, Thanks for putting on another kickass event! (2010 Hotwheels Supershoot). Models were awesome, cars & bikes were great. Quote from Lola Baby (MM#1706940) There's a reason why you have so many MM awards and your events are super successful... cuz you're awesome! Your shoots are always amazing and it shows that you do ANYTHING to get the shot. Quote from Charlie's Pinups (MM#1515043) Had a great time at my first 'Select Models' event (Sept 12 'LTB Shoot'/Mt. Baldy). The location just by itself would make for a great day... add a bounty of beautiful talented models and it doesn't get any better! Quote from Collette Valentine (MM#1738002) Had a blast Gary, thanks again for a successful shoot (Aug 22nd 'Tropical Paradise Shoot'). You Rock! Quote From Step Above Photos (MM#210934) More models in Southern Cal get their start shooting at Select Models shoots... so if you have not had a chance and you are thinking about modeling join in on one of Select Models Events... they are a lot of fun. Quote from Corrie Ivy (MM#1356807) Hey Gary, had lots of fun at the Oct 18 'Estate Home Glamourshoot' in Temecula. Great pictures, hot girls, awesome photographers, and tons of fun. What more could i ask for. Quote from Rey Sison (MM#1001476) Gary, I gotta hand it to ya, my friend. You come up with the coolest concepts and locations. Quote from Lucid-Grafx Photography MM#905112 I love that you shoot from up high, down low, head on, and all over the place. Keeps me looking at your portfolio and interested. Quote from (Eric) Bear Photo (MM#134146) Awesome shoot (2010 Tropical Paradise Shoot)... With The European Imports and The Southern California Girls Rockin It What More Could You Ask for On A Sunday afternoon In SoCal with weather in the 70's. How Are You Going To Top This shoot? Quote from MykesPhotos (MM#1132851) Hey Gary... my best images come from your group shoots because you always have the finest and most creative models. Quote from Ed Stevenson (MM#113014) Gary, thanks for a great time at the Aug 26 'Weekday Beach Minishoot'. As always the models were AWESOME! Quote from Alexis Nicole (MM#689981) Hey Gary... what a GREAT shoot! (Aug 29 'Lions, Tigers & Bears Shoot'). The people & location were amazing and the pic's i've gotten back so far are the best! I hope I can go to more SM shoot's in the future, they're too fun to pass up! Quote from George Mendoza (MM#1215289) Hey Gary... wanted to thank you for a great 1st photo shoot last Wednesday at the weekday beach minishoot with Laura & Maddy. Your avatar from that shoot is great! Quote from Christopher Ward (MM#1248955) What surprised me was the explanation of your concept that I read in the paragraphs below your pictures. This is brilliant! No wonder you have had profound success in the past. I hope to attend one of your events in the near future. Quote from Eddy Einem (MM#94249) Great studio setup Gary! Everything you need for lighting or backgrounds is within the possibility of setting up in one session. Quote from Milan of LA (Andrea/MM#1050535) Hey Gary... your Select Models studio party was awesome! I loved attending the Tropical Paradise Shoot on Aug 2nd! Quote from Art Schlosser/'Artographi' (MM#379031) Hey Gary... another fantastic Select Models shoot (July 19 'Beverly Hills Supershoot'). Thanks for a wonderful day! It was great seeing so many friends and had a blast in the making of new ones! Quote from Alise Velez (MM#1156708) Thanks for inviting me to the Tropical Paradise (June 28). I had a blast and I hope to work with you again sometime! Quote from RICKYZAR (MM#827797) That shoot on Sunday (May 31 'Estate Home Glamorushoot') was awesome! I'm new to the scene, still being a student and all, but I really learned a lot at the shoot and on the Events Forum thread as well. Quote from Bella Haushinka (MM#829704) I just want to start by saying THANK YOU! I had an awesome time at the May 31st 'Estate Home Glamourshoot' and I learned alot in 4 hours... probably the most in my life. I am really very thankful for your amazing hospitality. You did MORE than enough and I appreciate it so much, you have no idea. Quote from Rich Masuda (MM#426988) I can honestly say that I've gotten better by going to your group shoots over the years! Quote from Chantelle Gasconigne (MM#178787) Thank you Garebear... I had such a great time (at the April 5th Tropical Paradise Shoot). Evry1 was fantastic and the models were gorgeous! Location was phenomenal! Quote from Hector at BeatJunkie Studio (MM#826267) this (March 1 Vista Glamourshoot) was my 1st event and 1st time shooting models. Thanks for putting this together! I was really impressed with the entire experience... you made it happen at a beautiful place, with gorgeous & talented models. Quote from Tara Renee (MM#453785) Thank you for having me at the beach shoot yesterday. Always fun working with you guys! Hope to come to another one soon! Quote from JonathanP (MM#869325) well, that was awesome! (March 1st SM 'Vista Glamourshoot') as a first timer... i had a blast. you will def see me out there again. gary, you've got something going that sets you apart from the crowd. you provide something that no one else can come close to. i thank you sir, for your selfless, providing position in the photography world. Quote from Mike at Kings Media (MM#493522) Thanks so much for the studio rental and all your setup help! I got AMAZING images. Quote from Dave at DFH Photography (MM#693883) Your shoots are always well organized & loaded with talent! I appreciate your killer locations, great MUAs & exceptional models! Quote from Lee Phillips (MM#60731) Gary... without question... you have got 2 be one of the top photographers in the world... WOW! Quote from Sal Olivas (MM#549949) I attended 3 weekday mini shoots last year and learned more from you and other photographers than any other group shoot. Quote from Shelby Katz (MM#374920) Hey Gary... your 1st beach shoot 3 years ago was my very first ever photoshoot... so I owe my whole start to you. You made it fun and had great photographers & models at the event, who made me feel very comfortable and really helped me get where I am today. Quote from Eric at EY Photography (MM#200396) Thanks for organizing the shoot... your studio is awesome! I will definitely shoot again sometime. Quote from Manus Ferrea (MM#472780) For those wondering if you should attend a Select Models event... there's nothing to wonder about... do it! The events are always well organized, attended by the best photographers & models! The support & camaraderie are unparalleled! Quote from Lacie Marie (MM#138609) Gary, thank you for putting this (Dec 13 Hot Wheels Supershoot) together. Had a great time. Quality of images were stellar! Quote from Ed Stevenson (MM#113014) Many have tried to duplicate what you do only to fail. Your models always ROCK... that is why we have been coming to your events for YEARS. They are consistently AWESOME... they attract great talent all the way around. Quote from Ian Moore (MM#140633) My advice to everyone... make your way out to Southern California to attend a Select Models event. You're sure to network with great photographers, work with friendly beautiful models, talented stylists & make-up artists, and have a blast. The only thing you'll regret is that you didn't do it sooner. Quote from Ariston (MM#821106) Yo Gary! Great shoot yesterday at Wooden Nickel Ranch! Great venue, amazing models, talented photogs...another success! Quote from Tara Renee (MM#453785) I had never done a group shoot before - and I have to admit, I had an amazing time! I will FOR SURE be attending another one of Select Models group shoots, nothing but amazing things to say about everyone who attended! Quote from Elee Photography (MM#767254) Your Dec 13th 'Hot Wheels Supershoot' was awesome, this was my first event ever and I had a blast, great environment, great girls and overall a great learning experience. Quote from Laura Shodire (MM#686083) Gary... I have come to adore the Wednesday beach shoots immensely! The models have been nothing but top of the line, with personalities to match. I have made so many friends from them, both models & photographers alike. Your shoots are bar non excellence and a definite must on model mayhem, or anywhere for that matter. Quote from GiovanniPhotos (MM#725333) Gary... All I can say is that your the man. I had a blast for it being my first group gathering. It was a pleasure meeting such talanted photographers and beautiful Models. Keep doing it and let me know for the next one. I surely don't want to miss it. Quote from Lacie Marie (MM#138609) I highly recommend the Select Models events! I've been working with Gary for years, I love it! Great people, fun experience. Quote from Dave at McX (MM#695532) Gary is one of the most selfless, generous guys out there. He is knowledgeable, professional & personable, he's the superfly, uber-shizzle bomb. Quote from Ron at New Digital Image (MM#196337) Gary's got a well kept secret studio! Anyone even thinking about checking it out, just do it! You'll be glad you did. Quote from Marie Spring (MM#159106): I need to send you some love as you are the man. Your studio is awesome, lighting is perfect and the music is great.

Credits

ADVANTAGES OF ATTENDING SM PHOTOSHOOTS (READ QUOTES ABOVE AND TAGS BELOW)

FOR PHOTOGRAPHERS: To hire several models, pay for makeup artists, location fees & permits, it could easily cost you 100s or even 1000s of dollars, right? Not so at Select Models events. Photographer cost to attend SM shoots ranges between $40 to $80. That pays for makeup artist, location and access to all models attending. Only problem is, you'll be sharing everything listed above with some other photographers. Unlike larger group shoots and photodays, photographer to model ratios at SM events will never exceed 3 to 1. Are you tired of booking models, just to have them flake out & not show? Have you paid for props, backgrounds & equipment, locations & transportation cost, only to find that you've been stood up by an inconsiderate model? Like the convenience of working with several great models in the same time period? There will be many terrific models attending the next shoot, and you are welcome to work with any and all of them. At least 1 makeup artist will always be attending, whos services are paid for with your signup fee.

FOR MODELS: Hoping your photographer is someone you can trust, not a creep or sex offender? Are you afraid the location or environment will be unsafe, or not to your liking? We do not host all nude events, and you will never be forced to pose nude against your own free will. Want a variety of interesting & artistic images? That's what you get by working with different photographers who have their own creative style. Have problems getting escorts for your shoots? You won't need one at any SM event. We provide security, and there is security in numbers. Do you think you are worth hiring & tired of working 'no pay' TFP shoots? Book some paid one on one's at these shoots, and we'll provide free softdrinks, munchies and makeup artist.

THE SOLUTION: We sympathize & relate to your concerns. What we offer is an opportunity to solve these problems by organizing shoots that keep both parties happy. Working with models & photographers in small groups, or '1 on 1' is more the rule than the exception. These groupshoots are not for everyone, but if you're a talented photographer in SoCal looking for great models at a low cost, attending an SM photoshoot could be your most convenient & cost effective solution. If you're a beginning or advanced model looking to shoot with quality, talented photographers, attending SM shoots could open many doors for you, also a great way to get terrific images for your MM port, while networking with many who may share your common interests. A great way to expand your artistic horizons. We select several great event locations each year, offering a variety of backgrounds at all locations. We invite pro & semi-pro photographers who take their craft of image creation seriously. Models receive free admission, free makeup application, free softdrinks and munchies, and get talented & trustworthy photographers to work with, offering different styles of images & different looks, providing variety for your portfolio. We invite mostly So. California models, but out of state models are welcome to inquire.

Nothing shouts 'amateur' louder in your portfolio than the same basic style, same backgrounds, or for photographers, many photos of only a few different models. Take a look at my photo page, and the list generated below (Superstar Models & Photographers who attended SM Photoshoots) and checkout the variety of images that can be captured at SM photoshoots. We have hosted well over 400 photoshoots in the past 20 years, with 1000s of models & photographers attending. Our largest event had 91 models and 311 photographers (Humphries Mansion/1996). Future events will NOT be that insane, with emphasis on quality of participants, NOT quantity. Thanks for visiting our page. Looking forward to working with you.

Select Models Policy on Escorts & Photographer Assistants / Sorry Charlie, you're not invited!

These events are NOT '1 on 1' photographer & model shoots in a possibly questionable environment. They are well organized and pre-planned photoshoots, with photographer to model ratios of approximately 2 to 1. This doesn't mean you won't be working with many photographers in 1 on 1 situations, but you will be working in a secure, group environment. If every model attending brought husbands & boyfriends, we'd be BOMBED with a population count that's too high for most of the facilities we utilize. Most models don't want their boyfriends & husbands hanging around and flirting with anywhere from 10-40 other models. Besides, he's probably and loser and a mooch with no job (or he wouldn't be at YOUR job) who's gonna be drinkin all the refreshments and eatin all the munchies provided for those people who are doing all the work. It's not our position to babysit your escort for half the day, or allow them to interfere with the proceedings of the shoot. In 20+ years of conducting SM events with 1000's of models attending, we have NEVER had a single model molested or raped. I do make a few 'escort exceptions' for models who have unique circumstances, but by and large, you WILL be asked to leave the escort behind, or have them drop you off and pick you up at the end of the event.

This same 'no invitation policy' holds true for photo assistants. They generally end up being more of an annoyance than of any assistance, getting in the way of other photographers and all too often engaging models in idle time wasting chit-chat. Both escorts & camera assistants have a tendency to drinkup all the drinks and eat the chips & dip, leaving little behind for those who are actually invited to the shoot. On occasion, I have been known to assign 'Reflector Captain' duties to idle event participants, but these people MUST be willing to work diligently and harmoniously (with no pay) for 4 hours with all photographers interested in their assistance. Models with reservations about attending without escorts are welcome to contact ANY model on my TAG page, or any model who participates in forum threads for references.

SM group photoshoot philosophy. Unlike other events, SM shoots are organized with photographers best interest in mind.

Long before I started promoting SM photoshoots (1992), I was a photographer who attended other groupshoots, and I still do. I attend events where I visualize a 'great bang for the buck' for participating photographers. I will continue to attend and support events that provide a large percentage of groupshoot time, with a small amount of time alloted to the 'one on one' shoot opportunities. At future SM shoots, I will be initiating two hours of 'one on one' time slots that will provide photographers with an opportunity to shoot models one on one at a rate you negotiate with the model. This provides attending models with an opportunity to make some additional income, working with select quality photographers. Photographer signup cost for the groupshoot will continue to be very affordable, offering quality locations and unique settings. For the last 20 years of organizing SM photoshoots (400+ events since 1992), I have always structured these events with the photographers best interest in mind, providing them with a great bang for their buck invested. I'm not saying that we don't appreciate the models who attend, cause we most definitely do... providing them with free admission, free softdrinks and munchies, and at least one makeup artist to assist them with touchups. SM shoots provide models and photographers great locations, terrific props, and opportunities to capture unique images that will enhance your image portfolio.

Lists





Friends


Select Models has 4950 friends.