I'm a designer artist currently located in the Dallas Fort-Worth area. The technical term for what I'm doing here is "photo-rotoscoping", which actually comes from an animation technique. The base of the art is the photography. I then interpret the photo into an illustration via traditional or digital methods or digital.
I occasionally do some figure photography, though I mostly do street and event photography. All of my other photography and snapshots can be found on my wife and my Flickr account listed below.
Commissions
I am currently available for commissions. I can create a unique pinup from your photograph in various formats ranging from 8x11 to 24x32, all ready to print. Price is dependent on complication of props ie. fishnet, strawhats, etc. Payment will be through paypal. You'll get a print-ready file so you can print it whenever you want to. Email me at vinhluanluu (at) gmail or PM me here for details.
Note on Studio
Please note that I do not have a studio. I just shoot in a corner at my apartment; which for what I do is all I need currently. I would love to be able to do this full time one day and have a nice studio space, but that's not in the cards right now. I would just to put this out there so that there is no surprise when it comes to the shoot.
TFP/CD Conditions
These are my terms for a TFP/CD: We both maintain personal usage rights to the illustrated image. I would send you a high resolution image, 11x17, ready to print. We both can sell or gift the image as a print; but we can not commercially license it without asking the other party permission and would require a monetary share. I will credit you on each illustration with your model mayhem name/number, unless you would rather me use something else.
Current Projects
Gun Gals | Blade Babes (Illustrations)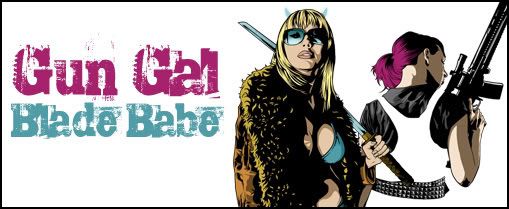 This is sketchbook/pin-up book to compliment our t-shirt designs. 40 pages, full color.
Buy Volume 1 here
Buy Volume 2 here
Buy Volume 3 here
Dark Conspiracy (Illustrations)
A series of illustrations for a table-top role playing game called "Dark Conspiracy" version three. Unfortunately the project got shelved, but we put together this book with the unused/unpublished art for fans of the genre and game.
Buy the Art Book Here
Links


Dark Conspiracy: The RPG
- New artwork for the third edition
Isobel Wren #23168
Pulp Will Eat Itself (Cover)
Gun Gals and Blade Babe Series
featuring:
Isobel Wrwn #23168
Deejay Ohh #255074
Christy Wiseman #434474
Kitty Lu #445377
Melissa Meaow #25152
Crystal Messick #61627
Jordan Renee #202256
Amber May #451676
Zamra Dollskin #532902
J'adore #850171
Pinup Pixie #840809
Taffeta Darling #834780
Lucy von Trapp #728154
AmandaMae #276567
Honey Cocoa Bordeauxx #72349
Crystal Pistol
Keli Wolf
and friends
Illustrations
Femme Vivre LaRouge #557128
Jazzie Jnerd #1339166
Ceras #1548754
Taffeta Darling #834780
Honey Cocoa Bordeauxx #72349
Lizzy Lace #1592729
Pocky Pants #2429347
Collaborations
Jiz Lee w. Photographer Courtney Trouble
Roxanne Dale #7905 w. Photographer Stewart Cohen #1398021
Monica Monroe #2131320 w. Photographer NHaus #426290
Crystal Graziano w. Photographers Sebastian Jespersen #1744568 and Ken
Kit Quinn w. Photographers Jim3535 #1265623 and Eurobeat Kasumi
Roxanne Dale #7905 w. Photographer Stewart Cohen #1398021