I am originally from NY / NJ area.
Recently I moved to Fort Myers Beach Florida and I am slowly updating my profile with new information as I get to it.
Model Brigade
http://www.modelbrigade.com/tonyknighthawk
On FaceBook
http://www.facebook.com/tonyknighthawk
I am temporarily shooting Trade on Fort Myers Beach every other Sunday.
All are welcome.
Photographers--Models--Make Up Artist--etc etc
To get involved contact me before any given Sunday.
No walk ins.
I also work from these additional Florida locations:

LAKELAND--- GAINESVILLE--- Ft LAUDERDALE--- MIAMI


NOTICE:
Sending me a private message saying you would love to shoot with me then your following message to my reply lists your rates I consider to be a bait and switch tactic.
This is a express ticket to making sure I never hire you for a paid shoot EVER.
If you have rates best to click paid shoots only and be upfront about it when you first make contact with me.


I am a photographer. I am living my dream.
You are welcome to come share my visions, my hopes, my daydreams, and my nightmares.

My hopes are to meet people on here who are interested in creating inspirational and out of the box images. My dream is to be proud of the images we create. My nightmare so far has been dealing with closed minded individuals who choose not to understand the real purpose of art in the world.

If you want to be part of a creative image contact me.

My art is TF* only. Although I would categorize myself as a fetish photographer it is by far not the only genre I photograph. I am a hired gun and will photograph everything and anything except weddings.

I have commercial work that pays as well. I have hired people from MM but I prefer using people that I have worked with in the past or at the very least met once. If we have never met and you are shy about having a phone conversation best not to answer any castings I have posted.

I am on model mayhem because I enjoy interaction with models, photographers, and anyone else who shares the love of photography.
I welcome the Mayhem, but please understand I have no patience for the drama.

What has been written about me:

"Tony KnightHawk has the unique ability to get beyond the obvious impact and shock value of this genre of photography. He delves deeper, to a more personal level. Take a moment to let his art speak to you and see his rare ability to create both an art photo and a sexual reference point in one work. Tony KnightHawk presents the nature of the S/M relationship with depth, texture and artistic surface."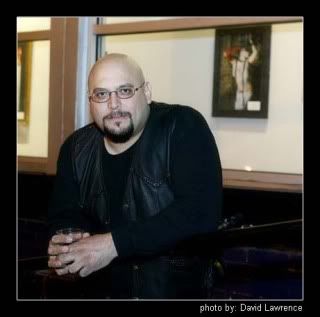 Thanks David for shooting this at my gallery showing.
One of the very few images of me I like ;-)