Follow me on Facebook
for more images, behind the scenes photos, and other art.
Somewhat neglected
Tumblr
Oops, I'm on
Instagram
!
I love using my aesthetic as a form of expression. Into experimenting with styles and challenges. Gritty, beauty, nature, nude, gore, fetish, fashion, twisted, elegant- I'm up for it all! I also have lots of concept ideas to share.
"Let me tell you a story in a still frame." ~Vasara
Booking:
Contact me here, or email me- VasaraMuse(at)gmail.
You may also refer to the handy *
Booking Calendar
* on my website.
Package deal available for modeling, makeup, design, custom wardrobe, and other details! My rates are flexible and very reasonable.
I do
limited
trade work for publication opportunities, previous agreements, or if you have an idea I can fall in love with.
I do my own hair and makeup, and have lots of concept and design ideas to share. I also enjoy teaming up with other artists- always open to work with, and learn from people!
I love collaborations and the involvement of creative expression.
I do have exotic animals that I enjoy posing with. Please note that to work with large or multiple animals, we must schedule so that an extra handler is present to assist.
Here's a glimpse of some potential co-model pals.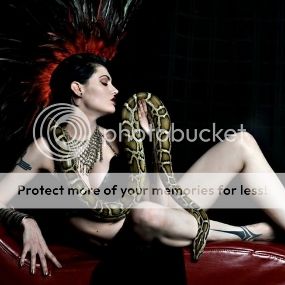 My body art by James Hughes is award winning.


My tattoos can be covered with high quality makeup upon request.
I style my own hair, and have a collection of wigs so I can achieve nearly any look.

I have made appearances in various magazine publications, print and online advertising, fashion and body paint shows, gallery exhibits, event flyers, T-shirts, private collections, sculptures, art for fantasy card games, drawing workshops, master portrait classes, and several indie films.
PHOTOGRAPHERS + FINE ARTISTS
Cynthia Sheppard
Fotografica Gregor
Pat McMahon
Ceasar
Carl Weaver
Chris Maxwell
MichaelTPhotography
....and many more
Designers & Advertising
SLYX! Latex Fashion
Mind Jacket Designs
DemenTia
Original Sin
Peacock Blue Design Studio
Publications
Surreal Beauty "If I Was Your Vampire" April, 2014
Surreal Beauty "Latex Queens" April, 2014
Surreal Beauty "Bring Me To Life" March, 2014
Tenebrous Magazine February, 2014
Dark Beauty Magazine Online Feature January 2014
view 14 image feature here
Ellements Magazine "Winter is Coming" feature January, 2014
Surreal Beauty Magazine "Hell on the Heart" issue December, 2013
Dark Beauty Magazine feature October, 2013
Tenebrous Magazine Halloween Edition, October 2013
Skin Two News: August, 2013
Books
Hidden Ink, Volume 1
Gallery Exhibits
Ceasar's "Women of Diversity and Their Art of Expressions"
American Poetry Museum & Arch Darkroom: The Female Form
MOCA DC
Del Ray Artisans: Drawing Inspiration from the Form
....and many more
Movies
St. Lindsey Pictures:
Evil Wishes
as "the Jinn"
AUX Entertainment:
Spirit
as "the Spirit"
Darkstone Entertainment's
Skeleton Key 3
as "vampire girl"
Dark Image of the Day Winner for August 27, 2013
Dark Image January 5, 2014
Dark Image March 2, 2014
September19, 2013
,
September 25, 2013
,
October 16, 2013
,
November 7, 2013
January 9, 2014
Fashion Photo of the Day January 20, 2014