Thanks for stopping by! As an enthusiast of fine photography having done landscapes & automobiles for years as a hobby, I joined here to meet people in the industry, refine my skills working with professional models, and to create some incredible images in hopes of retiring from the day job one day. I'm seeking models to collaborate with so we may create stunning images that will hopefully make one smile or laugh, or captivate you, all the while show casing all the pure allure & beauty of each model I work with so many may enjoy the finished product.
Most important of all is that I take what I do seriously, and am not here to pick up models. I won't flake ever, and always follow up. I expect the same of others, and I have no patience for drama and prefer a fun relaxed shooting environment in which
I will never ask or pressure a model to do something they are not comfortable with.
If I sent you a friend request I admire your portfolio and would love to collaborate some time.
Currently I am seeking only paid and select trade projects, and am open to almost any genre.
Lets shoot!
The lovely Courtney Hansen, and Me!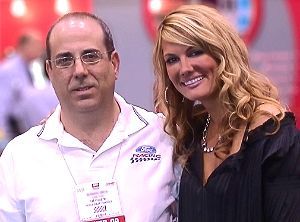 The Legendary Carroll Shelby & Myself