Like me!
http://www.facebook.com/pages/Rockutogr … 4596634639
Thanks for viewing my port. Every view, comment, and list is deeply appreciated.
Hello, I'm Rocku; a photographer-for-hire. my rates are most likely the most reasonable rates for what is offered. If you can't afford my rates I always try to work out a reasonable agreement.
So far I've shot for magazines, placed in a national contest, and have shot content for ads, campaigns, and various commercial outlets. though my primary style is "Urban Glam" I can shoot the style you want, too. Basically, I do it all. you only need ask.
- Rocku, out!
Looking forward to working with you. I actually return messages, so contacting me is simple: just let me know that you are interested in shooting with me, and we'll go from there. I do ask that you leave reliable contact info due to the fact that most don't log into MM often after making contact. Also, if you're a flake and you know it, but you don't want to be anymore; I have something for you also.
Ignore: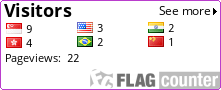 http://www.modelmayhem.com/po.php?thread_id=757575