Every artist dips his brush in his own soul, and paints his own nature into his pictures.
~ Henry Ward Beecher
American clergyman & social reformer (1813-1887)

If you can't be a pine at the top of the hill, be a shrub in the valley. But be the best little shrub on the side of the hill.

Be a bush if you can't be a tree. If you can't be a highway, just be a trail. If you can't be a sun, be a star. For it isn't by size that you win or fail. Be the best of whatever you are.
~ Martin Luther King, Jr.
American clergyman & civil rights leader (1929-1968)
To the students of Barratt Junior High School; Philadelphia, Pennsylvania.
October 26, 1967.
Regarding Beauty, Fashion, and Glamor Photography
I am currently shooting a limited number of beauty, fashion, and glamor photo-sessions. However, please feel free to contact me if you are interested in working together.
I'm an experienced commercial photographer, writer, and educator. I've worked as a photographer for decades; shooting for advertising agencies, magazines, and catalogs. I have extensive experience in multi-media production, as well as print work.
I served as a Moderator at Model Mayhem for several years, running various contests including the
Picture of the Day,
18+ Picture of the Day,
and
Picture of the Day – Original Edition.
I've also mentored several well-known fashion and glamor photographers and models, helping them to get their start.
Formally trained as a fine-arts photographer, I do all my own lighting and retouching. It is extremely rare that I participate in workshops. Having shot for nearly half a century my style and techniques are the result of study, hard work, and experience.
I hold a combined seventy Model Mayhem
Picture of the Day
and
18+ Picture of the Day
wins, along with numerous awards on other fashion and glamor photography sites. That having been said, what matters are the images that I've created with the help of many talented models and makeup artists/hairstylists. So please don't let
anything
except the quality of my work influence what you think of me as an artist.
Today I work from a simple home studio that includes small pets. Also I ask that models who shoot TF* with me sign a standard model release. If you would like to work together and these things are an issue then please let me know in advance. Thanks!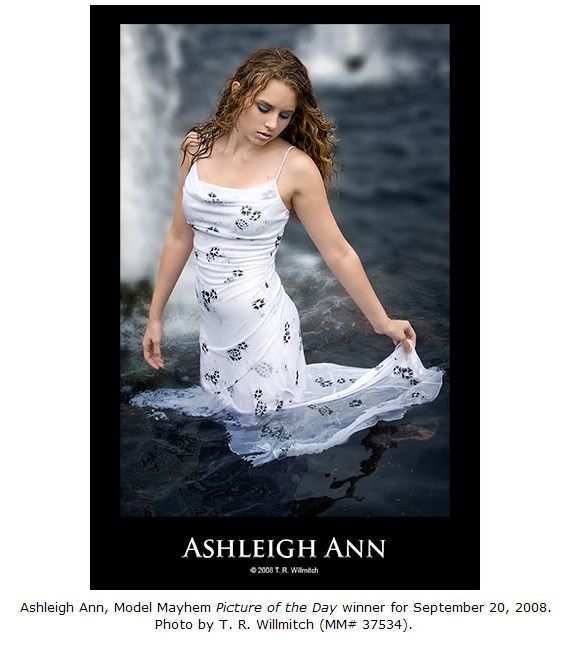 Recommended Photography Web Sites
Are you serious about photography? Then check out
Faded + Blurred,
one of the best sites about photography on the web:
Faded + Blurred
Complementing
Faded + Blurred
is a great photography podcast,
On Taking Pictures.
You can listen to or download the show here:
On Taking Pictures
While here is another photography-related web site, with incredible interviews of top photographers like Joe McNally.
The Candid Frame
is a site that you want to take your time and explore:
The Candid Frame
Dedication
This portfolio is lovingly dedicated to the memory of Robert J. Yalch. You were a great teacher. Yet more than that, you were a mentor and friend. I will never forget you.
Public Notice
All images in and related to this portfolio © 2014 T. R. Willmitch, all rights reserved.
All photographs and artwork by T. R. Willmitch are protected by copyright law. No image may be used, edited, reproduced, transferred, published or distributed in any form or by any means whatsoever without prior written permission from the artist.