Unleash your creativity at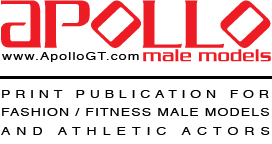 RATHER DIE MISUNDERSTOOD THAN TO LIVE AS SOMEONE ELSE.
Each one of us exists because each person is unique. Apollo Male Models Magazine
••••••••••••••••••••••••••••••••••••••••••••••••••••••••••••••
Also join us at
F A C E B O O K
Apollo Male Models Magazine has been around since 2001. Its purpose is to promote fashion and fitness male models and athletic actors with positive, creative, and informative energy while entertaining our readers. Your support shows you care for this industry and those who stand with it.
Apollo Male Models Magazine is a print publication dedicated to models, actors, singers, photographers, make-up artists, agencies, artists, fashion designers, athletes and more.
Many had been inspired to do the same with their webzines and magazines.
We wish them a prosperous journey.
PHOTOGRAPHERS AND OTHER TALENTS!!!
to connect with us here you must provide your real names. We don't connect with such names as Studio333 or Maximus Model, etc. You can at least write your name in your profile introduction. There are too many fake identities out there and we will not appreciate fake ones connecting with us. Respect that.
Our publisher is Apollo GT and our contact info and website is at
http://www.ApolloGT.com
---------- If you refuse to provide your real name then we won't accept your connection with us.
See both magazines Apollo Male Models & Artemis Allure Models listed at
http://www.ApolloGT.com