My FaceBook page :
https://www.facebook.com/CindyMakeupArt
Experienced in:
- Bridal / Special Occasion
- Photographic
- Fashion
- Artistic / Bodypainting
- Performance makeup
I am available for paid and selected TFP work.
Info:
- 9 years experience in makeup artistry.
- Have worked on two short films.
- Worked as an in-house makeup artist @ The Makeup Artistry Centre of WA in Subiaco. Doing make-overs and teaching workshops.
- Makeup artist for Visible Dance.
Trained at: The Makeup Artistry Centre of WA
Certificates: Basic Makeup Artistry, Advanced Makeup Artistry, Hair Styling.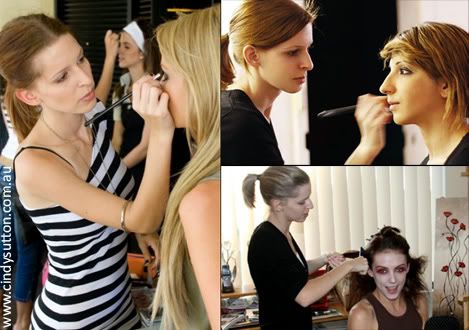 I LOVE MY "JOB" !
--------------------------------------------
Events I have Worked on:
- Visible Dance "Eden" Company launch (makeup & hair)
- Visible Dance "Reaction" (makeup & costumes)
- Anita Carr Accessories Launch (makeup)
- ae'lkemi Fashion Design store launch (bodypainting)
- Visible Dance "Game" (makeup & costumes)
- Style Bar store launch (bodypainting)
- Indigenous fashion show @ The Perth Convention Centre (makeup & hair)
- The Beauty of Africa fashion show (makeup)
- Schwarzkopf hair show (makeup)
- Fashion & Textile Design & Jewellery Design graduation show @ Curtin University (makeup)
- Visible Dance "Strings" Youth Focus Ball @ in the Burswood Grand Ballroom
- Visible Dance 'Marionettes' visit Claremont Quarter performance
- Miss Universe Charity Event @ Library Nightclub (makeup)
- Fashion Show @ Kidogo Art Gallery (makeup)
- Visible Dance "Sphere" (makeup, hair & costumes)
- Corporate Express Parade @ Burswood (makeup & hair)
- Liz Davenport Fashion Show (makeup)
- Liz Davenport Charity Fashion Event (makeup)
- Visible Dance "Nyssa" (makeup)
- Toy Box Charity Fashion Show (makeup)
- Savoir Faire Cosmetics launch (makeup demonstration)
- Visible Dance "Nyssa" (makeup)
- Liz Davenport cocktail party (makeup)
- Alison Jade Cosmetics bridal parade (makeup)
- Liz Davenport Esther Foundation / Extraordinary Silks Collection fashion show (makeup)
- Savoir Faire Perth Fashion Week 2012 (makeup)