TORTURE COUTURE--Original glam treats, handmade jewelry & accessories, consisting of cameos, skulls, Swarovski crystals, pvc, metals, lace, feathers, my love for dark things, with a hint of death, and a dash of edgy glam! Get Torture(d).
www.TortureCouture.com
www.MissTorture.etsy.com
*Will sometimes trade with clothing companies-we often style our own shoots and could always use extra wardrobe*
NOT CURRENTLY SEEKING NEW MODELS-THANK YOU.
Vixen Doll Fascinator, Pink/Black
Model: Holly Cakes
Photo: Ama Lea Photo
Wonderland Lolita Collection
Models: Katayna Star & Gabriel Grimm
Katayna's Hair: Lady Scissorhands
Photo: Dark Unicorn Photography, Dress: FetishFalls.com
Dahlia Mini Top Hat
Model: M Lazar of September Mourning
Photo: MichellexStar Photography
I Heart Frankenstein Necklace
Model: Jessica LaBlanche, Photo: David Don't
Doll Kandy Mini Top Hat
Model: Melanie, Photo: MichellexStar
All Torture Couture Artwork by
www.CallowLily.com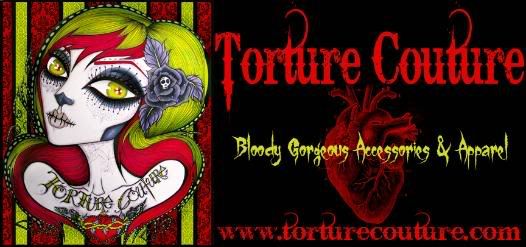 Mummy Shoot
Models: Bindi Baby & Bettie Toxic, Photo: Killer Eye Photography, Hair: Lady Scissorhands, SPFX Makeup: Mistyr E., Styled by Miss Torture
Dahlia Mini Top Hat
Model: M Lazar, Photo: MichellexStar Photography
Torture Couture Models (Currently):
Acid-Doll Pinup
KrystalXKaos
Megan Massacre
Sharon TK
MichellexStar
Raquel Reed
Katayna Grimm
Holly Cakes
Makani Terror
Ashley Nicole
Maxi Millions


Photographers:
Kencredible.com
MichellexStar Photography
Killer Eye Photography
Dark Unicorn Photography
Bryan Barnes
Debbi Rotkowitz
No Regrets Photography
Bilbytron
Ama Lea Photo
Morat Photography
As You Wish Photography
TGRK Designs
Edson Carlos


Some Designers/Shops Featured in our Shoots:
Sweet Carousel Corsetry, Canada
Boom Boom Baby Corsetry, UK
Callow.Lily
Jessica Darwin
Jessica Louise
Versatile Fashions
Artifice Clothing
Kimber Perry
Berserk Clothing
Veritee Hill
Vital Vein Latex
Madem Black Latex

As Seen In:
Tattoo Scout Magazine, Germany, 2009 (Kandy Cover)
Alt. Noir Magazine, Spring/Summer 2009
Amusin' Kruisin, Australia, Miss T "Pinup-O-Rama" Feature
Tattoo Arte, Feature with Kandy, May 2009
Tattoo Spirit, Kandy Feature, 2009
Underground Magazine, October 2009 (Amber Deville Cover)
Skin Art Magazine, December 2009 (Jessica D Cover)
Skin & Ink Magazine, October 2009 (Jessica D Cover)
Tattoo Magazine, December 2009 (Jessica D Cover)
Tattoo Couture, UK, Bindi Baby Cover & Feature, December 2009
Pinup Lifestyle, Bindi Baby Feature & Cover, December 2009
Devolution Magazine, UK, Kandy K on Cover, January 2010
Milk Cow Magazine, UK, Kandy K on Cover, May 2010
Bound by Ink, US, Kristen Leanne Cover, Vol I: Issue 3, December 2010
Gore Noir Magazine, 3 Page Spread, TBA-2011
Tattoo Fest Cover, Lady Diamond/Fanny Maurer (PVC Nurse Hat), March 2011

Official Hair Stylist for Torture Couture: Neddie Scissorhands