I was invited to join ModelMayhem in October 2005 by Tyler
& Co, who kindly offered me a lifetime Legacy membership
April 2006
:
Promotional postcard for "Etxea Erasmus Executive Guest Suites"
an absolutely UNIQUE hotel in Amsterdams Red Light District :
heels: X18s from 'The Little Shoe Box' in London,
location: Patternostersteeg, Amsterdam, The Netherlands.
May 2006
:
Web-catalogue commission with more than 200 items
for DeMask BVBA in Haarlem ( The Netherlands )
- who are the worlds biggest fetish label

The models included:
Tom, Danny,
Claudia M
,
Miss Suzn (MM 14684)
,
Dizzy D (MM 225959)
and
Saphira Spanks (MM 8591)
.
[Dizzy Duveaux & Miss-Suzn]
We were blessed with one of Europes best MUAs:
LOUVA
,
and top set-dresser Siba Kladic from
Pressure Corsets
Background story here:
Aug 2006:
In Amsterdam - again! - to do a few tests...
A GREAT trip to my favorite AMS location: "Etxea Erasmus",
working with among others; Dame Noire (MM 86416):

Sep 2006
:
Location shooting with the well know Chicago-model and
fetish-clothing designer,
vonLIVID (MM 70458)
from
House of Bias
:
Aug 2006:
Shooting from the "Royal Rubber" Fetish Party
In NRW (Germany), arranged by DeMask Dortmund:

Sep 2006:
Issue #56 of The International Fetish Magazine
SKIN TWO
, features two of my pictures (page 14 & 18).
Oct 2006:
FetishPartyFlyer + e-banner for the Danish party organisers MANIFEST:


(redhead: Miss Suzn (MM 14684) )



Jan 2007
:
My picture: "Paternostersteeg", which was also used as a promotional
postcard , is featured in "THE LONDON FETISH MAP #4".
You may buy it at "Coffee, Cake & Kink",
( Endel Street 61, Covent Garden, London )
or directly from:
Feb 2007:
In their issue #1, The international Fetish magazine MARQUIS STYLE,
features four pages of my work for DeMask:


(models: Claudia M, Miss-Suzn MM#14684 & Dizzy D MM#225959)


Feb 2007:
I finally made it back to Amsterdam, allthough the hurricane in
Northern Germany, nearly meant we had to cancel everything!
A BIG thanks to the following MODEL MAYHEM Models:
Franpire (MM # 35526)
,
Viva (MM # 3695)
,
Dame Noire (MM # 86416)
,
Synthetique (MM # 218492)
,
Dutch Dame (MM # 900738)
,
I Am Kip (MM #220346)
,
- and also to:
Bo ( - of Etxea Erasmus Executive Guest Suites )
and Siba Kladic ( - of
Pressure-Corsets
),
who all helped in making this trip a succes,
and a truly wonderfull experience :-)
I Am Kip (MM #220346) from our shoot:
(
NEW
: click on image for shooting details)
short story by "3xL":
February 2007:
I was one of several Photographers at the Trend Show at CIFF
(Copehagen International Fashion Fair), at Bella Center (CPH, DK)
and loved the adrenaline of shooting a catwalk ;-)

March 2007
:
One of my TOP 12 models,
Saphira Spanks (MM#8591)
,
is featured in a three page interview in "DARK SPY MAGAZINE" (issue #16),
including a picture from our work for DeMask in Haarlem:
After working together with me for DeMask, Saphira now has me listed
as her number three favorite photographer ;-)
(
http://saphiraspanks.net/references.htm
)
April 2007:
It's good to be back in wonderfull Amsterdam again:-)
Thanks to Miss-Suzn (MM # 14684),
Dark Seduction (MM # 69383),
and newcommer Miss Lisa ( - not on MM - yet!),
for many fine hours of shooting at Etxea Erasmus :-)


May 2007:
SKIN TWO
is again showing examples of my work for DeMask,
in their issue # 57.
The model is Claudia M. ( - not on MM !)
2008:
In 2008 I decided to concentrate my work in Denmark,
and became a part of 2nd Floor Studio in Copenhagen:



Link to a short behind-the-scenes HD-clip on YouTube:

Feb 2008:
The German Goth publication Dark Spy Magazine
featured two of my pictures in their issue # 20;
one of the Swedish "Nocturnal Model"
Viva (MM # 3695)
,
and a full page of the Dutch model
Dark Seduction (MM # 69383)
,.
[ - not scaned in yet - please bare wit me !]
April 2008
Issue #19 of the Greenlandic Womens magazine Arnanut,
is featuring five of my pictures of Paris Nathalia (MM #509821),
including the front cover:

Dec 2008:
One of my favorit models Demari Vi Syth
(MM #748253)
has been interviewed by:
and:
- and both sites feature several examples of our work
In September 2009, after TWICE winning the "Photographer of the Week" competition on
www.ModelInsider.com , I was also awarded the prestigious titel "Artist of the Month":

I also shoot more traditional work;
this is the Danish character male Michael Vig from Scoop Models:

and this is Natasha from Inq Models: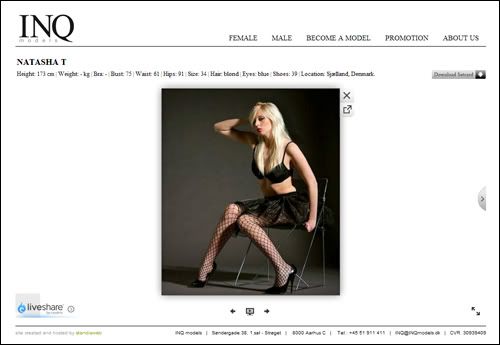 Together with Peter Geller, I have developed the Sun-Strip for California Sunbounce:


and we might present a couple of new products on the next PhotoKina i Köln.


Gary Regester ( - who was one of the founders of Chimera,
and is also the "father" of the Plume Wafers) published some
of our communication about softbox designs on his blog:
Unless I have made our inital contact, then:

me to model: "How do you like your eggs in the morning my Dear ?"
model to me: "un-fertilized please "
"There is no beauty without strangeness" (Karl Lagerfeld)