So I'm nikk, and i'm a licensed hairstylist and makeup artist. For my day job, I work at Eyeful Beauty, a salon in downtown Lowell. I attended Make-Up Designory in Burbank, CA and am trained in hair and makeup for runway, photography, film, HD television, and weddings. I've worked on short films, photoshoots, runway shows, look books for fashion designer Lloyd Klein, Kate Pierson of the B-52's, and Clinton Sparks.
Since I lived in LA for a bit, I travel back frequently to visit friends, photographers, and models. If you live in that area and want to work with me, let me know and I may just plan one of my visits around working with you
WHAT I WANT......
I like to do shoots with an artistic concept, and help to design every aspect to achieve my final vision.
There's a wide range of things that interest me, but anything weird, artsy or high fashion is what I personally LOVE to do. I can do regular beauty/glamour work, but since that's not where my passion lies, I do charge a fee if you want to hire me for that (please allow me to make that decision).
I mainly am interested in working on projects to add to my portfolio that define me as a person, and have my idea of beauty.
I am VERY active in planning shoots, and if you are out of ideas, chances are I've got a few for you
I also spend a large amount of time sculpting, making headpieces, masks and accessories for shoots.
I'm just an artsy-craftsy, creatively creepy geek....(think Martha Stewart on acid).
Thank you for looking at my work, and feel free to contact me at any time
*nikk
nikknoir@mac.com
sometimes i model. Me with Kendra Richards. Photography by Jennifer Rose Keany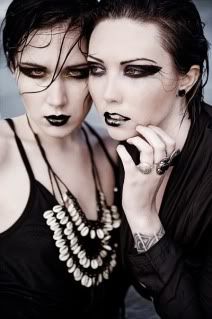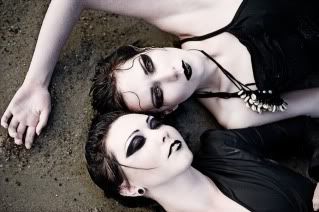 ****************credits coming soon**************