If you are interested in booking me please email me, or call me @...

mizzmakeup209@gmail.com or Call me @ 209-230-3674
Hello and thank you for visiting my Model Mayhem Page. My Name is
Marisol Christina Alvarado
, aka:
M!zZ~M@k3uP
. I am a 32 year old makeup artist with over
12 years of experience
;
I am TRUCCO certified, as well as trained by the California Academy Paul Mitchell. My experience includes, Makeup, full body makeup, Body Painting, Latex Painting, Air Brushing, Hand Body Painting, Theatrical Makeup, Special EFX, Hair Styling, Hair Extensions, Design Braiding.
Many would consider me passionate, wildly creative, and a person who thinks outside the box. I love to get involved at shoots if and when my opinion is welcome. My personality is great, and I have never had an unsatisfied client, be it models or photographers. My immediate goal is to showcase my artistic ability with makeup, networking, gaining exposure and building relationships. I hope that my abilities will soon catch the eye of a reputable agency, eager to represent me and my artistic ability.
If you're a model in need of amazing photographers, then contact me and I can refer you to some remarkable & reputable artists. I work with amazing Photographers the amazing pictures in my port are examples of the astounding work that we have created together.
Please feel free to contact me if you are interested in working with me/us, or if you want to collaborate on a project. I am very innovative, excited to work on new projects, and love seeing my ideas and concepts become a reality!
If you are interested in booking me please email me, or call me @...

missmakeup209@gmail.com or Call me @ 209-230-3674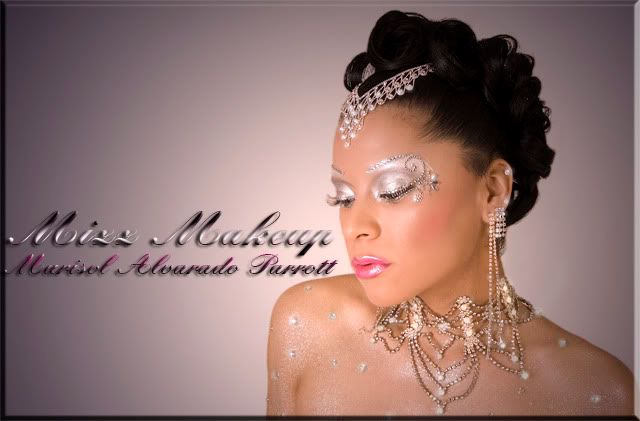 PLEASE EXCUSE ME IF I SOUND ROUGH IN ANYTHING I WRITE BELOW, THIS IS NOT A HOBBY FOR ME, THIS IS MY LIFE AND MY PASSION! SO THINGS WRITTEN BELOW COME FROM NEGATIVE EXPERIENCES THAT AFFECT MY WORK.
******~NOTE TO PHOTOGRAPHERS~******


***WHAT PHOTOGRAPHERS, MODELS, AND MUA's NEED FOR THEIR PORTFOLIOS ARE DIFFERENT.
***I REQUEST FOR ANY SHOOT THAT I CHOOSE MY OWN PHOTO's, IN HIGH REZ FOR PRINTING IN 11X14 AT MINIMUM 2-4 PICTURES PER LOOK
***ALSO E-MAILING IMAGES IS NOT SUFFICIANT, I NEED IMAGES ON DISC FOR PRINTING.
******~NOTE TO MODELS!~******
***ARRIVE TO THE SCHEDULED SHOOT WITHOUT MAKEUP ON
***HAVE YOUR FACE CLEANSED & MOISTURIZED
***ARRIVE WITH HAIR CLIPPED OR TIED BACK OUT OF YOUR FACE
***EYE BROWS MUST BE TWEEZED OR WAXED CLEAN, UNLESS YOU ARE PREPARED TO ***
***IF SHOOT IS ON LOCATION & NOT IN A STUDIO, APPLY SUNBLOCK 1 HOUR BEFORE ***YOU ARRIVE.
***IF YOU HAVE ANY QUESTIONS PLEASE DON'T HESITATE TO ASK.
***MY TIME IS JUST AS VALUABLE AS YOURS, SO IF I COME PREPARED FOR YOU; PLEASE DO THE SAME FOR ME. IF YOU ARE NOT PREPARED THEN I CANNOT WORK***
MODELS PLEASE UNDERSTAND THAT I AM VERY DETAIL ORIENTED, LITTLE THINGS THAT YOU MIGHT NOT THINK ARE IMPORTANT...ARE! THE CLEANER THE MAKEUP AND EYE BROWS AND SKIN, THE LESS WORK FOR THE PHOTOGRAPHER!!
SO LETS MAKE AMAZING, NOT MORE WORK!!
~~~****TRAVEL****~~~
Thank you for taking time to read this, and please understand that I am silly and funny to work with, but I am serious about what I do!!!