Hi and thanks for taking a look at my page.
I love fashion. Every aspect of it. From styling to modeling. It keeps me going. It makes me feel good. I have been modeling for about 7 years and I am currently in the position to travel so if you are not in Cali and would like me to represent your company or would like to set up a shoot, please feel free to contact me at: kalemajones@gmail.com
Aside from modeling, I exercise my talents in a few other arts as well. I songwrite and sing. Today, 8-23-11, my first single has been dropped on a blog called SwizzyLand. Check it out and post a comment.
http://swizzyland.com/2011/08/23/tt-kalema/
I appreciate all those who take the time out to critique and List my portfolio and spread the love. I thank you in advance and hope I can continue bringing it!! Model Mayhem is my favorite networking site and for those that are new to MM utilize this site to the best of your ability because it really connects us together.
I am not available for work that doesn't provide compensation. TFP/CD is no longer an option unless it is something I really want to do.
Twitter @RocknMeDiva
Facebook - HurricaneKalema
Thanks
**************************************************************
To purchase my comic book, poster or trading cards go to:
http://www.redskyeworld.com/comic-book- … preorders5
**************************************************************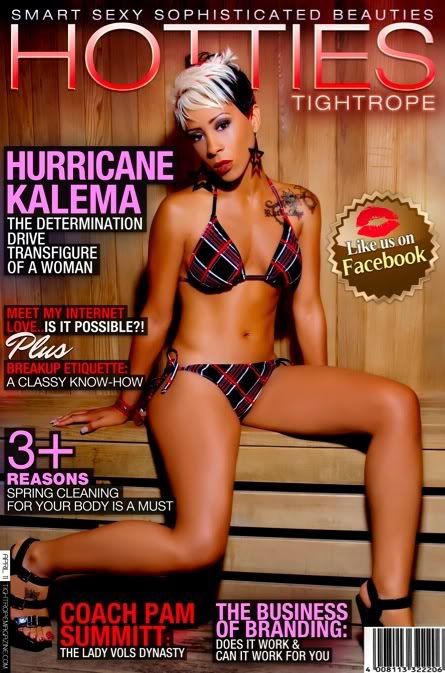 Online magazines I've been featured in:
Tightrope Magazine
www.tightropemagazine.com
Champ Magazine Champmag.com (Canada based)
http://www.champmag.com/2009/12/26/poke … mpmag-com/
Urban-Rise.com
http://urban-rise.com/MAG/?p=452
Taesia Steele Presents
http://taesiasteelepresents.ning.com/pr … demand-109
UP NEXT IS....
http://upnextis.com/uni/2010/08/kalema/
Music Video:
FatherTaz 'Since Lately'
http://www.youtube.com/watch?v=AduJ7BwiSq8