Secret Magazine ( front cover + inside feature. issue 35)
Bizarre Magazine (Nov 2012 issue)
Rabid Magazine's 'Curvy Queens' 2013 calendar (cover)
Pin Up Perfection Magazine (cover)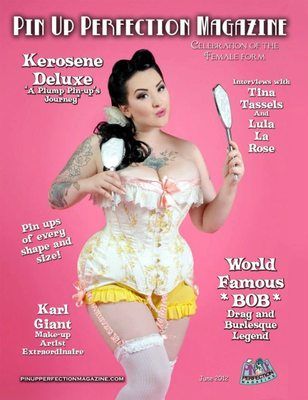 Sinical Magazine (4 page interview)
Retro Lovely Magazine (issue 5)
Bella Morte (Alt girls spring edition 2012)
Missy Ink
Polymorphe Latex Catalogue 2010
Just as Beautiful magazine (article/interview)
Auxiliary Magazine (4 page fashion spread/interview/centrefold)
The Province (newspaper)
Rabid Magazine
Inked Magazine's 'Inked girl of the day'
Drive-In Magazine
Happy Plus (interview, Russia)
Nay Brazil (Brazil, interview)
Creepy Queen Magazine
Vintage Kittens Magazine
Sugarheart Magazine
Atomic Bombshells
Bizarre Magazine
Jade Magazine (portfolio feature)
Rockabilly Online (interview)
Rat Rods and Rust Queens (feature)
DVD World Magazine (4 page spread)
Rock Oracle Magazine (3 page spread/interview, Russia)
Urban Magazine (interview)
Gothic Magazine (Germany)
Alternative Magazine (UK)
Kaleidoscope Magazine (UK)
Big Twin Magazine (centrefold)
Bite Me Magazine (interview)
Red Scream Magazine
Nihilista Magazine (poster and feature/interview)
Bubblegum Slut Fanzine (x2)
Katie Kelly's Pillow Book (feature on photographer John DuPret)
Blood and Dishonour (book, 3 page interview/spread)
and more....
References
'Working with Miss. Kerosene Deluxe is nothing short of a wonderful experience. If you decide to work with her, you can feel good about hiring a knowledgeable and professional SWEET HEART! Your time spent with her will be a fun and unforgettable experience
'
-FALT Photographics. MM#1317177-
'It is a pleasure to shoot with a model that is prepared, professional and knows her angles well. Kerosene Deluxe also has superior makeup skills and is more then willing to help out. Along with her positive attitude and upbeat personality, Ms Deluxe has a anjelic face with the body to match. I would not hesitate to work with this lovely lady again!'
-Anathema Photography. MM#1744529-
'Kerosene is an inspiration to work with! She takes my ideas and brings them to the next level. Not only is she professional, she's a lot of fun on set. Our collaborations have always had rave reviews, I look forward to more in the future.'
-Andrea, Andrea Hausmann Photography. MM#559247-
'Kerosene arrived early, full of energy, perfect makeup/hair bearing a large bag of wardrobe and gifts
She was wonderful to work with, poses beautifully. One of the most professional ladies I've ever worked with. Would work with her again in a split second!'
-Dannielle Levan, MM:Creative.MM#1076984-
'More than just a beautiful woman! Professional, prepared, excellent makeup skill and an awesome personality... she rocks it all!'
-Jenny, White Wave Studios. -
'All in one model... great styling, superb makeup and an amazing face! A delight to work with!'
-Wassim Njeim, MM#658865-
'Kerosene followed the mood board I put together for the shoot perfectly, made up, and armed with loads of suitable clothes.
Like getting a stylist, MUA & model for the price of the model-I've came away with images far beyond my expectations.'
-Sean Kelly. MM#456167-
'Kerosene is weird, I like weird. Certainly when it comes with a professional attitude, creative style and innovating looks. Miss Kerosene is cute and demonic at the same time.She was always there when she said she would be.'
-Peter Diablow. MM #30721-
'A Sweet Sweet Vixen with a Fabulous Look!'
-Julie 'Judge Julie' Strain (playboy/juliestrain.com)