~~~***WELCOME TO MY WORLD***~~~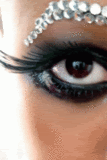 **ATTENTION ATTENTION MAYHEMERS**
Hello Mayhemers,
I am an up and coming makeup artist in need of pictures for my make-up portfolio. Models will recieve 2 looks, shots by a professional photographer, and a disc with all of your images included. Models, their is a very small make-up kit fee included. If interested please contact:
tasha.bombshellmakeup@gmail.com
Thank you,
Tasha Foreman
DONT FORGET TO ADD ME AS A FRIEND ON MYSPACE:
http://www.myspace.com/thatmodeltosh
HELLO MY NAME IS TASHA. I AM A STUDENT AT THE ART
INSTITUTE OF ATLANTA, MAJORING IN FASHION MARKETING.
MY GOALS IN LIFE ARE TO BECOME AN ENTREPRENUER, AND
MAKE UP ARTIST
MY INTERESTS ARE COMMERCIAL PRINT, CATALOG, BEAUTY,
& GLAMOUR. I LIKE VIVID COLORS, GREAT LIGHTING, & A
PHOTOGRAPHER WITH SOME CREATIVITY.