I happily married,
a proud mother of 4
, knowledgeable in nutrition, weight train regularly and love to cook.
I just started modeling and competing in Fitness and Swimsuit competitions.
I have heard that I am too old to START MODELING and considered a dinosaur. So, I am here to defy those that say so and inspire other Mothers and Models my age.
OBJECTIVE
To meet and work with those who can help me accomplish some of my magazine goals.
NUDES
Will consider them based on pay and quality of the work.
AVAILABLE FOR
assignments in Film, TV, Music Videos and Print (Health, Fitness, Lifestyle, Lingerie, and Swimsuit).
BOOKINGS
Please provide with as much information as possible. Such as what you are offering (a Paid assignment, a Test Shoot for a magazine, Video shoot, etc.) and whether or not you will provide a Wardrobe Stylist, Hair & Make-Up artist, etc.,
being vague about it will not help me make a decision.
TRAVEL
if you are paying for it, I am able to travel anywhere, including your neck of the woods.
Entourage
I want one doesn't everyone?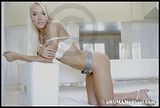 MAGAZINES I would like to me in • Esquire, FHM, Maxim, Oxigen, Shape and Sports Illustraded to name a few.