"Don't forget who you are, where you came from, & who got you there."
-Mark Gamboa (GamboaPhotos)
UPDATE O9/12/11- I have been hiatus for over a year. Since my last photoshoot, I have relocated from Virginia Beach, VA to San Diego, CA. If youre from the area and are interested in shooting, let me know! Im eager to pick this back up again and meet people in the area
UPDATE O1/21/O8-
I'm still willing to update my portfolio with Tf* but paying jobs &/or tear sheets are priority for me right now.
All my life I've been told I should model, but never really started till recently. Your feedback would be greatly appreciated. Positive or negative comments will be useful; that's the only way I can improve.
I want my portfolio to be as diverse as it can be. I'm open to anything, even the craziest of ideas. Photographers: Make something that I'm not. All emails go straight to my phone: laurenabais@sprint.blackberry.net OR you can simply message me through here.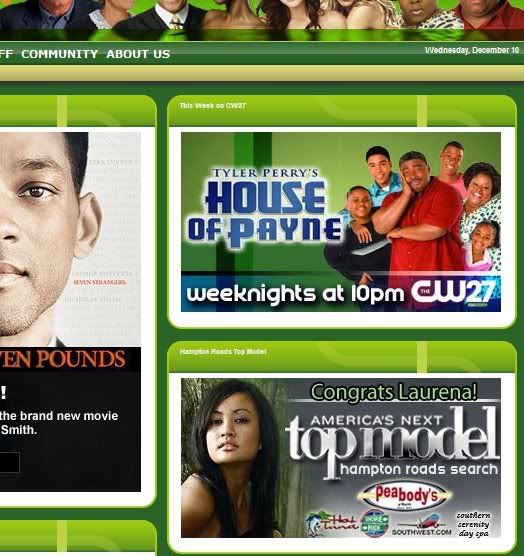 FIRST PLACE WINNER. Thanks to everyone who took the time to vote. (
www.cw27.com
+ ch.07 for the commercials!)

MM # 728513 Jeff Ocampo (Focus on the Negative)
MM # 7165 Dexter D. Cohen (Internalex.com)
MM # 766593 Justin Partain (7CitiesPhotography)
MM # 586216 Mark Gamboa (GamboaPhotos)
MM # 781026 Marcus Hyde (marcushydemedia.com)
MM # 411487 Willson Kwong (Image Ikons)
MM # 824908 Dennis Soriano (4Shades)
MM # 97833 Thanks to Walt too! (image LifeStyle)
MM # 370374 Scott Camp (S dot Camp)
MM # 630609 Victor Rodriguez (Vic Rod Photography)
MM # 537473 Chris (CFK Photography)
MM # 482114 Miss Kristyn Nicole (Model)
MM # 1011400 Chris Schortgen (Model)
MM # 699378 Robert Strazzullo (Model)
MM # 833503 Megan Doggett (Model)
MM # 659536 Crystal Mathias (Photoshop Wizard)
MM # 753129 Theresa Little (Make-up Artist)
MM # 668636 Ko-ya (Make-up Artist + Hair Stylist)
Not on MM:
Emily Flood (Hair Stylist)
Stephanie W. (Hair stylist & MUA)
Body Shoppe Spa (Brochure)
David's Bridal (Runway)
Salon @ 31st
Will West (
www.DonBazaar.com
)
CW27 2008 Hampton Roads Next Top Model
Peabody's Winter White Out Bikini Contest winner
Alpha Industries Clothing (
www.alphaindustries.com
)
Body Model for (
www.cmonwealth.com
) & Stussy Clothing
Spring 09 LookBook Model + online commercial (
www.Dumskeme.com
)