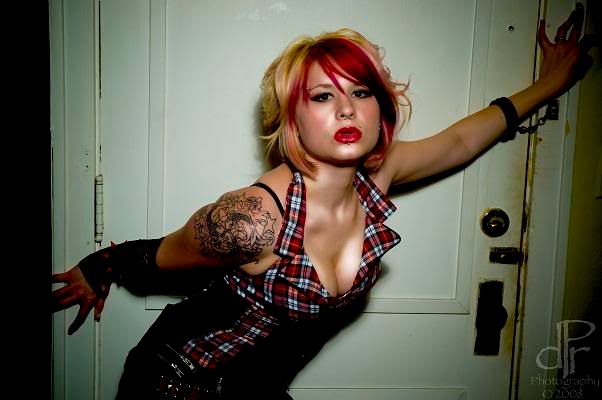 Right now I am looking for talented photogs that have great imaginations and skills to build up my portfolio even more. I love the alternative style modeling. goth, gorror, horror, latex/fetish. I am trying to get into the alternative tattoo pin-up style modeling. But, I am like a chameleon and can also pull off great glamore, fashion, lingerie, and swim wear shoots as well, so don't be afraid to ask. Once I build up great photos for my port.
I always think a shoot should create great photos, and should always have fun creating great photos.
I do not do any nude photos so please do not ask. But if i am comfertable i may do implied topless.
I will bring an escort with me to my shoot,(for the first shoot mostly w/ new photog) for my own safety, and if im driving out of town, I seem to get lost easily, so the escort is also there for my driving comfort as well.
)
I do not mind driving out of town for shoots. But if it is going to be TFP/CD then I wont go further then a hour or two. Unless you can bribe me with great creative shoot ideas. Anything over that time frame will be paid work .
Scars/ tattoos ect...
several ear piercings. eyebrow pierced, nose pierced, septum pierced, monroe pierced, lebret pierced, tounge pierced, (back of neck used to be peirced 3 times, belly button used to be pierced twice.
rose and lettering tattoo on inner right ankle, flower water tattoo on back left ankle, small heart and wing tattoo on left foot, skull crossbones and stars tattoo on left foot, lower to middle back girly tribal cross stars and flower tattoo, dove on eash back hip, upper back small design, right upper arm koi water stars flower tattoo. Behind left ear 3 stars, behind each thigh right under butt cheaks a large lotus flower, lefts upper arm teddy bear and banner for my son, left front ankle above foot chain heart and bow, inner left arm R.I.P with angel wings for lost pregnancy.
I know it sounds like im covered,, but im not, not yet anyways hehe. ;o)
Take a look at my photos and lets see if we can make some art together