I've been modeling for several years as an alternative model. My favorite shoots involve creative dark concepts and abandoned locations. I am currently looking to update my port and am open to collaborating with skilled photographers.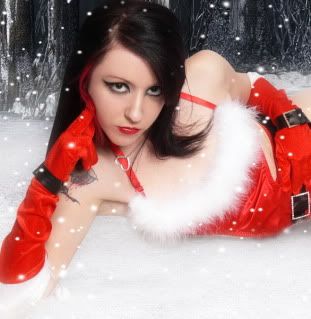 I am very skilled at conjuring themes, posing, and expressing myself. I have appeared in various publications, including print and online features.
I LOVE a challenge, I'm imaginative, reliable, and professional. While I tend to gravitate toward the darker side of life, I am most definitely open to exploring a range of styles and moods. I am also an aspiring singer.
-piercings-
nose
navel
ears
all could easily be removed or changed from stud to ring/vice versa
-tattoos-
right upper arm: a wilted bleeding rose
left thigh : zombie pin-up girl (head only)
IMPORTANT NOTE: TF* is fine if I believe your project is something I feel my portfolio is missing. (Transportation cost coverage is always appreciated.) Otherwise, I will let you know my incredibly reasonable rates.
Note: I sporadically travel to the New England area and Philly. If you're in those areas and interested in shooting, please let me know.
Specialities:
gothic
Victorian
vampire
cyber/industrial
fetish
horror/macabre
vintage/pin-up
Always looking to work with other models, stylists, MUAs. I have some Victorian, fetish, and punk/goth pieces in my wardrobe as well as pin-up. I'm very good at contributing ideas.
-Professionalism is very important to me, but I like to have fun while shooting. Collaboration seems to yield the best results.
I'm extremely easygoing to work with and reliable - please feel free to contact any of my credits. ***PLEASE don't say you want to work with me, then ignore my messages. Or set something up and then flake at the last minute. It shows a lack of respect for my time.
Looking forward to working with you!
I also am in the process of starting a photography portfolio, which can be viewed here:
www.modelmayhem.com/sinderellastudios
(if you're interested in being photographed, send me a message on there)
EVENTS:
Catwalk Tragedy NYC February 2011
Wicked Faire "Curiouser and Curiouser" runway show
PRINT work:
Cover and 2-page spread in NY FAST LANE BIKER Magazine
(Feb '09)
Photographers I've worked with:
Bria Tigh #771119
BeFreePhotography #804234
Razor 7 # 741395
Tom GF # 357189
Chas Kimbrell #245121
Nestor's Designs #566463
Studio-X #500111
Looking Glass Girls
John Bailey #23739
CandyLust #159152
Visual Distress #510136
Optimism Photography #350667
Fernando Pacheco #132556 (2x)
Tony Papale #10227
ACPhotography #578181
Jeannie Blue Photo #398193 (3x)
Art-i-ficial #238389
DOC SHOTS New York #530874 (4x)
S+S Photography #275631 (2x)
Forma Photography #460139 (3x)
FMA Photo Studio #61119
Bettye Rainwater #182369
Swav Jusis #13533
Eric Dunetz #560271
Chris LoBello #667832
OutRage Studios (not on MM)
Designers:
Dementia Clothing #597845
Makeup Artists:
Mimi Makeup #853367 (2x)
Vonny Star Makeup #510325
ryokrea# 14991
Other models:
Crystal W #573547
Jessica D #254005
Katrina #720368
Web:
www.razorfantasygirls.com
Apocalypse Girls (UK)
www.apocalypsegirls.co.uk
Featured Model on Gothicmatch.com (July 2007)