Internationally Published Photographer, 3x European Physique Champion, Fitness Model, Powertec Fitness Spokesperson, Sponsored Athlete
I would like to talk with you before the shoot day to discuss ideas, compensation and other details. No TFCD's, No TFP, thanks.
Email: Photography@NatalieMinh.com
Check out the comprehensive 1st Edition my brand new eBook 'The Insider's Guide to the Business of Fitness Modeling". This tells everything you ever wanted to know in order to break into and become a successful fitness model.
Get your copy for only $37. Click the link for more details: http://fitnessmodelinsiderguide.com
About Natalie Minh
Natalie is an internationally published fitness model/fitness photographer based out of Los Angeles. Her works have appeared in global advertising campaigns, model portfolios throughout well known European and American modeling agencies, and national American television shows such as TMZ, Access Hollywood, Celebrity Rehab. Publications include Muscular Development, Oxygen (North America), Muscle & Fitness Hers (USA), IronMan (USA), Ultra Fit (UK), World Physique (USA), Physique (Dubai), Marathon Muscle (USA), Inside Fitness (Canada), Muscle Insider (Canada), Status Magazine (Canada), etc.
She has worked with top fitness celebrities such as 3x Mr. Olympia Jay Cutler, IFBB Hall of Famers Shawn Ray and Kevin Levrone, 2x Arnold Classic winner Kai Greene, IFBB Japanese superstar Hidetada Yamagishi, 2009 IFBB World Champion female bodybuilder Alina Popa, Internationally ranked fitness competitor Oksana Grishna, MMA fighter Julien Greaux, WBFF Pro Champions Rob Riches and Chady Dunmore, Ms. Bikini Universe Classic Nicole Moneer, Model Universe Champion Melissa Cary, IFBB Pros Tianna Ta & Krissy Chin, Oxygen Cover Model Amber Elizabeth and Playboy's Miss November 2003 Divini Rae. Mainstream personalities include Baywatch's Jeremy Jackson, French Actor Anthony Dupray, Mr. Belgium 1999 Maurizzio, Mr. Belgium 2007 Michael Verlackt, and many more. Her areas of expertise are in the genres of fashion, beauty, glamour fitness, editorial, commercial and model portfolio development.
In addition to her background as a professional photographer, Natalie is currently Powertec's Spokesperson and Official Photographer, ON GO Energy Shot Spokesmodel and a a talent with W Fitness Models. She is also a Bikini and Model Universe federation judge, , owner of a Los Angeles based multimedia, branding, and fitness lifestyle coaching company, and runs Natalie Minh Lifestyle Magazine, an online destination for fitness, diet, photography, modeling, music, and travel.
In 2011, Natalie was awarded 2011 FMI Female Talent of the Year by Fitness Model International founders Gary Augustine Warren and legendary Fitness Model Clark Bartram. She was also named 2011 Multi-Talented Female of the Year by Joe Pavlik, Editor-in-Chief of Marathon Muscle Magazine.
Facebook Page:
http://www.facebook.com/natalieminh1
Twitter:
http://www.twitter.com/natalieminh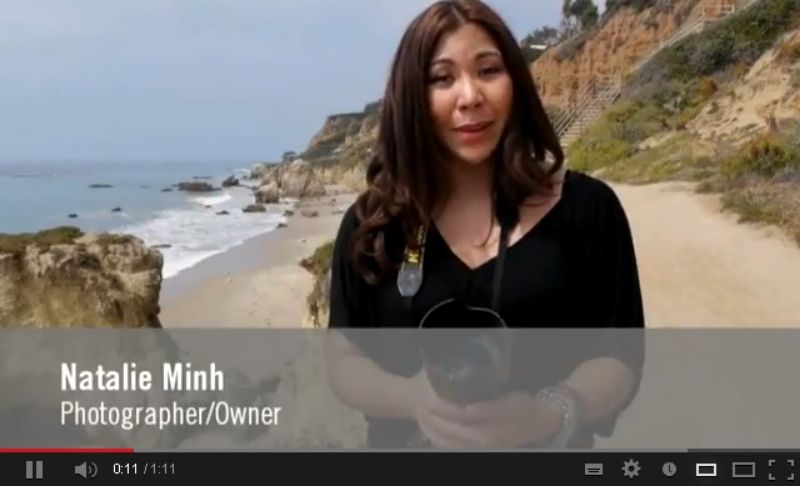 Natalie Minh On Location
http://www.youtube.com/watch?v=BbOD5QiG … e=youtu.be
Models: RNB Singer Brian McKnight & Model Universe Champion Melissa Cary
Model: RNB Singer Brian McKnight and Miss Model Universe Melissa Cary