CHECK OUT MY POPULAR CLOTHING LINE, FIT GIRL WEAR AT
WWW.FITGIRLWEAR.COM
MADE BY MS. FITNESS AMERICA SHERRY GOGGIN.
Fit Girl Wear includes Swimsuits, Sportswear, Workout Wear, Evening and Short Dresses. I also custom make and design outfits of any kind.

100% Pure Liquid Egg White Protein. Order yours today and get the special at:
http://www.sherrygoggin.com/eggwhites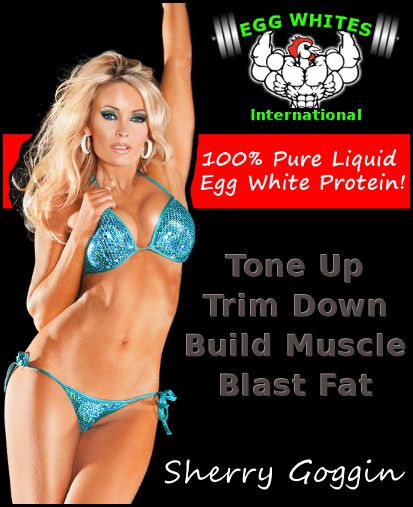 My Natural Muscle Magazine Cover for March 2010. Thank you Natural Muscle and Jason Ellis.
www.naturalmuscle.net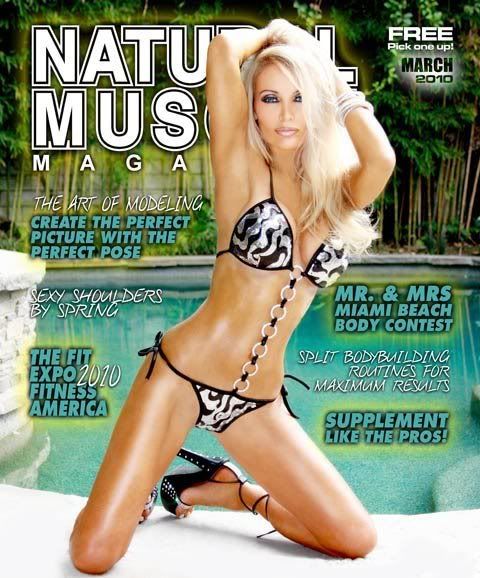 FitnessX Magazine Cover for September 2011. Thank you Kat and Billy for making this happen. God Bless.
www.fitnessX.com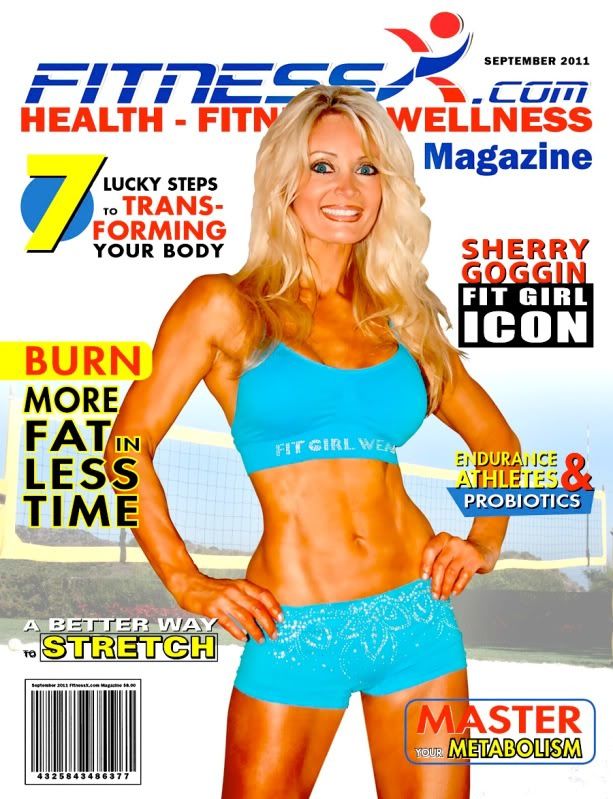 Sherry Goggin is on Twitter now.
Please follow Sherry at
www.twitter.com/fitgirlwear
on her latest updates.
Sherry Goggin reigns as The Most Photographed Fitness Personality in history and featured in over 300 National Fitness Magazines.
Goggin shines as author, producer and role model for women everywhere and Sherry is currently in the new National Wendy's Commercial and featured weekly on
www.lamuscle.tv/player/hollywoodextra/49
PRWEB August 1 2009.. Bright, articulate and full of energy Sherry Goggin has broken the stereotype of the fitness model to become an author, producer, fitness guru, clothes designer ..and..just about anything else she puts her mind to. Sherry Goggin is the definitive version of a 'renaissance woman' and once she sets her mind to something..nothing gets in her way. And right now, she has her mind set on being a success. While Goggin is a fitness expert and Ms. Fitness America, her real strengths may lie in the area of being a top notch business entrepreneur. From owning Gold's gyms and Dynasty Women's fitness centers to Health Food stores and Alternative Motorsports companies, Sherry Goggin has virtually done it all. Sherry G. also acts as VP and director of the women's fitness division of the Private Trainers association,
www.propta.com
, and is also the head of the sales division for Fit Gum.
www.fitgum.net
. Currently, Sherry Goggin has a number of projects in the works. Her book, "Ageless Beauty" launches 2009. In it Sherry gives tips and information on looking beautiful and feeling & looking ageless. Sherry also has a new clothing line Fit Girl Wear which will be available for purchase in July and Launching in Beverly Hills. Also ready to rock is Sherry's newest DVD, "My Life in a Bikini", A Bill Dobbins Production and 2009 Calendar by George Kontaxis. All of Sherry's merchandise is available for purchase at any of her web sites including:
www.SherryGoggin.com
,
www.myspace.com/SherryGoggin,
www.linkedin.com/SherryGoggin,
www.onemodelplace.com/SherryGoggin,
www.FaceBook.com/SherryGoggin,
www.Twitter.com/SherryGoggin
www.youtube.com/SherryGoggin
http://www.SpiffBox.com/S/v?id=13427
Sherry Goggin,
www.SherryGoggin.com
,
www.FitGirlWear.com
, Ms. Fitness America, E Home & Loans Real Estate Agent & Loan Officer, VP (Director of Fitness and Development of Private Trainer's Association,
www.propta.com
.
Order FIT GUM at
www.sherrygoggin.com
Sherry has appeared in and on the cover of over hundreds of Fitness Magazines, check out her new cover with Natural Muscle shot by George Kontaxis.
Check out Sherry's latest shoot with George Kontaxis: ( Seen in Planet Muscle, Curves, Natural Muscle and more.)
www.sherrygoggin.com
www.georgekontaxis.com/upload/calendar/calendarsher.jpg
www.georgekontaxis.com/upload/sg
www.georgekontaxis.com/upload/bike
www.georgekontaxis.com/upload/sherrylake
www.georgekontaxis.com/upload/ms
www.georgekontaxis.com/upload/sherrychad
Order Sherry's new Lifestyle/Workout Video, and Calendar at
www.SherryGoggin.com
. Her Modeling credits number as high as the reps she does in order to land layouts in the Fitness Magazines and with more National Commercials and Informercials than even Arnold can shake a barbell at.
With a BS Degree in Business Finance, Sherry owns her own business, Western Trading Post and Alternative Motorsports and is an Investor.
Hosting is her passion as she has hosted many Television Shows, including Kiana's Flex Appeal, Infomercials, Cindy Margolis's Workout Video, Planet Muscle on E! with Jeff Everson, and American Muscle & Celebrity Workout on ESPN.
"Be Fit For Life and God Bless Always! John 3:16