PayPal only.
Prices include shipping for U.S. only, for outside of U.S. sales, contact me personally for shipping.
Tracking is $2 extra.
Payment must be sent 1-3 days after confirmation of purchase.
Item(s) will be sent 3-5 days after payment is received.
PM me if you're interested in any of the items, do not just leave a message here.
PM me for any questions or measurements.
-------------
All fascinators have dual prong hair clips attached to the back and can be secured with additional bobby pins.
All pasties are reinforced with stiff felt backing to ensure there is no warping of shape. Pasties will come with a set of double stick tape.
All collars are soft based and have two sets of ties to secure proper and adjustable fit.
If any additional photos for items on their own is needed, PM me.
I take commissions as well and don't have an extra charge for this, if you see a style you like and wish for me to recreate it with a different fabric or detailing, let me know.
I work with satins, brocade, PVC, lace, tulle, netting, beading, gems, ribbon, velvets, sequins, faux fur, you name it.
----------------------
These are ready for sale:
#1 Red brocade heart pasties
$13
$10 (Can be available in various other fabrics and trims as presented in my other pieces)
#2 Red Brocade Set
$30
$27
Fascinator only $15
Collar only $12
Pasties only $10
#3 Floral Rust fascinator, collar, and pasties set
$25
$23
Fascinator only $12
Collar only $10
Pasties only $8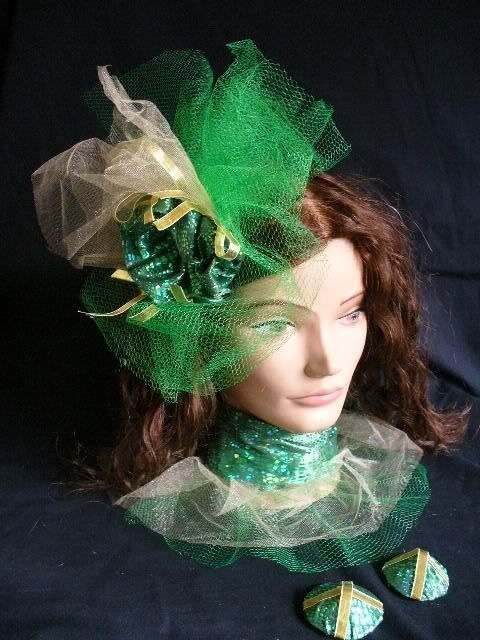 #4 Green Sparkle and Tulle fascinator, collar, and pasties set
$22
$20
Fascinator only $13
Collar only $8
Pasties only $7
----------
I also have other pieces previously made/sold but can be recreated, take a look at them here:
http://www.modelmayhem.com/po.php?thread_id=778526