i am intersted in pretty much anything the model is comfortable with.
I am always interested in meeting new people. I want to be able to shoot different variety of styles and everything! I do all types of photos...Family, Engagement, Models(obviously), Children, Nature, Wedding and everything in between!
I love trying new things, in studio and in natural lighting. i have come far since is tarted in 2009 and i am hoping to keep learning!
i have more of my photography photos on my webpage listed below:
facebook fan page:
http://www.facebook.com/?ref=home#!/pag … 933?ref=ts
I am a people person and i work very well with others. i love to expand my horizons with my photography so if u have anything in mind let me know!
i have a "modeling" site on here too, so you can see who you are shooting with, my # is #756589. You can message me there too. I dont really do much of that side of the camera anymore but you can see what i look like there.
my goal is to keep getting better and better with my photography. i have always had a love for photos, both sides of the camera. I can't wait to keep learning more!! I would love to work with and under different photographers to learn a lot more!
I use photoshop cs5 for my editing and put my trademark on all my tf pictures that i put on the internet, if u want it without the trademark, let me know.
I have started a studio in my basement. i have just purchased 2 Alien Bees that i am pretty excited about! i have been learning a lot about studio lighting and hoping to learn more and try new things with them.
I am not the type of photographer that wants you to take off all your clothes you can pick what u wear and pick your location. I think some photographers that ask for just implieds and nudes want more than just photos. Altho i do take sexy pictures, i have done nudes/implieds, but i am not asking you to do something youre uncomfortable with.
In the future i am hoping to mainly shoot children, weddings and families.
Contact me soon and help me with my portfolio!!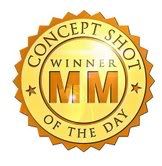 "Buildings" (3/24/10)