US (lbs/inches)
Metric (kg/cms.)
Details
Height:
5' 4"
Weight:
107 lbs
Bust:
36"
Waist:
26"
Hips:
32"
Cup:
D
Dress:
0
Shoe:
7.5
Hair color:
Black
Hair length:
Long
Eye color:
Brown
Ethnicity:
Other
Skin color:
Tanned
Shoot nudes:
Yes
Tattoos:
None
Piercings:
None
Experience:
Very Experienced
Compensation:
Depends on Assignment
Genres:
Acting
Art
Bodypaint
Cosplay
Dance
Editorial
Erotic
Fashion
Fetish
Fit Modeling
Fitness
Glamour
Hair/Makeup
Lifestyle
Lingerie
Pinup
Promotional Modeling
Runway
Sports
Swimwear
Underwater
Info
Last activity:
Sep 16, 2014
Joined:
Jul 27, 2009
Natalie Hope-Official

Female
24 years old
QUEENS VILLAGE, New York, US
Desdemona Sinn

Mayhem #1308158
Model
MM URL: http://www.modelmayhem.com/HopeSinner
About me
.Facebook.
.Twitter.
Youtube
.Tumblr.
"Take Me To The Promised Land"
*Upcoming Shoots,Jobs,and Appearances*


::January::
- Fire Performing at Webster Halls Grandballroom [ PUi Concert ! ] - [17th]
- Steampunk / Cabaret Photoshoot - Bill Tracy [ 24th ]
- LED Fan performing at Stimulates Winter Wonderland [ 25th ]
- Personal Training at the gym [ 26th ]
- Tattooing at Omearicana ink [ 28th ]


::February::
- Fire performing in Santino Noir's Mainstream Misfits Music Video [8th]
- LED Fan Performing and Body painted model at Sexy Valentine's Vaudeville Lingerie Body Painting Fashion Show [8th]
- Accepted and Interviewed by a MTV interviewer for a Performer Reality T.V Show [11th]
- Special Appearance in PA at Motorama Event [15h]
- Special Appearance in NJ at Wicked Faire [22nd]
- GoGo Dancing at LEGACY NYC (Rave Massive) [28th]

::APRIL::

- Fire Performing with Flambeaux at the Horned Ball at Santos Party House in Manhattan [4th]

::MAY::

- Fire Performing at BODEGA NEGRA at the Dream Hotel - Mondays. Pyro-lesque with Flambeaux Fire [5th]



Hi my name is
Natalie Hope
Stage Name
-
Desdemona Sinn
I am a Actress/Scream Queen] [Writer] [Alt International Model] [Latex Designer] [Belly Dancer] [Fire Performer] [GoGo Dancer] [LEDHooping/Double Mini Hooping,Firefans,LED/fire Poi,Silk Fan Veils]Multi-talented :] I am everything that you need,your ultimate Spookshow Baby ,but before you read all of this , you might as well watch me LIVE , considering actions speak louder than words !
"Watch me LIVE "
http://www.youtube.com/watch?v=GPt8CNa0 … UGIRfCok8W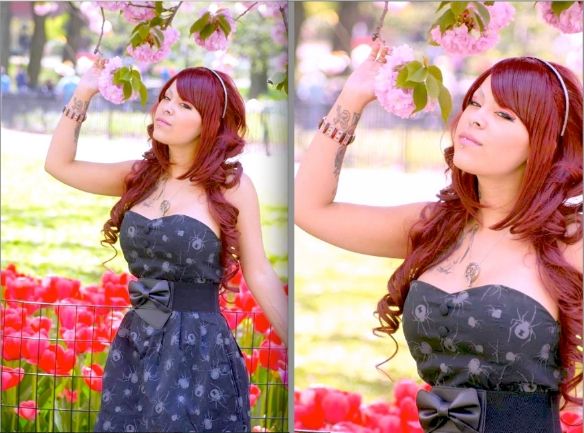 I'm open-minded and looking to work with new and creative photographers.
I'm fun ,wild, creative ,i can be passionate,spiritual
I would love for you all to use my body as your canvas i love keeping things creative.
I'm interested in new looks and ideas as well, I'm open to all styles.Even high fashion. Including runway/Glamor :]
I HAVE A HUGE FANBASE ESPECIALLY ON FACEBOOK,YOU GET TONS OF EXPOSURE ON THERE BY ME
My favorite styles include Bondage work ,Steampunk, Gore, Glamor ,Pin-Up,Classy ,Cyberpunk/CyberSlut, Electrohead/Rivithead/Industrial, Dark and deviant, Colorful , Erotic,Fashionista, Rocker , Goth ,Playboy/Maxim,Swimwear.....Whatever is fun or catches the eye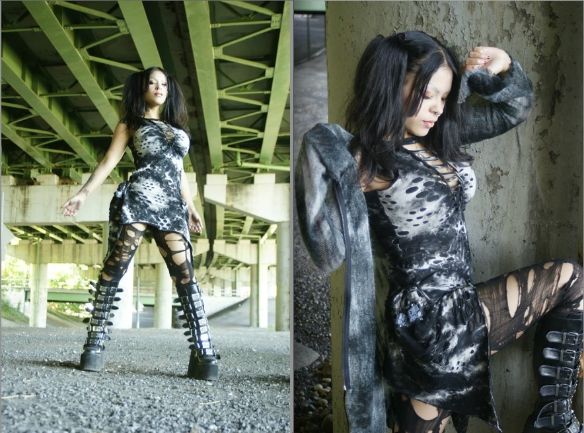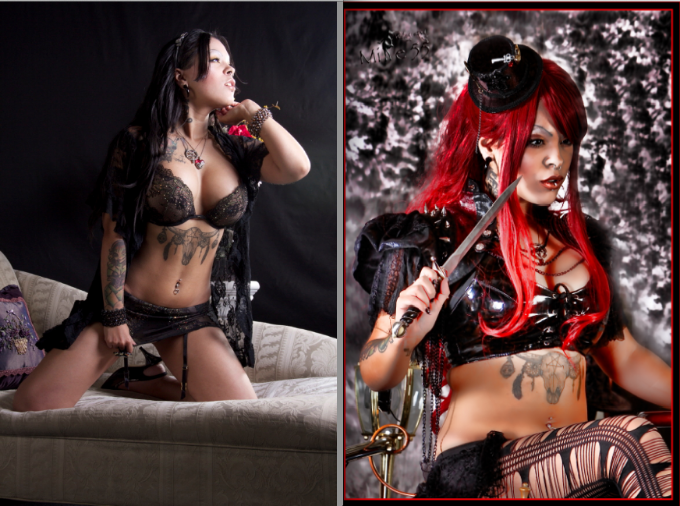 TF - I still shoot trade assuming you have a concept that will blow me away.

Paid- My rates are reasonable. I can also be bribed with Corsets,Bikinis, latex, & shoes etc....

Nudes- Only if you're apart of something big like Playboy Magazine or Maxim

Designers- Always looking to collaborate with amazing designers.



My Body Modifications:
TATTOOS

I have 6 tattoos

-my eye brows
-Major Right Side Back Piece - Female Demon on my lower right side of my back in flames with skulls underneath her and souls trying to pull her into hell and the upper right side Is of a male demon with horns representing power
-Right Outer Forearm - Colorful Zombie Pin-Up Girl with Roses and Skulls
-Right Side Neck Piece - Tribal Dragon the size of my fist
-Right Side Chest Piece - Zombie Bunny
- Bullskull with dream catchers on my mid ribs .


PIERCINGS
-a plug that is a 2g in my left ear
-10g in the middle of my nose
-Labret
-Piercings are easily removable for natural photoshoots
BODY MODIFICATION
- I have my tongue split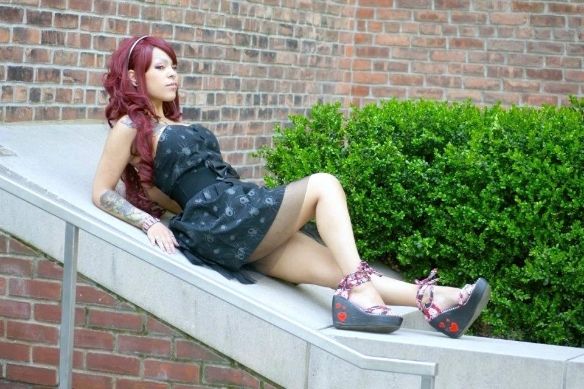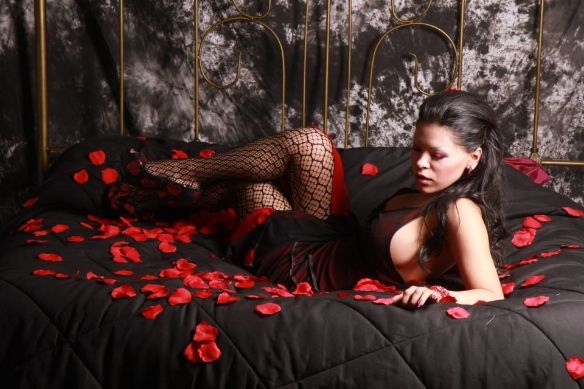 Credits
PHOTOGRAPHERS :
-LIPSERVICE - photos and future Runway .
-Albert Dekota Stone [ Covergirl in Devil Rebels Magazine]
-NYC GLAMOR #633260
-Art-i-Ficial #238389
-FMA PHOTOSTUDIOS #61119
-Retinal Fetish #547657
-2Dream Artists Photography
-FMF Photography
-Ron 'Spiedy' Gejon -http://facebook.com/ron.gejon
-Peter Diablow #30721 - and on his site darkmindedangels.com
-Jeffery Duran #595290
-Ronenelr- Elrom Photography #1638941
-Kaos Studios #34520
-Dash Photos #791764
-Brad Baker #38809 - Video and Projection Art/[FancyVersionoftheCube] Photoshoot , Will be shown in Berlin electro clubs,here in NY on a 70ft wall and Miami during WMC.
-Mike Hearse - Photographer for Girls and Corpses Magazine http://www.facebook.com/Mike.Hearse
-KinspinPhotography #16544
- Glenn Tuttle
-TROMA FILM PRODUCTION
- Roy Burmeister
-Mike 55 Photography #1278625
-Stacy Smith - Kiara-Ann Cosplay & Photography
- Z-Studio Photography
- MaxxxImages
- G Bush
- Norman Blake
- Gil Rivera #692434
- Shreyas
- Mitch
- Yassir Ketchum #1766248
- Bill Tracy #7204



SITES AND PUBLICATIONS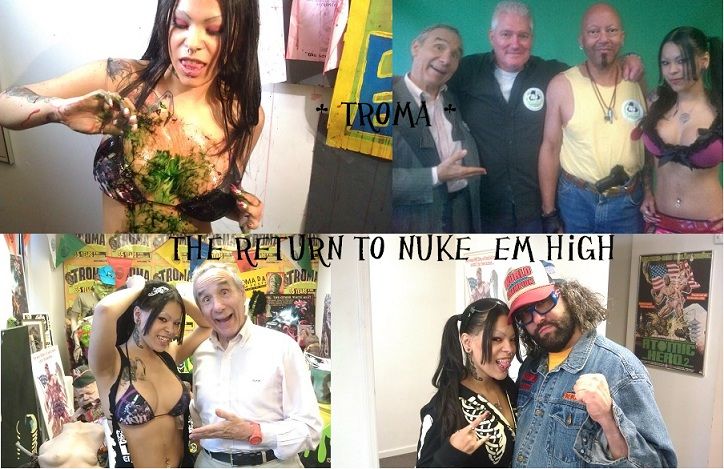 -Albert Dekota Stone [ Covergirl in Devil Rebels Magazine]
-$PREAD MAGAZINE - (Eye Lash Spread)
-FANGORIA Entertainment - Fangoria.com
-SOURPUSSCLOTHING.COM - RUNWAY
-REDBUTTAFLY.COM - RUNWAY
-DELICIOUSBOUTIQUE.com
-EYE CANDI FASHIONS - RUNWAY
-CATWALK TRAGEDY - RUNWAY
myspace.com/catwalktragedynyc
-SINTHETICFATEGIRL Centerfold Model in http://www.digitalustmagazine.com/
http://www.facebook.com/digitalustmagazine
-darkmindedangels.com
-Girls and Corpses Magazine !!!! Volume #6 Spring Issue :] http://girlsandcorpses.com/store/index.html
-Starring in the film Jack O Slasher by - Jenn Aardvark Valdes
- Natasha NYC - Katastrophic Fashion Show - RUNWAY
- Hollywood Glamour Candy-Rock Couture's Meets Lace, Spikes n Everything Nice @ Empire Rooftop NYC - RUNWAY
-Plays a scene in NASSAU CHAINSAW DisGraceLand Demolition Committee Music Video "Requip" for MTV - Watch here http://youtu.be/lfGwNLEsZjc
-Calvin Klein's Kristina Kiss's SSIK Jewelry Line - RUNWAY
- Acting in the Return to Nuke 'Em High [a Troma Film] with Famous Actor Judah Freidlander from 30 Rock
-Gorgeous Freaks Magazine - Cover Girl -http://www.magcloud.com/browse/issue/461588
-Spokes Model and a Lead Actress for Archetype Cinema
-Actress in Archetype Cinema on a Film Short called "TO LOVE IS TO DIE" a Bloody Valentines Day Special
-Got Body Painted Live on Stage at PUi Ritual IV - A 2 Day Audio Visual Festival . A HUGE Festival at Irving Plaza.
Then afterparty at Gansevoort Hotel Rooftop Heated Pool Party with all of us hot models . Both nights will sell out. 2500 people total. According to Pollstar Pro, this is the biggest event an independent artist has produced in the United States Of America .
Event is filmed for an upcoming IndiMusicTV show starring Mistress Juliya and Tim No 37 .
- Signing autographs at Monster Mania
- Gil Rivera - with paintings by famous Mongolian Artist Chalun Bataan , his artwork had been in museums around the world. Including the Guggenhein and moma ! His paintings are worth over $100,000 dollars
- Director Michael Stern of Visitor One Entertainment and Boomfall Sound Norway Presents - Music Video - Aziz Wayne - FireDancer
Starring Natalie Hope
http://www.youtube.com/watch?v=ytci4CR7nfQ
--------


I have done Fire performing and Burlesque at major events/commercials/music videos/ and travel around the world for my gigs . To name a few -
*I performed a Double Burlesque Act at Coney Islands Sideshow !!! Menagerie of Mayhem Hosted by Insectavora and Serpentina ! *
*Fire/Burlesque Performed in Pennsylvania at Sideshow Solstice Freakout Fair*
*Fire and Burlesque at Squidling Brothers Carnivolution in Philly Hosted by the famous Jellyboy the Clown!*
*Fire performed @Affiliate BBQ, http://affiliatebbq.com/ ,Mansion Pool Party @Manalapan, NJ*
*Fire Breathing for [Henley E-cig commercial] , Henley Premium Vapor Cigarettes, @ Wappingers Falls, NY , @mikerelm @kristinaklebe*
*Suspension Burlesque Fire Show with Gisella Rose Invisibleself Body Suspensions at Visionary Tattoo Arts Convention in NJ http://www.visionarytattoofest.com/ here's a really awesome video article in the Star ledger about my performance
http://videos.nj.com/star-ledger/2013/0 … ow_ho.html *
*Fire performed with the famous Fire Gypsy Sasha in Massachusetts at PigJam Festival*
*Starred in a Music Video for Aziz Wayne from Sweden, Produced by Michael Stern in West Meadow Beach In Setauket*
* Fire belly danced at Aria wedding & banquet in Connecticut , Freeport
* Fire / sideshow performed at BloodManor in Manhattan
* Fire performed at WebsterHalls Grandballroom NYC for PUi
* Fire performed in Santino Noir's Mainstream Misfits Music Video
* Accepted and Interviewed by a MTV interviewer for a Performer Reality T.V Show .
* Fire Performed with the famous Flambeaux at the Horned Ball at Santos Party House in Manhattan
* Fire Performed at Sapphire Gentlemen's Club - Masque Mondays
* Fire Performed at BODEGA NEGRA at the Dream Hotel - Mondays. Pyro-lesque with Flambeaux Fire
* Fire Performed Kalimete's Music video by Walmy De La Cruz
* Fire Performed at PUI's Ritual Concert at Webster Hall's Grandballroom NYC
*Countless Sweet 16's , Anniversaries , Weddings , Corporate Events , Festivals , Concerts , Birthday Parties , Luaus ,
and much more !


Designers-
-Designer-AlloyLatex - http://www.facebook.com/pages/ALLOYlate … 7927122353
or http://www.facebook.com/profile.php?id=100001219954510
-Designer- Sinners Latex
-Designer - Calvin Klein's Kristina Kiss
Friends
Natalie Hope-Official has
92
friends.