http://www.blurb.com/bookstore/detail/3054596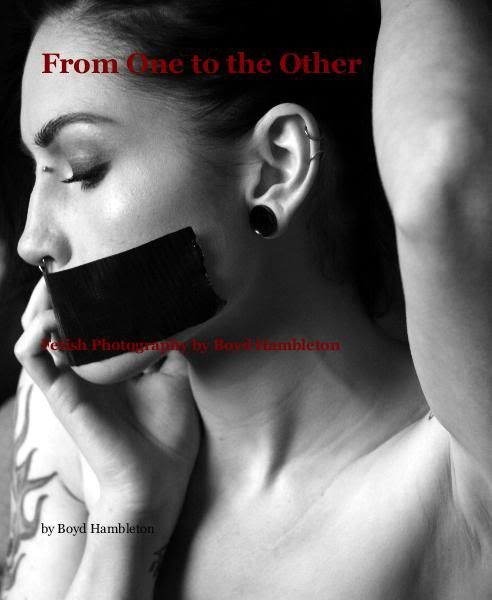 http://www.blurb.com/bookstore/detail/1782090
I am a fetish photographer with 10 years of shooting models from the new to the professional. I shoot for exhibit, various art book projects and various private commissions. I am a self-described "munchkin with a camera" and the poster child for the starving artist stereotype. Unless I've been commissioned by a client,
I don't pay models. I can't.
It's not that I think I'm all special. It's simple economics.
My vision is stark and minimal. I do appreciate high contrast and texture. I have no use for the 10-million filter approach to post-processing. There comes a point where what you're doing is no longer photography but rather digital art or photoshop hackery of the worst order. Show me what's on the inside please – flaws equals human.
My influences (photographers I really admire) are many and varied, running the gamut from editorial fashion to fetish and erotica: Steven Klein, James Graham, Melvin Moten, Sylvie Blum, Renee Jacobs and Steve Diet Goedde among others.
Since 2002, save for 11 months living in Los Angeles, I've been an artist in residence at the Collingwood Arts Center in Toledo, Ohio. I've been an actor, poet and photographer here, but photography is what I do every day and how I pay the bills. I've also had the honor to be the founder and host of the Collingwood Arts Center group shoots since 2005.
What can you expect from me if we shoot? Expect to feel comfortable in a relaxed environment and to laugh. I'm a bit of a dork. Expect around 10 edits per set (new policy). Expect a darker vision and something outside the box.
You will need to have government ID and sign a release for publication. No exceptions.
Surreal visions are making me happy these days, and I'm inclined more toward a New York/European aesthetic. I am no longer editing full-frame. Images are sized for 11 by 14 prints
If you'd like to book a shoot, say howdy.
Lil' old me with my impish grin.