Hey! My name is Nadya (Nadezhda is my big fat scary birth name that means "hope" in Russian) and I am looking for a great shoot! I love art, I painted and drew all through school and sold most of my works at auctions! Now, modeling is my new outlet for creativity. You wont scare me with crazy locations, weird props, extreme poses... but you can try
No drama, no whining, no bs, let's just get down to work and make some great images..or we can also just simply chat about cats, flowers, happiness and sunshine.
I'm sorry, but it is very rare that I have time for a TF shoot (Even if it's a "first shoot TF, then next shoot paid" basis.) Please msg me for my rates
My professionalism, talent, and style can be assessed with my portfolio and messaging my references
. Never hesitate to ask, but please understand I've been very busy right now and its hard to pull time out of my precious free time with family.
I have moved to Houston but I still go to Dallas a few times a month! I also come to Austin quite often, where I have free access to a studio we can shoot at! WINK!
*If I have to travel outside of the Houston area, I will have to add a fee for traveling and expenses. We can work that out based on where you are and how I'll get there
*If a shoot does get canceled, the travel expenses are not refundable because, well, it would really suck to be stranded in a location with nothing to get home on. If for any crazy reason I have to cancel the shoot, I will gladly refund any payments that have been made with the best means for you.
*If I am traveling to you to shoot and it's a ways away and you house models, please feel free to tell me! If I don't have prior accommodations, I would love to swap a discount on rates for a place to crash. My only criteria for this is to have a few references I can contact about housing.
The no-no list
*Please consider that I do not shoot very erotic or explicit. Keepin it classy
I'm unbelievably thankful that my boyfriend gives me the freedom to model the various styles I do, but I think those genres would be crossing the line of what I feel comfortable shooting and other people seeing. If you have any questions about the style you'd like to shoot, send me a msg with a reference image and we can decide if that is something I'd be comfortable with.
*Also, for the same exact reason, please no explicit girl on girl shoots, or erotic shoots with a guy.
AHHH... done with the nitty gritty! How nice! :3
Thanks so much for coming across my page and I can't wait to work with you!
Also, my teeny tiny happy little family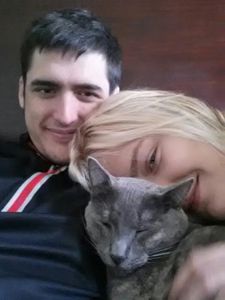 I have worked with a very large number of photographers in my time as a model. Many have become very dear and beloved friends as well as photographers with whom I often work with. With others, I have maintained a much more professional relationship. But regardless of our personal matters, I have been fortunate shooting with each and every one of them and I have always had a good time. I should have everyone I have worked with under my friends tab, credited in my images, or you can find my images in their portfolios through my credited images. Either way, please feel free to ask anyone for a reference, or ask me and I would be more than delighted to send some names your way.
I would like to list the other professionals I have collaborated with, simply because this list is much easier to keep up with
Makeup artists:
Amber Roark, Mayhem #2024340
Lisa Marie Reyes, Mayhem #1186998
Ivory Narvell, Mayhem #22507
Ana Mixson, Mayhem #1776294
Hair stylists:
Ale Bonilla, Mayhem #2035765
Paul Mitchell School
TIGI
Designers/runway:
AnToni Michelle, Mayhem #1565777
Sevnna Swimwear
Wonderwink
Berrydog Bikinis
Sculptors/body cast:
Justin Krey, Mayhem #2306436
Shows I have done:
DCFP 2011- Designers Choice Fashion Preview (Walked for AnToni Michelle, Mayhem #1565777)
Affiliations:
Girl Co model management
Publications:
Femmexposure, April 2013