For High Resolution Images of my Work, please Visit my Other Sites, I dislike Modelmayhem's image sizes.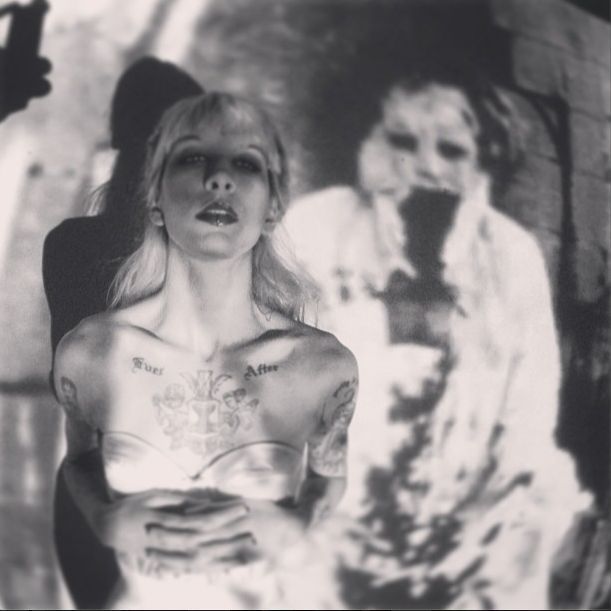 me inside one of my favorite movies. taken oct. 2013.
What I Like:
Looking to do: editorial fashion and film/polaroid.
My main focus right now is a more high end fashion look, even with my tattoos. I am agency height, weight, and size.
Will Trade for Tear Sheets and High Fashion Work with either: wardrobe provided, or 2 months time for me to purchase fashion pieces/or the supplies and make the wardrobe. I am an excellent fashion stylist and intermediate latex designer. I frequently use those skills in setting the theme for my shoots.
I have either styled or designed wardrobe for EVERY photo in my port currently,
minus one photo(Tattoo Vixens Interview Tear Sheet)
-I currently have very few visible piercings, lip ring and tongue ring. Keep that in mind, as my port shows me throughout various stages. My current hair is platinum blonde with pale lavender tips and at exactly shoulder length(medium length). I am getting extensions that will be in for the next three trips, same color, down to underneath bust.
Low Down on Gigs:
- Paid gigs are NOT my priority, making my art is. I typically do paid shoots that are along the lines of what I would put in my port. Please, Take your time, sit down, look at my port. If you want to ask me to do work that is not what you see in my port, more than likely, you could not pay me to do it.
-I do not discuss bookings via phone(whether paid or a collaboration). I like to be able to come back and see the details of a conversation. I provide a phone number for day of shoot. I will call when I am on my way if the shoot distance is far, and call again when I arrive.
You are paying for:
experience, pose, attitude, wardrobe, intelligence, and professionalism. No matter the content of the shoot I am operating at 100%, why? because it is my job to. And i love my job. if i did not love my job, I would not be expecting to be paid for it. misery does not beget money. And people can tell when your heart is not into it.
- i do not do spread or hardcore shots. I do nude work with photographers I want to do nude work with, I will contact you if I want to do this.

*****THE SCHEDULE*****

I am avail just about anywhere, where I am wanted, ,i will travel to, plain and simple.



i will generally follow this schedule, but without enough bookings i tend to drop one city and switch it out for another etc.
one of the perks of being your own boss.

May- 8th-15th San Fran booked
End of May- Graham Morrison in NC
June-13 with Marie Killen in NC
end of July- Marie Killen in NC
August 23-26- Phoenix, AZ Tattoo Con CANCELLED FOR SEATTLE
August 20th-27th- Seattle and Portland (Staying with model RANT)
Sept 1-5- Atlanta Dragon Con CANCELLED FOR MOVE INTO NEW STUDIO APT
Sept 13- 16- Tulsa, OK Tattoo Con (very tentative) CANCELLED For Moving Purposes
11th/13th- Richmond VA Layover Avail - Fri Booked w Funnfoto
12th- Norfolk- shoot with stuntkid
November- Last HellCity Tattoo Convention in FL
December- LA 2nd-7th (with model RANT) then Seattle 7th-9/10th
NOW BOOKING LA!!!!!!!!!
Chicago (maybe) (may be too cold)
January- NYC for a weekend
VIENNA, AUSTRIA, AND TENTATIVE PRAGUE!!!!
February- Baltimore, MD, Booking for
Spring 2014- NYC with model RANT
Other Possibilities: Baltimore,Tuscon, Las Vegas, Salt Lake City,TN, San Fran, NJ, Philly, TX, Columbus, Boston, Providence. Give or Take depending on number of bookings. Hopefully next year- London or Tokyo.



Where to Find More:


photographers i've worked with-
(a list more for my bookkeeping than anything)

#570863 Alisa Saxanoff
#332948 Altered Aperture
#379148 AnselPixel
#460771 Arthur Pearsall
#1554392 Ashley Erin Walker
#62236 Asylum Photo
#1041706 Barrie Blau Photography
#370805 BellaGore
#419492 Bilbytron
#110637 Billy Liner 
Blackula Photography
#463035 Bohemian Noir
#4130 Cannibalized
#477487 Carl Miller Photography
#826180 Christopher Donald
#805778 ChrisPaul
#3508 Collin J. Rae
#854354Corrupt Image Data
#1518319 Cvitanic
Cyndil Ashley Photography
#145849 Danni H
#400365 Danger Ninja Productions
David Lari
#700592 Dayjavue Photography
#1272244 Dead Clown Studios
#2437287 Deep Digital
DevilsMix Photography
#578083 Derek Wood
#381203 Destroy Inc.
#2475111 Dirk Durkah
#1384705 DividingME
#1087894 Ed Frazier Photography
#186992 Ed Ross
#125719 Eye of Ra
#11986 Envy- Art
#19632 Fenix Fotography
#2219 Footnote Fotography
#1133801 Funktionhaus
#866753 Funnfoto
#872545 Gas Oven
#639790 Grant Beecher Photo
#751399 imagethirteen
James Ryder
#1466137 Jamil Nasir
#889698 Jason Dulin
#1615671 J Caldwell
#98 Jeff Cohn
#1119986 Jeff Waters
#264903 Jennifer Link
#1374 Jerry Bennett
#201743 Jim Herrington
#168006 J Isobel de Lisle
#2340468 J Vittorio
#119618 JohnnyB
Jonmmayhem
# 237761 Joseph Balestra
#362731 Julia Comita
#320619 Justin Kates
#488970 karenjerzykphotography
#1930804 Kenneth A Krivett
#4702 Kidtee Hello
#1772437 Kilker Photography
#561601 Lady Ren von Tjej
#1505 Larry Bradby
#2333 Laura Dark Photography
#862518 Lester Pena
#1061099 Live for This Photography
#1136596 Lost for Words
#694762 Matt Bell Photo
#58101 Martin Bialas
#11819 Michael Church
#502729 MichaelONeill
#2089326 Miss Justine Marie
#40972 MojoKiss
#1230778 My Phetish
#48168 MysticM
#1336104 Nicolophobia
#1540300 Noisnest
#742781 Ohio Bat Girl
#129711 Oracle Eyes Photography
#697694 Pabis
#739427 Pixelated Perceptions
#456512 Pixelism
#1051079 Photominimal
#890740 Photos by Luna
#239674 Porcelain Poet
#467940 Robb Mann
#1364545 Reginald Sumner
#1036641 Reverend Vegas
#1094725 Rick Craft
#896652 RhiddlerOne
#862721 Russell-Killen Photo
#389535 Sarah Beth Faison
#369551 Sam Guss
#106343 S A Y E R
#1621525 Shelia Carroll
#694778 Shotz Creative
Shyn Midili Photography
#311 Steve Prue
#44831 stuntkid
#209565 terrence hatton
#371054 Theresa Manchester
#730164 Thomas Dodd
#775086 Tiffany Ann Photography
#618249 Travis Haight
#1685026 Tree Thousand
#125751 Todd C Hartman
TomiKnoxPhotography
#2528886 Tschida Inc
#518447 TuffNerd of Studio 3D
#1028268 Warped Mind Photography
#19734 Wynn Studios
#1120787 Zarrin Henna


clothing designers i have worked with-

kimbrookstyle on Instagram

#1372363 Blu Zombie Designs
Madame Corzette's
#1957515 Silk Falsetto
#597845 Dementia Clothing
#741442 ALLOY Latex
#1086528 Filthy Latex
#385696 Toxic Shock Apparel
Sugar&Spice DIY (jewelry designer)
#451028 Empress Mess
#1436367 Black Lotus Clothing
#827624 Collective Chaos Design
#842309 Berit New York
#13069 Suicide Dreams
#425171 Meschantes Couture
#517512 Karen Von Oppen
#1089472 Sibyl Vain
#1570190 Crash Trash Designs
#1704671 Karen JerzyK Designs
ArtWithLatex designs
SheSho Designs
Soiled Dove Designs
Breakin Chains
Charles of London
On the Inside Lingerie
RPM Clothing
Weeaboutique Jewelry
Scarlett Bliss
(Stevie Boi Shades)SBshades
Chained by Carrion
Oracles Arise Clothier
Maddox Leather Design
Abigail Greynadus
Essential Latex


MUA and Hair Stylists

#1273926 Zarrin Henna-Makeup

Charm City Makeup

#619160 Elizabeth Tolley

#19891 Ryder Makeup Labs

#2022208 CeCe Galore Makeup Artistry

#1237019 Artifex

#1025307 Christine Chan MUA

#102808 Whos the Fairest

#2114705 Makeup by RANT

#1737234 MUA by Porcelain

#379142 Anna DeMeo

#1630910 Lyse

#2980898 Justine Marie Stylist

#2164237 Tattooed Stylist


I do provide references for photographers, models, MUAs etc. If I have worked with you, let me know if you need a reference. As far as that goes, I do not recommend:

ALLOY Latex
K h r i s t
Bilbytron
SAYER
RedRum Collaboration
Dirk Durkah(Nathan Shaffer)


and FYI with the above, please keep in mind I am also following MM rules, under site-wide behavior concerning member disputes, "Concerning bad working experiences, "Do not recommend MM# so-and-so" is the extent of the negative feedback we allow. You may provide more details when asked."


Flyer Art:

Ohio Repent EBM night flyer Dec 2011
Medical Mayhem at The Shelter ATL 11.11.11
Decandence Project Valentine's Burning flyer art
Purgatory Flyer Art- Alloy
Purgatory Flyer Art- Rx for Pain
Purgatory Flyer Art- Fetish Flea Market
Purgatory Flyer Art- Buffalo NY Purgatory Roadshow
Purgatory Flyer Art- Hickory Purgatory Roadshow
Single Cell's Danse Macabre flyer art for teaser 2 & 3
Single Cell's Alloy flyer art Nov. '09
Single Cell Roadshow June 26th flyer art
Single Cell Alloy July 2010 Flyer
LeatherFET Event Book Cover
Fetish Factory Jan 2011 Flyer Art


Magazines/art books:

"Sanguis Vitam Est: The Blood is the Life" Art book by Justin Kates
"Beauty in Darkness" Art book by Laura Dark Photography
Stiff Magazine issues 1 and 2 and 3
Tattoo Couture Magazine Issue 4
Skin Two Magazine
Xcitement Atlanta Magazine June 2008
Creative Loafing- Atlanta, and Charlotte
V2 Magazine (article on Single Cell Productions)
East Coast Ink Magazine 2007
Kink Magazine's blogspot
Alt Noir Magazine Spring/Summer 2010 issue
Alt Fashion Magazine issue 16
Bizarre Magazine issue 165 featured UltraVixen
Culture Asylum Magazine COVER (Jan. 2011 issue)
Blip Bop Magazine issue 1 COVER
Tattoo Revue issue#150 COVER and centerfold
Dark Beauty Magazine December 2010 issue (2 pages)
Tattoo Vixens Book by Skin Deep Magazine (featured on the Cover and inside interview)
PH Mag issue #3 Jan 2011 COVER
Tattoos for Men issue #90
Gaunt Magazine issue 1 feature on Eye of Ra Photography
Blip-Bop Magazine issue 4 COVER
Rebelicious Magazine issue 4
Uncropped Magazine article on Noisenest
Manic Panic 2012 ads
Gaunt Magazine issue 2
Gorgeous Freaks Magazine issue 2 pgs24-25
Auxiliary Magazine Feb/March 2012 page 5 'Chanel no. 666' article
QNotes Magazine vol 26 no20 COVER Feb/March 2012
Where Beauty and Ink Collide! Skinned Canvases Vol. 1
Filigree Magazine May 2012
Elevate Magazine May 2012
Dark Beauty Alternative Wedding Issue April 2012
Bella Morte Magazine Sept 2012 Taboo Edition
Giuseppina magazine issue#11 article on DividingME
Goomah Magazine issue 2 COVER and interview
The Cats Meow Magazine in article on Soiled Dove Designs
Glam Rock Magazine in article on Soiled Dove Designs
Prysm Magazine issue #3 Fashion editorial 'The Mill"
Filigree Magazine Fall/Winter issue 2012 editorial on Kilker Photography
Dark Beauty Winter 2012 issue
Ellements Magazine Dec 2012 issue Book One
Rebel Ink issue 22 COVER (partial) and Part of ZombieBoy Feature
Kung-Fu Breakfast Zine Feature of Photographer Sam Guss
Rebel Ink issue 24 Interview Feature and Centerfold
Tattoos for Women Magazine issue 112 pre-production
Kirameki Magazine (issue 2 8 pg interview





Events i am/will be at-

Vintage Vixens Workshop Halloween Oct 2012
Deep Digital's Bad Ass Beauties Workshop Sept 2012
Stand In Model for Paint/Sketch Workshop at Twenty Two in Charlotte NC
Select Urban Outfitters, Manic Panic Display Ads
Fresh Salon Hair Video 2012
Fenix Fotography Exhibit at Jack Beagle's in NoDa April 2012
Freakshop Feb 2012
Raw Velvet Runway Show 2012
Easy Riders Biker Con 2012 (Vendor girl)
Mad Monster Party 2012 convention
2011 Won LeatherFET Community Award
Guest Judge for fetish event Miss Leatherfet in Hickory, NC
In self-help video for the Billy Graham Association (guess I was perfect for the troubled teen casting call lol)
2011 Dec. LeatherFET Burlesque and Featured Model
2011 Purgatory Go-Go Dancer
2011 Gore Gore Luchador charity event
LeatherFET 2010 Featured Model
Diabolique Ball Nov 2010
Screamfest FL Oct 2010
SC Car Show Sept 25th 2010
Baltimore Tattoo Convention Sept 2010
Alloy Event, Latex Runway Show August 2010

DragonCon2009-
Walked runway for Berit New York fashion show
(and Prints for sell in the exhibitors hall)

Purgatory Roadshow (various places)(performing 2008-present)

DragonCon 2008 (prints on display)
ConCarolinas 2009 (performing)
Nocturnal Frequencies 2008 (prints on display)
Phobia (performing)
Fetish Fair Fleamarket 2008 (Prints on display)
Cirque Fatale 2009(Purgatory Art Show- Prints on display)
Bloodfeast 2008 (performing and prints on display)
Bloodfeast 2009 (prints on display)