For High Resolution Images of my Work, please Visit my Other Sites, I dislike Modelmayhem's image sizes.
Updates are kept current on my Instagram, follow it to see the most recent images, edits, candids, and travels! On IG: @kat_kalashnikov
MY CITY LISTED is the next city i will be visiting.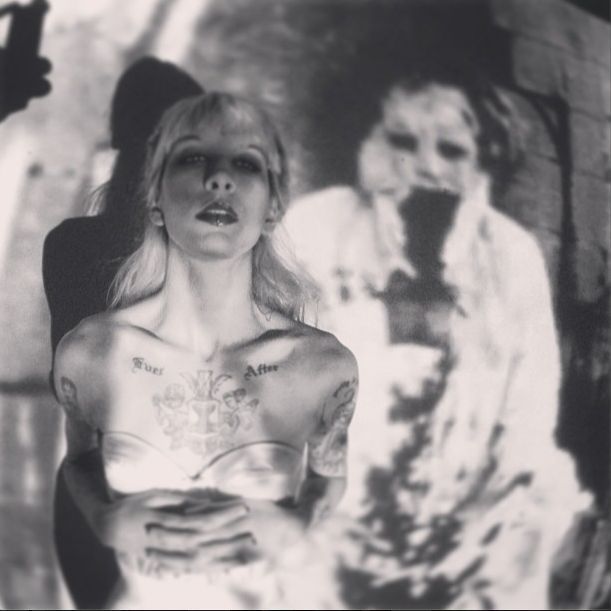 me inside one of my favorite movies. taken oct. 2013.
What I Like:
Looking to do: editorial fashion and film/polaroid.
My main focus right now is a more high end fashion look, even with my tattoos. I am agency height, weight, and size.
Will Trade for Tear Sheets and High Fashion Work with either: wardrobe provided, or 2 months time for me to purchase fashion pieces/or the supplies and make the wardrobe. I am an excellent fashion stylist and intermediate latex designer. I frequently use those skills in setting the theme for my shoots.
I have either styled or designed wardrobe for EVERY photo in my port currently,
minus 2 photos(Tattoo Vixens Tear Sheet, HUF Mag Tear Sheets)
-I currently have very few visible piercings, just a lip ring and tongue ring. Keep that in mind, as my port shows me throughout various stages.
-My current hair is pale lavender and grey mix, (Ion brand hair dye) and at exactly shoulder length(medium length). I have high quality extensions that will be in for the next three trips, same color, down to underneath bust, able to be styled with heat.
Low Down on Gigs:
- Paid gigs are NOT my priority, making my art is. I typically do paid shoots that are along the lines of what I would put in my port. Please, Take your time, sit down, look at my port. If you want to ask me to do work that is not what you see in my port, more than likely, you could not pay me to do it, but doesn't hurt to ask.
-I do not discuss bookings via phone(whether paid or a collaboration). I like to be able to come back and see the details of a conversation. I provide a phone number for day of shoot. I will call when I am on my way if the shoot distance is far, and call again when I arrive. After Shooting, if you need to contact me for anything and are not getting a response online, always call me or text me, because emails get backed up, and social sites are unreliable. I would much rather get edits and stay in contact that way, pre-shoot I need to see details of our business written down, after is a different story.
You are paying for:
experience, pose, attitude, wardrobe, intelligence, and professionalism. No matter the content of the shoot I am operating at 100%, why? because it is my job to. And i love my job. if i did not love my job, I would not be expecting to be paid for it. misery does not beget money. And people can tell when your heart is not into it.
- i do not do spread or hardcore shots. I do nude work with photographers I want to do nude work with, I will contact you if I want to do this.

*****THE SCHEDULE*****
i will generally follow this schedule, but without enough bookings i tend to drop one city and switch it out for another etc.
one of the perks of being your own boss. [/i]

May- 8th-15th San Fran booked


December- LA 2nd-7th (with model RANT) then Seattle 7th-9/10th
NOW BOOKING LA!!!!!!!!!
January- 15th-20th-
VIENNA, AUSTRIA, And PRAGUE!!!!

April - NYC
Chicago, IL
Washington,DC
May- Baltimore, MD,
San Fran for DollsKill
Release of new latex for new website!
Spring 2014- NYC with model RANT
Other Possibilities:Tuscon, Las Vegas, Salt Lake City,TN, NJ, Philly, TX, Columbus, Boston, Providence. Give or Take depending on number of bookings.
Summer 2014- Germany
Hopefully late Fall/Winter 2014- London or Tokyo.



Where to Find More: