I do not give raw unedited photos out.
An inordinate and at times obsessive preoccupation with fantasy might easily well be psychiatrists' notes in the case file of one Justin Kates. Justin spent his formative years in Salisbury, North Carolina, searching for anything to shatter the ennui of a conservative southern city. Growing up in the Bible belt state of North Carolina, young Justin encountered the thunderous clamor of Christendom, hellfire, brimstone, damnation and fanaticism. To this fervor, he reacted badly...resisting the stranglehold of righteousness by plunging headlong into Lovecraftian mythology, role-playing games, heavy metal, and artistic pursuits that would arm him with the visual vocabulary with which he would develop his distinctive and carnal style. Every artistic pursuit preceding his photographic work has provided tools that he would eventually apply to current digital art.
What is Justin's style? As with most artists, it is not simply a topic, subject, or rehearsed technique. Kates puts his stamp on things that others might glamourize by corroding, roughening, and artfully destroying objects of beauty and desire. This method, this gritty deconstruction of aesthetic objects results in a strange beauty, a revealing of the shadow side of human behavior.
Anyone that's met Justin Kates in person can attest to his encyclopedic knowledge of obscure historical facts, military strategists, and all things Squidbillies. If it involves conflict, or aggression Justin has some recollection or interest in it. Each of the prominent features of his psyche: domination, control, conflict, lust, and aberration converge in his current undertaking, Sanguis Vitam Est.
Though using the quote 'Fortune favors the bold' is a mantra often heard atop the din of metal music, even the mighty Justin Kates cringes at the nightmarish nemesis that haunts his dreams, the dreaded eggplant wizard.
The process of creating an overview of characters drawn from a broad spectrum of vampire lore has brought Justin in contact with numerous contributors, models, advisors, artists, and friends. Creating any artistic project is burdensome yet rewarding, and has culminated in his own personal psycho-sexual grimoire, a record of his journey into an abyss.
I'm booked 2-3 months in advance. Please understand if I don't get back in touch with you for TFP/CD offers.
Available now!

I don't bite unless you ask.
With Morgan and Mercedes Lander from Kittie.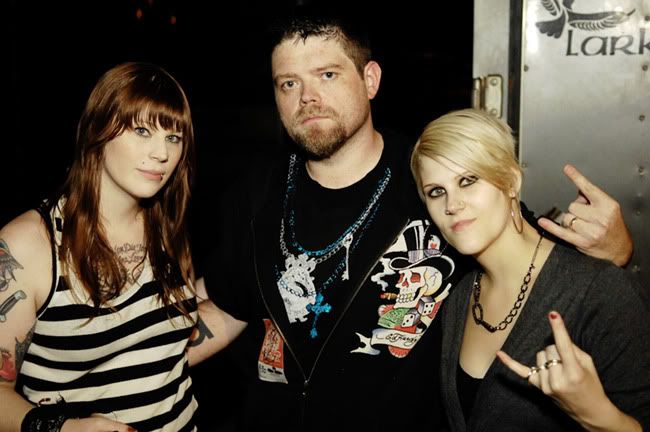 Fucking love Maria Brink!