Hello World! I am Kristyn Nicole Million, and I am a mixture of German, Irish, and Cherokee Indian. (From my experience those combinations= STUBBORN!) I am a Professional Fitness Athlete & I have been modeling for about 11 years now. My goals are to get my Pro Card in Fitness (CHECK!! Accomplished 10.5.13!!!) , a lot of print work, The Covers of all Fitness Magazine's, and to become a ring girl for the UFC! (I am the Biggest MMA Fan in the world.....Seriously.) I am extremely driven and put 100% into everything I do. My hubby and I own and run a Nutrition Store, IGNITE NUTRITION, therefore I am only taking paid assignments now because it obviously wouldn't be a wise decision to take off from my business, for non-paid work. I love to try new & different things, and I love to be challenged. I also love fashion, and every outfit in my port is mine, besides the blue bikini for Dare II Wear Swimwear.
**********I DO NOT, AND WILL NOT DO NUDE!!!*********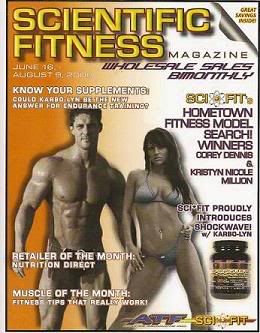 I have ZERO aspirations to be in Playboy, Penthouse, or any other NUDE magazine, therefore there is ZERO need for a nude photo to be included in my port.
And quite frankly........if you don't think I can produce good pictures without getting naked......then you can suck it!
My experience includes: Sci-Fit Magazine Cover Model, STATUS FITNESS MAGAZINE FEATURE, Better Body Sports Cover Model, Face of PRE GAME Energy Drink, by Sci- Fit, MAVtv Commercials, Southern Fighter Magazine-Feature Ring Girl, RSS Supplements Model, Sci-Fit Nutrition Spokesmodel, Brute Force Fightware Model, House of Pain Model, Submission Soldiers Fightware Model, PDA (Rapper) Poster Model, 2009 Ls1tech Calendar Model, TAP THIS MMA Model, Rock 102.3 Calendar, Custom Bikes Calendar, Rodfather Customs Calendar, Unlimitedfightnews.com Model, Tacgirls Calendar, F-Body's Calendar, Cruisinthestreets.com Nov. 07- Model of the Month, Vixen Model, Warrior Wear Fight Gear Model, OK Fightnews Hottie, Cyco Submissions model, Body-Rockin.com Model, 20 and Hot Fitness Model, Babe Extreme Model, Mattgricemma.com model, Swisher Sweets Cigars Sweetie, and I am also a ring girl for Freestyle Cage Fighting, Toughman Contest, Elite Combat, and High Roller MMA Productions. (You can see all of my Print Work on my myspace page.)